It is not as easy to spot Triangle patterns one would think because there needs to be a confirmation with a break below support or above resistance.
A security's price reaches a point in its trend when it loses strength and reverses.

This price trend continues until it encounters pressure from the opposing direction and reverses again. During this price consolidation volume may increase in the direction of the original trend and eventual breakout. This is the first clue that a triangle pattern may be forming.
Within a triangle pattern, each successive reversal takes less time and distance to exhaust itself before reversing. In addition, following a reversal within the triangle, the price may not move all the way back to the prior

support line

for bullish patterns or the prior

resistance

line

for bearish patterns.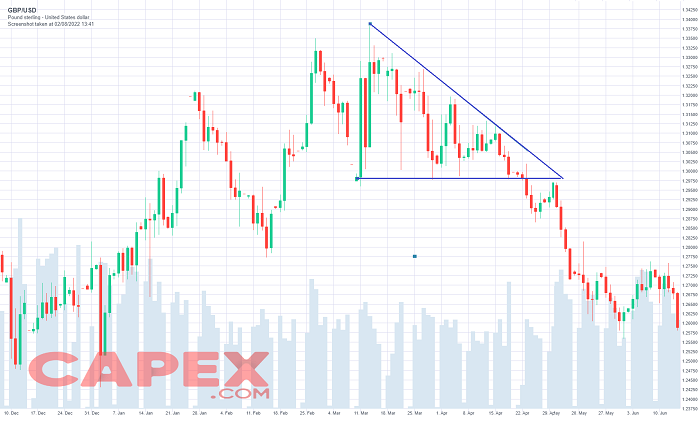 This formation of shorter and smaller moves continues like a coil until price finally springs out of the pattern, breaking either support or resistance in the process. Along the way, the volume will typically decline as the price moves towards the apex prior to the ultimate price breakout.

Once a break of resistance or support occurs, a surge in volume is expected. If there isn't a strong increase in volume the move may be unsustainable with the price ultimately failing to follow through in any meaningful way in the direction of the breakout.
Die hier präsentierten Informationen wurden von CAPEX.com erstellt und sind nicht als Investitionsberatung gedacht. Die hierin enthaltenen Informationen werden als allgemeine Marketingmitteilung nur zu Informationszwecken bereitgestellt. Als solche wurden sie nicht in Verbindung mit gesetzlichen Bestimmungen zur Förderung der Unabhängigkeit des Investment Research erstellt. Sie unterliegen nicht dem Verbot, vor der Verbreitung eines Investment Research gehandelt zu werden.

Die Benutzer / Die Leser sollten sich nicht nur auf die hier präsentierten Informationen verlassen und sollten ihre eigene Forschung / Analyse durchführen, indem sie auch die eigentliche zugrunde liegende Forschung lesen.Der Inhalt ist dabei generisch und wird nicht die individuelle persönliche Umstände,Anlageerfahrungen oder die aktuelle finanzielle Situationen berücksichtigten.

Daher übernimmt Key Way Investments Ltd keine Haftung für Verluste von Händlern aufgrund der Verwendung und des Inhalts der hierin enthaltenen Informationen. Die in der Vergangenheit gezeigte Performance und gemachten Prognosen sind kein zuverlässiger Indikator für künftige Ergebnisse.