It is not as easy to spot Triangle patterns one would think because there needs to be a confirmation with a break below support or above resistance.
A security's price reaches a point in its trend when it loses strength and reverses.

This price trend continues until it encounters pressure from the opposing direction and reverses again. During this price consolidation volume may increase in the direction of the original trend and eventual breakout. This is the first clue that a triangle pattern may be forming.
Within a triangle pattern, each successive reversal takes less time and distance to exhaust itself before reversing. In addition, following a reversal within the triangle, the price may not move all the way back to the prior

support line

for bullish patterns or the prior

resistance

line

for bearish patterns.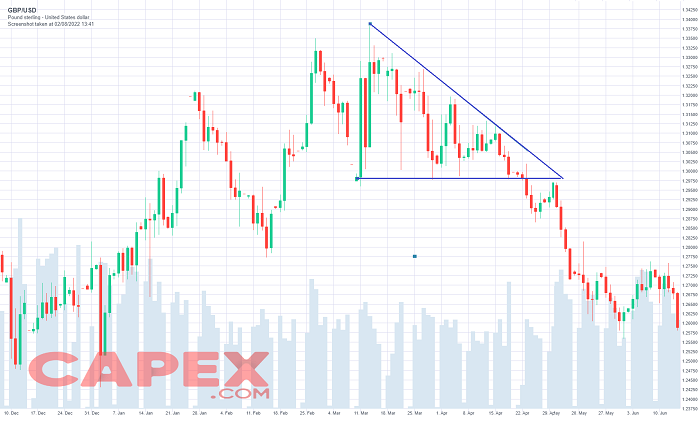 This formation of shorter and smaller moves continues like a coil until price finally springs out of the pattern, breaking either support or resistance in the process. Along the way, the volume will typically decline as the price moves towards the apex prior to the ultimate price breakout.

Once a break of resistance or support occurs, a surge in volume is expected. If there isn't a strong increase in volume the move may be unsustainable with the price ultimately failing to follow through in any meaningful way in the direction of the breakout.
The information presented herein is prepared by CAPEX.com and does not intend to constitute Investment Advice. The information herein is provided as a general marketing communication for information purposes only and as such it has not been prepared in accordance with legal requirements designed to promote the independence of investment research, and it is not subject to any prohibition on dealing ahead of the dissemination of investment research.

Users/readers should not rely solely on the information presented herewith and should do their own research/analysis by also reading the actual underlying research. The content herewith is generic and does not take into consideration individual personal circumstances, investment experience or current financial situation.

Therefore, Key Way Investments Ltd shall not accept any responsibility for any losses of traders due to the use and the content of the information presented herein. Past performance and forecasts are not reliable indicators of future results.