Day trading involves opening and closing your trades within a single trading day. Although it doesn't suit all traders, day trading could prove lucrative if you follow these 7 simple tips.
1. Make up your mind
Golden rule number 1: you need to know what products you will trade. Do your homework. Check out the most popular forms of investing. Find out what's more suitable for day trading and why. For example, you could opt for CFDs trading if you prefer:
• opening and closing positions fast without owning the underlying assets.
• trading on both rising and falling markets, looking to take advantage of price movements.
Day traders rely on many small gains to build a more substantial capital, and CFDs could fit you like a glove should you be tempted to try it out.
2. Create a robust trading plan with day trading in mind
Outline what you hope to accomplish from day trading and how exactly you plan to get there. Be honest with yourself. Set up realistic goals. Settle upon a trading system appropriate for your values, skills, and time availability. Pick fundamental or technical analysis strategies at first. You can mix the two later when you gain more experience.
Successful day traders have developed the discipline to stick with their plan. Learn from them. Follow your methodology carefully. Don't let your emotions interfere. Greed and fear must not take control of your mind. Your decisions need to rely on logic.
3. An investment in knowledge pays the best interest
Benjamin Franklin was right back when he said this, and he's right now as well, almost 300 years later.
As a day trader, it's good to keep yourself up to date with the latest market developments. Knowing what's on the agenda the next day or even the next week will help you prepare better. Scan news from reliable websites. Bookmark your favorite economic calendar. Grow a healthy trading discipline. You will need to get yourself into the habit of trading day in and day out. Learning continuously will aid you in making informed decisions.
4. Better safe than sorry – don't forget about risk management!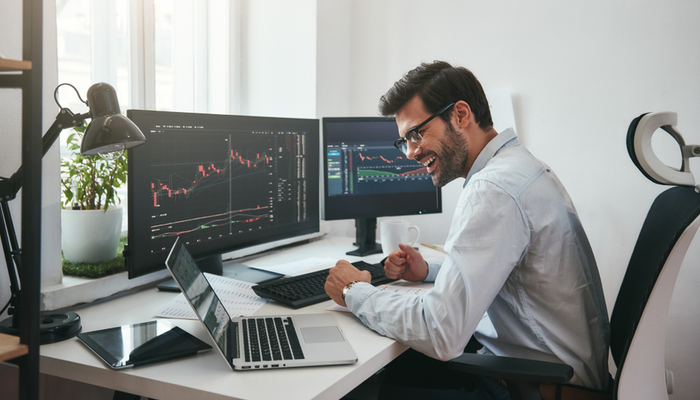 Day traders invest with high frequency. Proper risk management strategies allow them to cut their losses fast while letting successful trades run.
You cannot be right all the time, but you need to figure out quickly when you're wrong and act fast. Risk management instruments such as stop-loss, take profit, and trailing stop could always prove lifesaving. With these in place, you have a better chance of earning more when you're right and risking less when the markets move against you. How and when you set your protective measures depends on your risk tolerance.
5. Timing is everything – learn how to take it slow!
Experienced day traders recognize the appropriate moments to jump into the markets for the big fish. Less seasoned investors don't have this skill. They don't know when to take their chances.
So, what can you do? If you've just started day trading, experts advise choosing a specific timeframe. Also, they recommend sticking to a single market so that you have more control of your positions. Keep everything simple. Over time, you will find yourself perfectly capable of spotting promising trading opportunities promptly. Until then, be disciplined and perseverant!
6. Patience, flexibility, and intuition – the indispensable traits of a day trader
Never trade for the sake of it! If you cannot find anything to invest in during your assigned timeframe, do something else instead, like updating your trading journal or reading some market articles. The more you find out about the financial world, the more likely it is to improve your day trading skills.
Patience alone is not enough. When you are day trading, the market conditions can go from one extreme to another in the blink of an eye. Adapting to unpredictable market conditions requires lightning-fast response time and appropriate strategies. Without flexibility and intuition, you'll find it hard to become a good day trader.
7. Day trading isn't a regular job
Day trading may become consuming if you allow it to be. It can also take you a mere two or three hours of your time every day if that's what you're looking for. Life's about learning how to prioritize things.
You are the only one who decides how much time to invest in trading. Don't spend more than you're comfortable with in front of the monitor or phone. This is different than your regular 9-to-5 job. And perhaps that's what makes it exciting, fun and challenging.
Sources: investopedia.com, thebalance.com, babypips.com
Fancy giving day trading a shot? Create an account with us and trade CFDs on more than 2.100 financial instruments, including stocks, currencies, indices, commodities, and more!
The information presented herein is prepared by CAPEX.com and does not intend to constitute Investment Advice. The information herein is provided as a general marketing communication for information purposes only and as such it has not been prepared in accordance with legal requirements designed to promote the independence of investment research, and it is not subject to any prohibition on dealing ahead of the dissemination of investment research.

Users/readers should not rely solely on the information presented herewith and should do their own research/analysis by also reading the actual underlying research. The content herewith is generic and does not take into consideration individual personal circumstances, investment experience or current financial situation.

Therefore, Key Way Investments Ltd shall not accept any responsibility for any losses of traders due to the use and the content of the information presented herein. Past performance and forecasts are not reliable indicators of future results.