Image: A representation of the USD/CAD pair.
In Tuesday's session USD/CAD has moved lower. In the North American session, the pair was trading at 1.3257, down 0.33% on the day.
On the release front, no events are to take place until Thursday. Still, in the U.S., JOLTS Jobs Openings is expected to slow to 6.84 million, according to Investing.com.
Markets Eye US Jobs Report
Today, the U.S. Bureau of Labor Statistics releases CPI reports. The Consumer Price Index measures the price of goods and services from the consumer's perspective. A higher than expected reading would be seen as positive for the USD. The data released in January showed that the CPI was -0.1%, while the CPI to be released today is forecasted by Investing.com at -0.1%.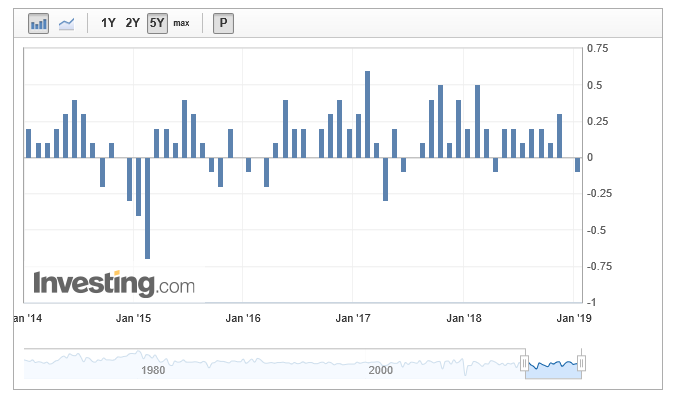 Image: U.S. CPI January 2014 – January 2019.
Source: Investing.com.
In 2018, the Federal Reserve hit the rate trigger four times, as an aggressive response to a red-hot U.S. economy. However, the global trade war and slower U.S. growth has resulted in the Fed lowering its forecast to two hikes in 2019. What may be overly optimistic are the forecasts made by the futures market that suggest no rate hikes will be put into action until 2020, according to MarketPulse.com.
On Monday, Fed President Michelle Bowman said that she was satisfied with current monetary policy, and that the labour market and inflation levels had put the economy in a "good place".
Canada's labour market ended the week with an exclamation mark, as the economy created 66.8 thousand jobs in January, crushing the estimate of 6.5 thousand.
It was the second banner reading in three months. Still, the Bank of Canada is not expected to raise rates at its next meeting on March 6. Weak oil prices are weighing on inflation, and the Canadian dollar is down 1.1% in February. Like the Fed, the BoC has become more dovish, after raising rates three times in 2018.
Sources: MarketPulse.com and Investing.com.
The information presented herein does not constitute and does not intend to constitute Investment Advice. The information contained herewith is a compilation of public stock recommendations issued by various financial analysts and organised by Live News Recommendation in an easily presentable format, for information purposes only.
Key Way Investments Ltd does not influence nor has any input in formulating the information contained herein. The content herewith is generic and does not take into consideration individual personal circumstances, investment experience or current financial situation. Users/readers should not rely solely on the information presented herewith and should do their own research/analysis by also reading the actual underlying research. Users/readers should also consider the risk of encountering significant losses when trading CFDs. Therefore, Key Way Investments Ltd shall not accept any responsibility for any losses of traders due to the use and the content of the information presented herein. Past performance is not a reliable indicator of future results.
CFDs are complex instruments and come with a high risk of losing money rapidly due to leverage. 71.79% of retail investor accounts lose money and 28.21% win money when trading CFDs with cfdglobal.com. You should consider whether you understand how CFDs work and whether you can afford to take the high risk of losing your money.