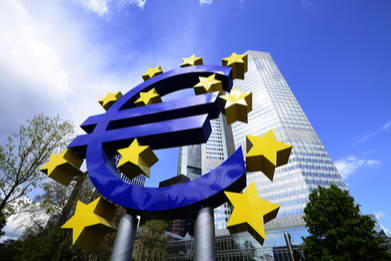 Image: The Eurozone symbol.
European Union finance ministers will discuss on Monday how to set up a budget for countries sharing the single euro currency to help the euro zone integrate more closely.
What Is the Starting Point for the Agreement?
The starting point is an agreement by EU leaders from December, under which a euro zone budget is to be part of the broader, seven-year EU budget, with a yet to be decided exact size and features.
The budget is to be created for the "convergence and competitiveness" of the 19 countries that share the euro. On a voluntary basis, the countries that have locked their exchange rate in the Exchange Rate Mechanism II can also participate.
Tough Decision Is Expected as Views Widely Differ

Image: European Commission Headquarters building.
France, representing the most ambitious view, has been pushing hard for a large, separate pool of money for the euro zone, financed from dedicated taxes and national contributions.
Paris would like the money to be available to stabilize the euro zone economy in case of shocks as well as to boost its competitiveness and help countries converge economically.
Germany would prefer a small budget and its finance minister, Olaf Scholz, has floated the idea of using it to help pay unemployment benefits in countries suffering from a downturn.
The Netherlands does not see a need for a euro zone budget at all.
"It will be a tough discussion, because people do not agree," one senior euro zone official involved in the preparations for the talks said.
EU leaders want to decide on the final features of the budget in June as talks on the EU's next long-term budget, worth around 1 percent of the EU's gross national income, gather pace.
The euro budget is to be coherent with other EU policies and subject to criteria and strategic guidance from euro zone governments, the leaders decided in December.
The European Commission, which will ultimately have to prepare the final version of the euro zone budget proposal before it becomes EU law, has so far proposed that it should be 55 billion euros.
Of that total, 25 billion euros would come from the EU budget and would be used to support reform and convergence between economies while the remaining 30 billion would be loans, guaranteed by the EU budget, to support investments in countries facing temporary economic shocks.
Sources: Reuters.com, Bloomberg.com, BusinessInsider.com, and Investing.com.
CFDs are complex instruments and come with a high risk of losing money rapidly due to leverage. 71.79% of retail investor accounts lose money and 28.21% win money when trading CFDs with cfdglobal.com. You should consider whether you understand how CFDs work and whether you can afford to take the high risk of losing your money.
The information presented herein is prepared by CAPEX.com and does not intend to constitute Investment Advice. The information herein is provided as a general marketing communication for information purposes only and as such it has not been prepared in accordance with legal requirements designed to promote the independence of investment research, and it is not subject to any prohibition on dealing ahead of the dissemination of investment research.

Users/readers should not rely solely on the information presented herewith and should do their own research/analysis by also reading the actual underlying research. The content herewith is generic and does not take into consideration individual personal circumstances, investment experience or current financial situation.

Therefore, Key Way Investments Ltd shall not accept any responsibility for any losses of traders due to the use and the content of the information presented herein. Past performance is not a reliable indicator of future results.