Image: The European Central Bank.
Poor Eurozone data and rising market demand for the US Dollar (USD) left the Euro to US Dollar (EUR/USD) exchange rate tumbling last week, and a lack of fresh Euro (EUR) demand on Monday meant that the pair remained weak.
Last week brought steady losses for EUR/USD, as the pair fell over a cent from 1.1456 to 1.1321.
EUR/USD remained unappealing this morning and briefly slipped to 1.1297 – the pair's worst level since the 13th of November.
Investors remain concerned about the Eurozone's economic outlook. Still the USD couldn't push much further as investors steadied on the currency ahead of a fresh round of US-China negotiations.
Euro Exchange Rate Lacking Support Following Last Week's Growth Concerns
After disappointing data from Germany, the Euro remained unappealing, especially since the data from Germany brought new market concerns that the Eurozone's biggest economy could be headed towards a recession.
It also followed news that Italy's economy had slipped into recession in recent quarters as well.
Due to expectations for weaker German economic growth, the EU cut its Eurozone growth forecast for 2019 from 1.9% to just 1.3% last week.
As the US Dollar is also sought by investors, this has also put pressure on the Euro.
Dollar Exchange Rates Steady Ahead of Fresh US-China Talks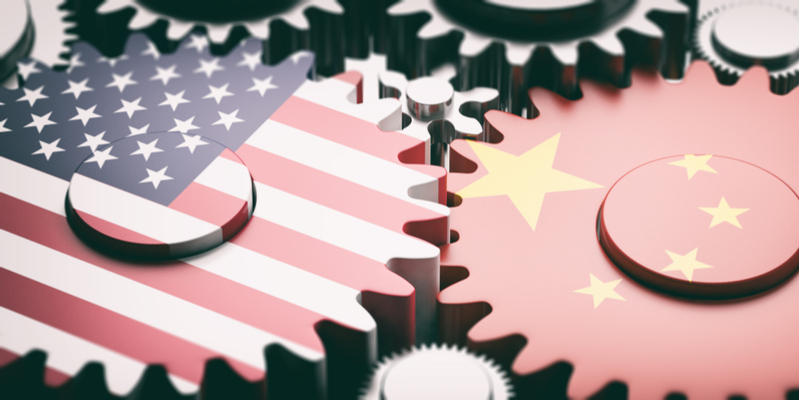 Image: U.S.-China relations.
Towards the end of the week, US President Donald Trump indicated that he would not meet with China President Xi Jinping again before a March deadline, after which the US is set to introduce further trade tariffs on China.
This worsened concerns that the US and China would not be able to agree to a trade deal and expanded investors interest in the US Dollar.
The US Dollar has also benefited from strong US data, which has kept Federal Reserve interest rate hike bets afloat despite the bank's recent dovishness.
Euro to US Dollar (EUR/USD) Exchange Rate Investors Await US-China Talks
US-China trade negotiations are resuming this week to deal with issues such as intellectual property (IP).
Analysts believe that if the talks go well, investors will become more willing to take risks again and the US Dollar will be less appealing. On the other hand, EUR/USD could tumble if the talks lead nowhere or tensions between the US and China flare up again.
Euro investors will be awaiting data due for publication in the coming sessions, with the Eurozone's industrial production figures due on Wednesday and growth data from Germany and the bloc overall on Thursday, to see what happens to the EUR/USD pair.
Sources: Investing.com, Reuters.com, Bloomberg.com, BusinessInsider.com
The information presented herein does not constitute and does not intend to constitute Investment Advice. The information contained herewith is a compilation of public stock recommendations issued by various financial analysts and organised by Live News Recommendation in an easily presentable format, for information purposes only.
Key Way Investments Ltd does not influence nor has any input in formulating the information contained herein. The content herewith is generic and does not take into consideration individual personal circumstances, investment experience or current financial situation. Users/readers should not rely solely on the information presented herewith and should do their own research/analysis by also reading the actual underlying research. Users/readers should also consider the risk of encountering significant losses when trading CFDs. Therefore, Key Way Investments Ltd shall not accept any responsibility for any losses of traders due to the use and the content of the information presented herein. Past performance is not a reliable indicator of future results.
CFDs are complex instruments and come with a high risk of losing money rapidly due to leverage. 71.79% of retail investor accounts lose money and 28.21% win money when trading CFDs with cfdglobal.com. You should consider whether you understand how CFDs work and whether you can afford to take the high risk of losing your money.