U.S. Dollar Sank to 3-week low As Trade Spat Continued
The U.S. dollar on Friday sunk to its lowest level in three weeks, hours after the U.S. officially increased tariffs on $200 billion worth of Chinese goods.
The ICE Dollar Index hit a session low at 97.132, its lowest level since April 18. In most recent trade, the index was at 97.241.
The tariffs, which increased to 25% from 10%, kicked in at 12:01 a.m. Eastern Time on Friday. U.S. and Chinese officials subsequently met briefly. Treasury Secretary Steven Mnuchin told reporters after meeting China's top negotiator, Vice Premier Liu He, that talks were "constructive," but offered no further characterization.
"Dollar bulls were nowhere to be found today despite the United States increasing tariffs on $200 billion worth of Chinese goods," wrote Lukman Otunuga, research analyst at FXTM. "The dollar's weakness could also be based on the fact U.S. inflation figures for April disappointed market expectations by cooling 0.3% month-on-month."
Sterling Edged Higher After GDP Pick-Up Despite Brexit Concerns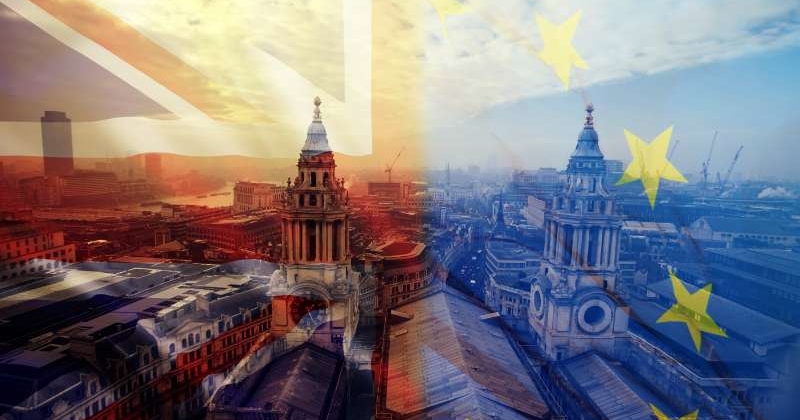 The British pound was little changed on Friday after data showed the UK economy got a boost ahead of a Brexit that never came.
Sterling did rise towards the end of the European trading session, but that was largely down to broad dollar weakness.
Britain's economy grew at a quarterly rate of 0.5% in the first quarter of 2019, in line with the reading expected by the Bank of England, as well as by private-sector economists in a Reuters poll.
Year-on-year GDP growth picked up to 1.8% in early 2019 from 1.4% in the last three months of 2018, Britain's Office for National Statistics said on Friday.
Oil Ends Week Lower as Trade Tensions Weigh
Oil prices were mostly steady on Friday, ending the week slightly lower as trade tensions stoked by a U.S. move to hike tariffs on Chinese goods overshadowed tightened global supplies and expectations of rising U.S. refining demand.
Brent crude oil settled 23 cents, or 0.4%, higher at $70.62 a barrel, but posted a weekly loss of 0.3%.
U.S. West Texas Intermediate (WTI) crude futures ended 4 cents lower at $61.66, with a weekly loss of 0.5%.
Natural Gas Prices Muted Thursday After EIA's Storage Build Matched Expectations
EIA reported a weekly build of 85 BCF, slightly less than consensus build of 87 BCF, but still falling in line with market expectations.
The build of 85 BCF for the week ending May 3 is compared to the 85 BCF build from a year ago and the 5-year avg. build of 72 BCF. Stockpiles stand at 1,547 BCF vs. 1,419 BCF a year ago and the 5-year avg. of 1,850 BCF.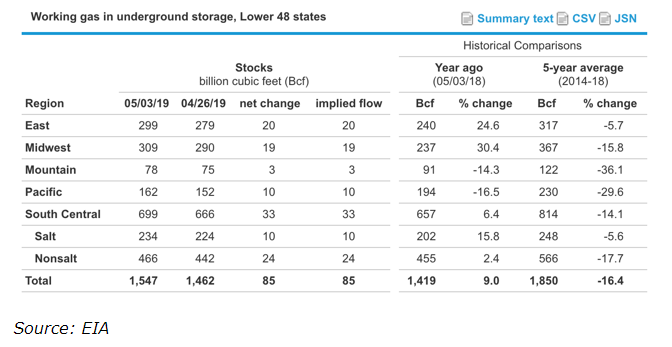 Source: seekingalpha.com.
The front-month June natural gas futures contract finished Thursday down 0.55% or 1.5 cents ($0.015) to $2.595. The July contract also slid 1.5 cents ($0.015) to $2.631, while the August contract lost 1.4 cents ($0.014) to $2.652.
Gold Prices Went Slightly Up Last Friday
Gold prices are modestly higher in early-morning U.S. trading Friday.
June gold futures were last up $2.20 an ounce at $1,287.40. July Comex silver was last up $0.022 at $14.795 an ounce.
Jim Wyckoff, from Kitco.com, believes: "Technically, the gold bears have the overall near-term technical advantage. A 2.5-month-old downtrend is in place on the daily bar chart. Bulls' next upside price objective is to produce a close in June futures above solid resistance at $1,300.00. Bears' next near-term downside price breakout objective is pushing prices below solid technical support at $1,250.00. First resistance is seen at this week's high of $1,292.80 and then at $1,300.00. First support is seen at the overnight low of $1,283.90 and then at this week's low of $1,278.10. Wyckoff's Market Rating: 3.5."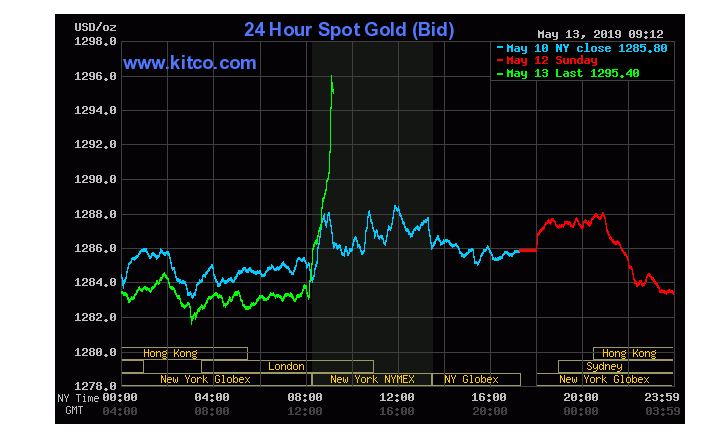 Source: Kitco.com.
Stocks Closed Higher After Constructive U.S. – China Trade Talks
U.S. stocks clawed back from early losses to close higher Friday after key negotiators cast a positive glow on trade talks. But the S&P 500 and the Nasdaq logged their worst week of 2019 as tensions between the U.S. and China remain elevated in the wake of the Trump administration's move to raise import duties on $200 billion in Chinese goods:
• The Dow Jones Industrial Average rose 114.01 points, or 0.4%, to end at 25,942.37, recovering from a deficit of more than 350 points.
• The S&P 500 index gained 10.68 points, or 0.4%, to 2,881.40.
• The Nasdaq Composite Index climbed 6.35 points, or 0.1%, to 7,916.94.
European Stocks Rose Amid Gloomy Trade Outlook
European shares rose on Friday. The STOXX 600 index gained 0.3%, lifting off an about one and a half month closing low clocked on Thursday. The pan-European index still recorded its biggest weekly decline this year, down 3.4%, bruised by trade worries.
"If things do escalate then this will have an impact of around 0.5 percentage points of global GDP and that would not be inconsiderable," said Julian Mayo, chief investment strategist at investment management firm Fiera Capital.
Germany's DAX rose 0.7%. French and Italian stocks each tacked on 0.3%, while their London-traded peers eased marginally.
FAANG: Facebook Rolls Back Ban on Cryptocurrency Ads, Apple Bought Around Two Dozen Companies in the Past 6 Months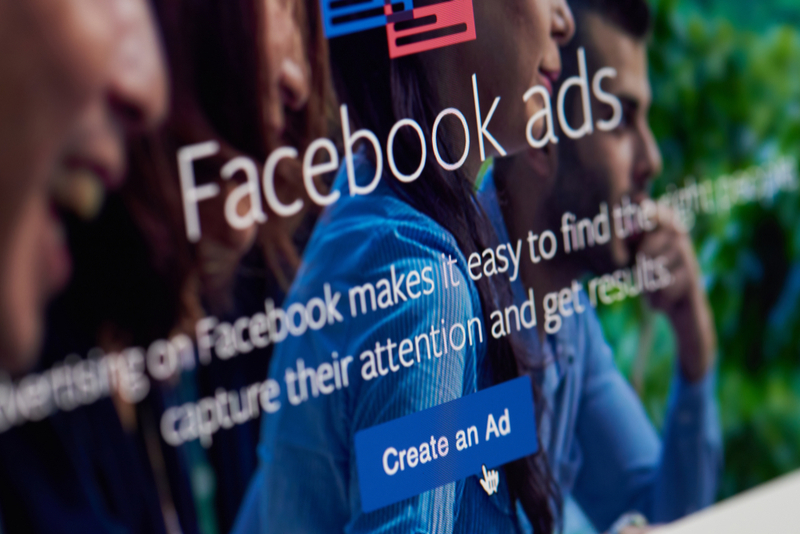 Facebook (FB) said on Wednesday it is loosening its ban on ads related to blockchain and cryptocurrency, allowing more businesses working on those technologies to promote their efforts on the social network.
Facebook first started blocking ads promoting cryptocurrencies and initial coin offerings in January 2018 over concerns that users might be scammed by initial coin offerings offered by some crypto start-ups. The company loosened its ban in June to allow ads from advertisers who received prior written approval. Now, it is further rolling back the policy so that many types of ads will no longer require approval.
"We've listened to feedback and assessed the policy's effectiveness," Facebook said Wednesday in a blog post. "While we will still require people to apply to run ads promoting cryptocurrency, starting today, we will narrow this policy to no longer require pre-approval for ads related to blockchain technology, industry news, education or events related to cryptocurrency."
Apple Inc. (AAPL) has been snapping up companies at a rapid pace recently. Chief Executive Tim Cook told CNBC in a weekend interview from Berkshire Hathaway Inc.'s BRK.B, -2.13% annual meeting that the tech giant has bought between 20 and 25 companies in the past six months.
"If we have money left over, we look to see what else we [can] do," Cook told CNBC. "We acquire everything that we need that can fit and has a strategic purpose to it. And so we acquire a company, on average, every two to three weeks."
By comparison, Apple reportedly acquired 18 companies in 2018.
Available space and lower rents are attracting more logistics providers servicing e-commerce demands. Amazon.com, Inc. (AMZN) is playing a leading role in U.S. Airports.
Chicago's Rockford International Airport is certainly experiencing the benefits of an Amazon presence. Amazon is investing $11 million – adding an additional 120,000 square feet of space and developing a ramp parking area for more aircraft. Currently, Amazon's air partners can park up to eight aircraft.
Late last year, Amazon announced plans to build a new air gateway at March Air Reserve Base in Riverside, California to supplement current and ongoing operations at Ontario International Airport.
Amazon is also building a regional air hub at the Fort Worth Alliance Airport that will include daily flights and sortation capabilities.
Netflix (NFLX) has acquired StoryBots, the children's educational brand created by Gregg and Evan Spiridellis, the founders of JibJab. The Spiridellis have entered into a deal with Netflix to expand the StoryBot brand into new areas, including a series and short-form specials.
"Together with Netflix, our goal is to make StoryBots the leading educational entertainment brand for connected kids and families globally. We see this as a once-in-a-lifetime opportunity to bring something epically good into the world," said the Spiridelli brothers in a statement to Variety.
Google (GOOG) kicked off its big developer conference with a mix of intriguing new hardware (cheap flagship phones, big smart displays), as well as new AI and internet features coming to its services.
The standout announcement from Google might have been the most heavily leaked: cheap Pixel 3 devices. The new Pixel 3a series offers just about everything else that made last year's models compelling, but at a steep discount.
Sources: MarketWatch.com, Reuters.com, Seekingalpha.com, Kitco.com, CNBC.com, engadget.com.
The information presented herein does not constitute and does not intend to constitute Investment Advice. The information contained herewith is a compilation of public stock recommendations issued by various financial analysts and organised by Live News Recommendation in an easily presentable format, for information purposes only.
Key Way Investments Ltd does not influence nor has any input in formulating the information contained herein. The content herewith is generic and does not take into consideration individual personal circumstances, investment experience or current financial situation. Users/readers should not rely solely on the information presented herewith and should do their own research/analysis by also reading the actual underlying research. Users/readers should also consider the risk of encountering significant losses when trading CFDs. Therefore, Key Way Investments Ltd shall not accept any responsibility for any losses of traders due to the use and the content of the information presented herein. Past performance is not a reliable indicator of future results.