3-Day slide for the dollar on U.S. rate cut bets
Pressured by expectations that the FED will start cutting interest rates at a monetary policy meeting this month, the dollar weakened for three days straight until Friday. U.S. data showed that producer prices rose in June by 0.1% after a similar gain in May, and in the 12 months through June, the PPI rose 1.7%.
Senior market analyst at Western Union Business Solutions Joe Manimbo stated that the PPI increase won't make the FED change its mind about rate cutting.
Until the personal consumption index (PCE) starts rising from 1.6%, not much can be done about the FED's stance on cutting rates. Although the actual policy is viewed as neutral, if the goal is to lift inflation, Chicago Fed President Charles Evans says that the policy might be a bit more accommodative.
Loss record of ten weeks for the GBP
Weak data and the growing possibility of interest rate cuts amidst the Brexit chaos kept investors on the sides, as the pound aimed for a 10-week record of losses against the euro.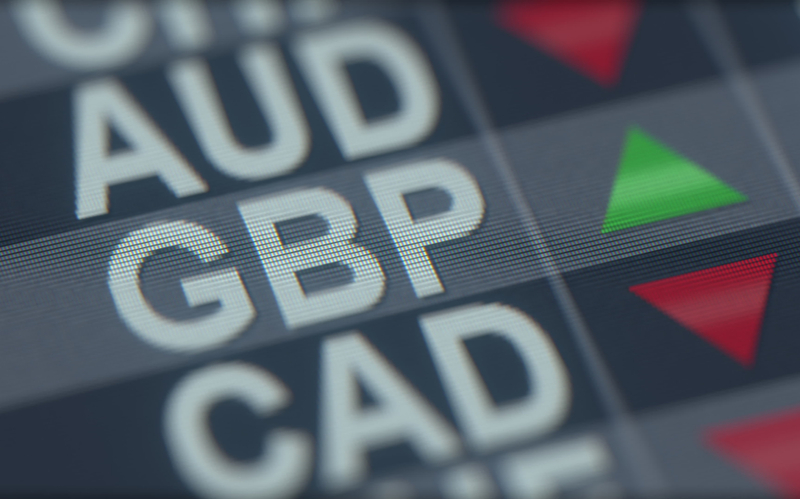 As the FED, the ECB and other central banks turn dovish, the possibility of raising rates which has been one of the few supports for the pound in the recent weeks is being dashed by recent dismal data.
The pound struggled last week notably against the dollar and the euro and remains relentless, with no light at the end of the tunnel so far.
Crude Oil sources now more vulnerable than in 2005
Analysts attribute much of oil's gains over the past weeks to the increasing tensions between the U.S. and Iran and the potential for an oil flow disruption in the Middle East.
Crude production has climbed to 2 million barrels/day in July 2019, from 1.4 million barrels/day in July 2005, confirmed by Tom Kloza, global head of energy analysis at the Oil Price Information Service.
On Friday, the average U.S. retail price for a gallon or regular gasoline stood at $2.775, up from $2.723 a month ago, but down from $2.885 a year ago.
The estimated loss for oil would be 1.01 million barrels/day and 1.24 billion cubic feet/day in the lost gas production, with an overall output loss of three days.
Weather model disagreement creates opportunity for natural gas traders
The week of July 12 brings us a preliminary estimate of +60 bcf while the end of the season is estimated at 3.61 tcf.

The European Centre for Medium-Range Weather ECMWF-EPS and the Cartes Ensemble GFS-ENS have had disagreements in the past, but not like today. This little divergence could make investors take sides on the center predictions regarding the natural gas prices.
Traders that are interested in natural gas can watch weather models closely to understand more about the contradictions and fundamental influencing factors.
Wall Street leans on gold prices
Traders dwell in speculation regarding gold price movements this week, while Main Street remained bullish. With a large block of Wall Street voters camping in the neutral/sideways movement area, the rest have split between bulls and bears.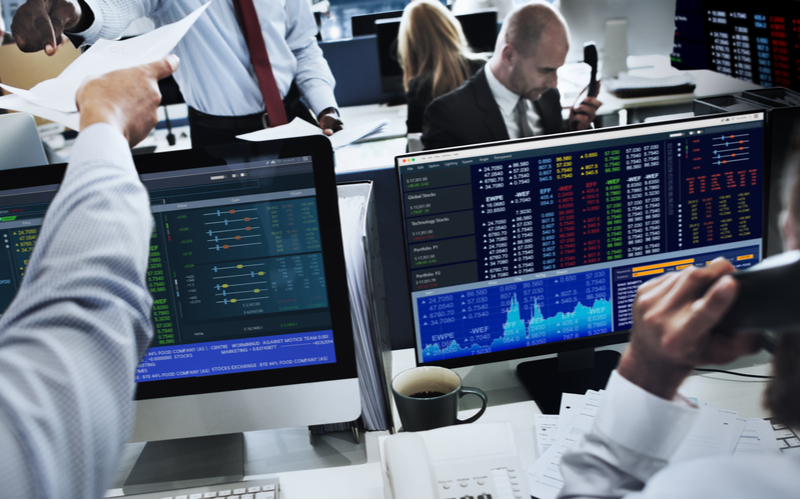 Gold prices rebounded last week after FED Reserve Chair Jerome Powell took a dovish stance during his congressional testimony, in spite of the 224,000 increase in NFP data reported in the previous week.
However, with a FED expected to cut rates which would benefit the yellow metal, geopolitical tensions with Iran and U.S. – China trade war, investors are in for a golden ride this end of month.
Comex August gold futures were trading $8.40 higher for the week at $1.408.50 an ounce.
U.S. Indices close at record levels as bulls wait FED rate cut
FED Reserve Chairman Jerome Powell supported investor expectations for an interest-rate cut at the end of the month which made U.S. stocks see more records on Friday, ending with high results once again:
1. Dow Jones Industrial Average DJIA, +0.90% gained 244.02 points (0.90%) at 27,332.10
2. S&P 500 index SPX grew by +0.46% and added 13.83 points at 3,013.75
3. Nasdaq Composite index COMP, +0.59% closed 48.10 points higher at 8,244.14
In last Thursday's testimony before the Senate Banking Committee, Powell said the U.S. economy is in a very good place but only partly recovered from a confidence shock in May due to the U.S – China trade war.
Charles Evans, Chicago FED president echoed these feelings in last Friday's speech, stating that he's "nervous about inflation" and that "a couple" of cuts might help the inflation lift above 2%.

European shares little changed through China trade data
Investors went through China trade data coming in at market opening while the profit warning from Daimler kicked auto stocks down a notch.
China's yuan-denominated exports grew by 6.1% in the first half of 2019 with imports increasing by 1.4%, resulting in a trade surplus of 1.23 trillion yuan ($178.94 billion) for the first six months.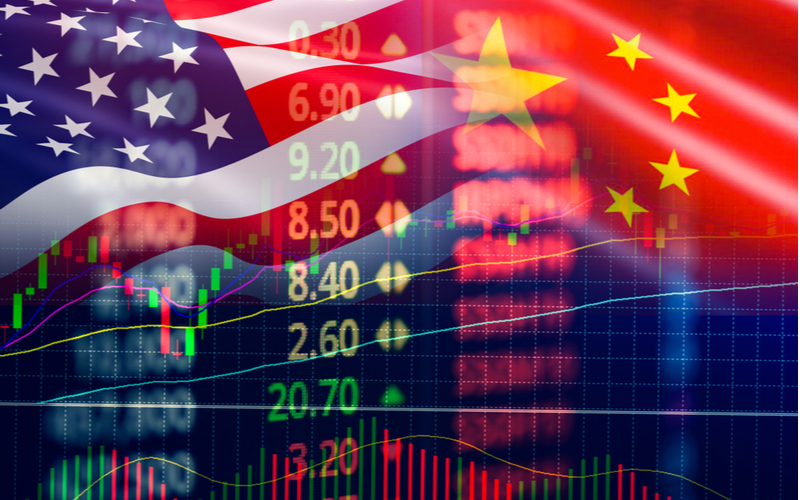 The info slides in right after disappointing economic reports from around the world showing that the global economy suffered from the U.S. – China trade war, forcing major central banks to favor interest-rate cuts.
Daimler slipped 2.7% after a warn of second-quarter losses before interest and 1.6 billion euros in taxes.
$5 billion Facebook settlement approved by U.S. regulators after privacy issues
Investigation into the social media company's handling of confidential user data led to a $5 billion settlement for Facebook Inc.
This settlement would be the largest civil penalty ever paid to the agency. The Facebook settlement still needs finalization by the Justice Department's Civil Division. A final announcement is expected next week and sources say an agreement would put 20 years of oversight on Facebook.
Morgan Stanley takes a leap of faith with Apple's services
Morgan Stanley's Managing Director Katy Huberty wrote about "an early sign of service growth-reacceleration" for Apple Inc., a trend expected to power the stock in the upcoming months.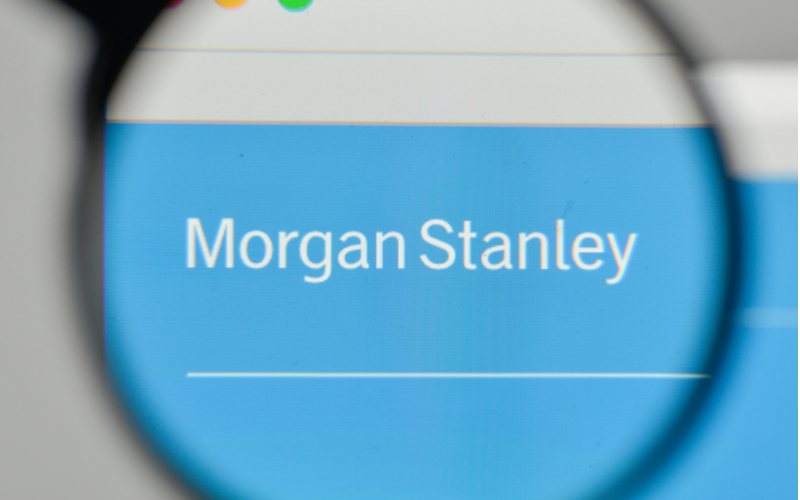 A potential reacceleration in service revenue and App Store comparisons in the second half of the calendar year are seen as key catalysts for Apple shares. The analyst sees revenue climbing 18% to 20% over the next 18 months, with a $231 target on AAPL shares, up by 27% so far this year.
Amazon.com vs Walmart
The two retail market giants are slowly but steadily expanding in many other areas of the world, providing solid opportunities for investors along the way.
With over 11.000 stores in 27 countries, Walmart is investing aggressively into becoming an omnichannel retailer that blends in-store and online operations, especially in the U.S. where 90% of the population is located within 10 miles of a store.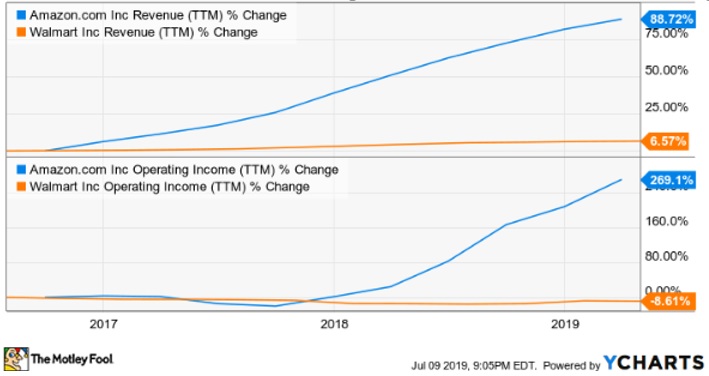 Amazon fights back with network distribution centers strategically placed around the world. The high-tech warehouses allow the company to provide a high-level convenience for users, with one-day shipping for more than 10 million items.
Amazon Web Services is estimated to be worth $350 billion by 2022, while Walmart generates revenue through operating profits.

Netflix on the way of beating subscriber growth expectations
The streaming giant is likely to post better than expected subscriber growth for the June quarter, on July 17 after market closing, as stated by Piper Jaffray.
This year alone NFLX has risen by over 40% as traders have become more confident in the market leader of the video-streaming market. Increasing competition from media conglomerates such as Walt Disney is expected later this year.
Analyst Michael Olson cited positive web-search trend data for Netflix, reaffirming his $440 price target for the company's stocks which were down 0.3% in the Wednesday morning to #378.77.
Alphabet improves faster than stock market gains
Marking a +1.48% move from Thursday's trading session, GOOG closed at $1,140 in the latest trading session, outpacing the S&P 500 daily gain of 0.45%.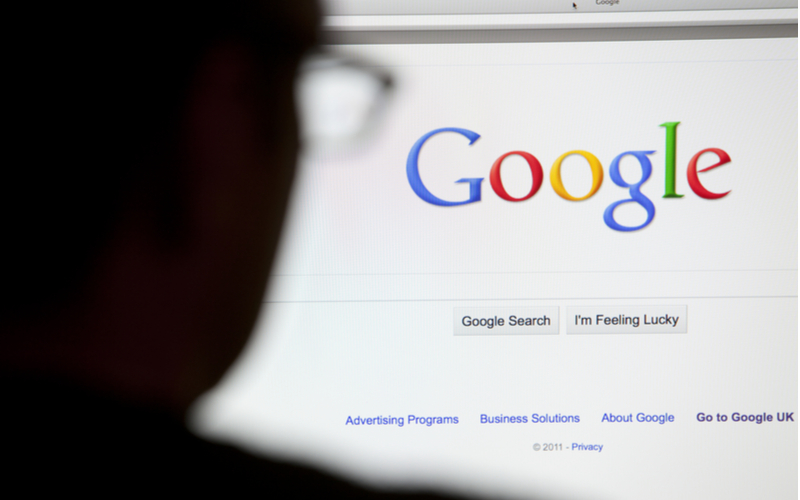 Investors will be hoping for GOOG to strengthen as it approaches the next earnings release, expected on 25th July, with $11.48/share.
This would mark a YOY decline of 2.3%, with an actual PEG ratio of 1.41. With recent changes to analyst estimates for the social giant, the data could become a good sign for the company's business outlook.
Need more recent news? Stay in touch with the market through our Market News section or test your knowledge by opening a demo account!
Sources: reuters.com, marketwatch.com, seekingalpha.com, kitco.com, finance.yahoo.com, Nasdaq.com
The information presented herein does not constitute and does not intend to constitute Investment Advice. The information contained herewith is a compilation of public stock recommendations issued by various financial analysts and organized by Live News Recommendation in an easily presentable format, for information purposes only.
Key Way Investments Ltd does not influence nor has any input in formulating the information contained herein. The content herewith is generic and does not take into consideration individual personal circumstances, investment experience or current financial situation. Users/readers should not rely solely on the information presented herewith and should do their own research/analysis by also reading the actual underlying research. Users/readers should also consider the risk of encountering significant losses when trading CFDs. Therefore, Key Way Investments Ltd shall not accept any responsibility for any losses of traders due to the use and the content of the information presented herein. Past performance is not a reliable indicator of future results.
HIGH RISK INVESTMENT WARNING: CFDs are complex instruments and come with a high risk of losing money rapidly due to leverage. 78.20% of retail investor accounts lose money when trading CFDs with this provider. You should consider whether you understand how CFDs work and whether you can afford to take the high risk of losing your money.