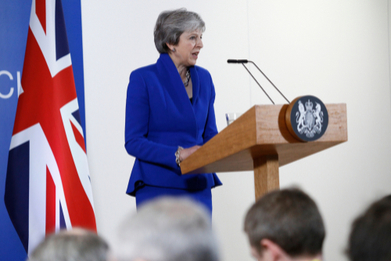 Sterling Was Weakened Due to UK Requesting Brexit Delay
On Friday, the British Pound was weakened as doubts swirled over British Prime Minister Theresa May's attempt to further delay Brexit. The Prime Minister wrote to Brussels asking to delay Britain's EU departure until June 30 to allow lawmakers to agree a withdrawal deal.
Still, countries like France and the Netherlands expressed doubt about May's plan, and combined with the lingering fears of a no-deal, the whole thing led to the pound hitting the low of $1.3014, down 0.4% on the day.
David Cheetham, chief markets analyst at XTB, believes that "the chances of a no-deal remain remote but at the same time a satisfactory outcome anytime soon also seems highly unlikely and this is containing the pound in a fairly narrow trading range."
At the same time, according to Reuters.com, UBS Global Wealth Management said it foresees a long extension to Brexit, because it doubted May's attempt to build a cross-party consensus would succeed and expected the pound to remain volatile.
After the U.S. Economy Added 196,000 Jobs in March, the Emerging-Market Currencies Rallied
On Friday, the Labor Department reported that the U.S. economy added 196,000 jobs in March and the unemployment rate held steady at 3.8%.
The ICE Dollar Index, DXY, was at 97.414, up 0.1% on the day. The index was little changed over the week, according to data from FactSet.
Gains in emerging-market currencies highlighted Friday action with the Mexican peso USD/MXN and South African rand USD/ZAR both rising by more than 0.5%.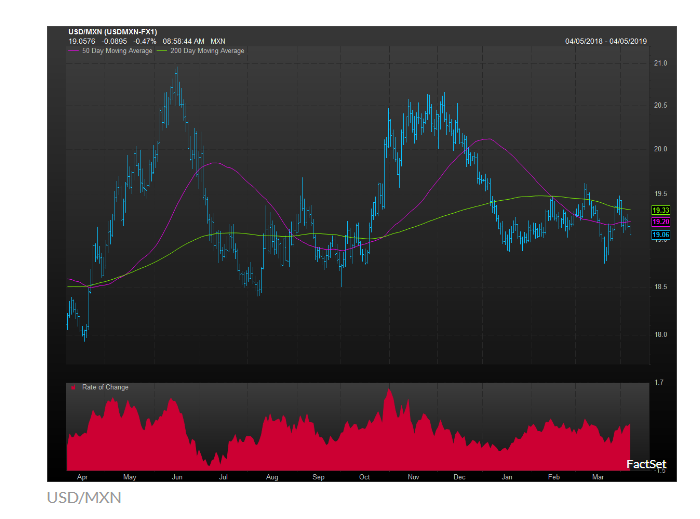 Source: MarketWatch.com.
"Investors are clearly more comfortable in holding the riskier assets and today's number is not going to change anything with respect to the Fed's stance," wrote Naeem Aslam, chief market analyst at Think Markets U.K.
Other currencies moved in the following way on Friday:
• the euro EUR/USD, +0.2853% was last changing hands at $1.1218, compared with $1.1223 late Thursday;
• the Canadian dollar USD/CAD, -0.0971% moved lower against the greenback. One dollar last fetched C$1.3388;
• the Japanese yen USD/JPY, -0.23% was marginally lower versus the greenback, with one dollar worth ¥111.71.
Oil Prices Rose 1.5% as U.S. Economic Data Eased Demand Concerns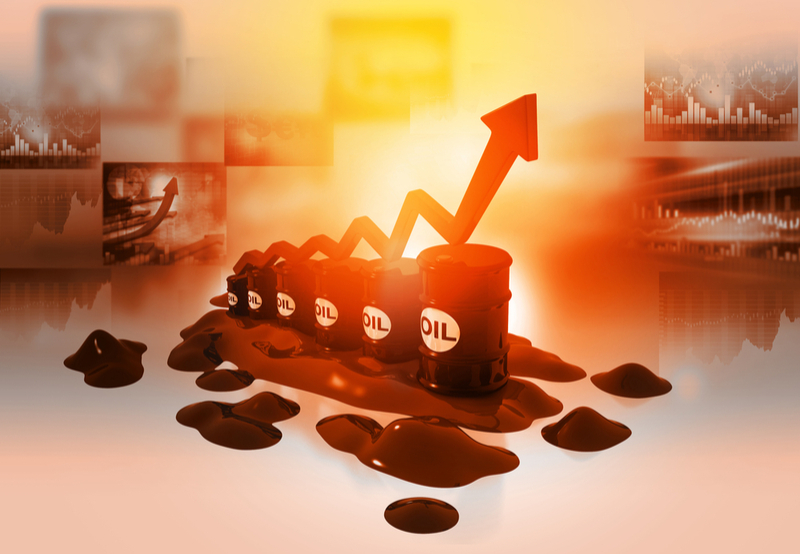 On Friday, oil prices gained 1.5% as strong U.S. employment data tempered fears about weakening global crude oil demand, and on expectations that an escalating conflict in Libya could tighten oil supplies.
What also boosted the prices was the optimism that Washington and Beijing are approaching a trade deal.
Brent crude futures settled at $70.34 a barrel, up 94 cents, or 1.35 percent. The session high of $70.46 was the strongest since Nov. 12.
U.S. West Texas Intermediate (WTI) crude settled at $63.08 a barrel, up 98 cents, or 1.58 percent. Earlier in the session, WTI hit $63.24, the highest since Nov. 6.
Brent recorded its second straight week of gains, while WTI saw its fifth consecutive weekly rise.
Josh Graves, senior commodities strategist at RJO Futures in Chicago, said that the U.S. data "is going to be enough to keep us above the $60 level for a least a couple of weeks."
The military action in Libya, which could disrupt supply from the OPEC member, also gave a boost to the prices. On Thursday, Eastern Libyan commander Khalifa Haftar ordered his troops to march on Tripoli, escalating a conflict with the internationally recognized government.
"The developing situation in Libya is also supportive, but, for now the oil is continuing to flow and will likely continue to do so," said John Kilduff, a partner at Again Capital LLC in New York.
Crude futures were also boosted from news of a potential slowdown in crude production out of Venezuela, as U.S. sanctions and energy blackouts hit the OPEC nation's oil industry.
U.S. Industry Turned to "Responsible" Natural Gas to Fetch Premium Price, According to SPGlobal.com
As the natural gas industry has observed consumers' environmental consciousness, it has begun to market "responsibly produced" gas - at a premium price.
The first public transaction involving gas certified under the Responsible Gas program by Independent Energy Standards Corp. took place in September 2018 when Southwestern Energy sold an undisclosed volume to local utility company New Jersey Natural Gas, Jory Caulkins, IES CEO, said in an interview. He also added that the standards and certification company has seen one additional deal close involving responsibly produced gas, as well as rapid growth in demand for its flagship product -- a TrustWell rating, similar to the Leadership in Energy and Environmental Design (LEED) rating for buildings.
Such a positive rating allows a gas supplier to charge a premium of "a few pennies per Mcf, up to 10 cents/Mcf," for its product, declared the same Caulkins.
On Tuesday, IES announced it had completed its 2,500th rating of gas wells under the TrustWell program. The program certifies gas wells, as well as, in some cases, associated facilities on the surface.
Caulkins said initial interest in the gas certification program has come from utilities and local distribution companies, whose customers are interested in purchasing energy produced with a minimum of environmental and social impact. "Those are some of the first-movers. Their constituents are starting to understand the supply chain and want to vote with their feet and their wallet and reward responsible practices," he said.
But more recently, the program has attracted also interest from upstream companies.
Gold Ended Higher and Managed to Avoid 3-session Skid, but Notched Weekly Loss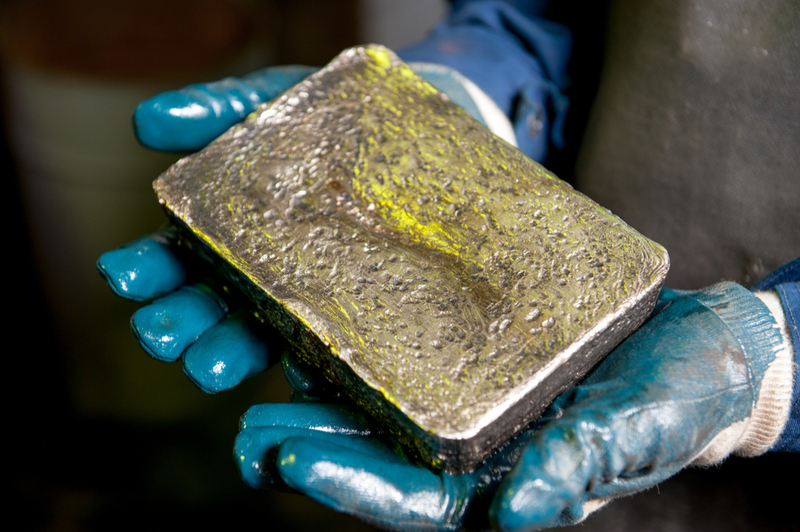 On Friday, gold futures ended with a modest gain, but managed to book a weekly loss due to investors favouring risky assets, like stocks, MarketWatch.com reported.
Gold for June delivery lost $1.30, or 0.1%, at $1,295.60 an ounce, after settling lower in the past two sessions, while May silver lost 0.2 cent, or less than 0.1%, to $15.086 an ounce. For the week, the metal shed 0.2%.
A technical selloff "will be there if gold does not break $1,305 by Monday," Chintan Karnani, chief market analyst at Insignia Consultants, told MarketWatch, adding that "apart from gains in the U.S. dollar and outflows in gold ETF, "other factors are bullish in gold."
In other metals trade figures looked as follows:
• June palladium gained $13.60, or 1%, to finish at $1,345.90 an ounce;
• July platinum gained 90 cents, or less than 0.1%, to settle at $905.40 an ounce;
• May high-grade copper lost 1.55 cent, or 0.5%, to end at $2.8945 a pound.
S&P 500 Recorded Seventh Straight Gain, Longest Winning Streak in 18 Months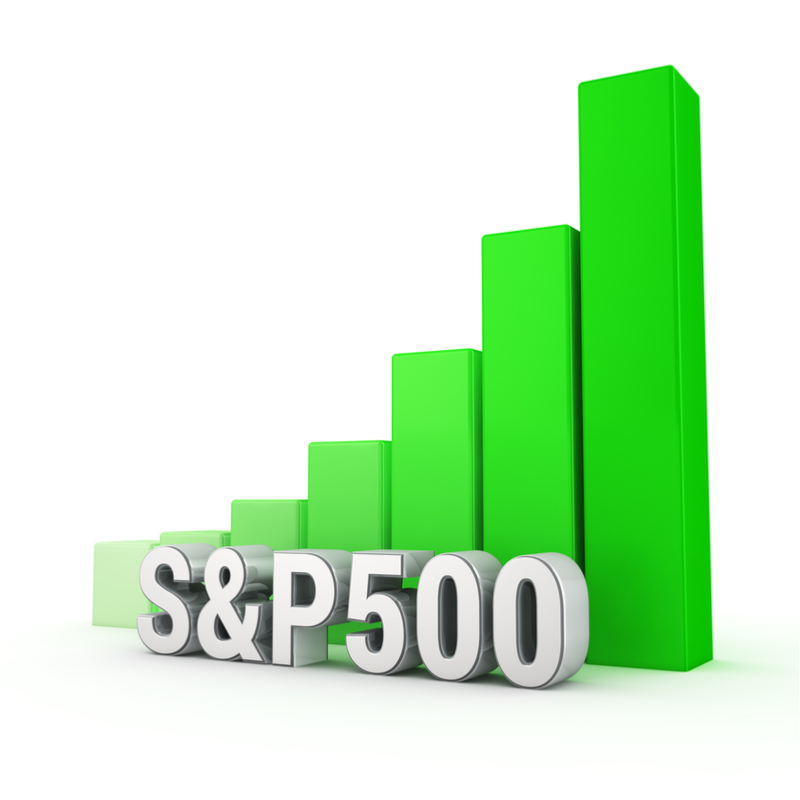 On Friday, U.S. stocks ended higher on Friday, extending their weekly gains, amid a combination of trade hopes and a bounce back in March's payrolls numbers:
• S&P 500 rose around 0.5% to end near 2,893.
• Dow Jones Industrial Average DJIA picked up 40 points, or more than 0.1%, to finish around 26,425.
• Nasdaq Composite was up 0.6% to end around 7,939.
The broad-market S&P 500 logged its seventh session of gains, its longest such streak since Oct. 2017. This came as the report of the Bureau of Labor Statistics said that the U.S. economy added 196,000 jobs in March, above analysts' expectations.
Another positive factor for the indices was the optimism on the trade front. Xinhua News Agency reported China President Xi Jinping had written to President Donald Trump calling for the U.S. to finish negotiations to end their trade dispute soon.
European Shares Were Firm, While Irish Stocks Hit Highest Close in Six Months
European shares rounded off a solid week on Friday. The results came due to better than expected German and U.S. data which bolstered risk appetite, while Irish stocks surged to their best closing level in nearly half a year amid a possible delay to Brexit.
The pan-region STOXX 600 index edged up 0.1 percent, as most bourses across Europe rose.
"We are in a Goldilocks scenario, where bad news is good news, and the good news is good," said Naeem Aslam, chief market analyst at TF Global Markets in London. "The U.S. jobs number was solid and this has pushed the European markets higher."
Britain's FTSE 100 rose 0.6 percent, on the background that the pound weakened against the dollar due to uncertainty around British Prime Minister Theresa May's attempt to delay Brexit.
Germany's DAX rose 0.2 percent, while hopes on the highly-expected truce between U.S. and China have been a major driver for European stocks this week with auto stocks performing especially strongly. They consolidated gains to rise 6.9 percent for the week.
Here's how other stocks performed:
• chemicals stocks helped prop up the regional benchmark on Friday, with Switzerland's Ems Chemie Holding climbing 5.9 percent;
• European oil and gas stocks rose 0.9 percent. Britain's BP gained 1.6 percent, while Norway's Equinor added 1.2 percent.
• telecom stocks fell 1 percent, with Vodafone ending down 2.2 percent.
• banks were also weak, falling half a percent.
FAANG: Facebook Trading at Highest Level since August, Apple Music Surpasses Spotify in U.S. Paid Subscribers
Facebook (FB) shares extended their 2019 rally on Thursday, after the stock was upgraded to buy from neutral at Guggenheim, which wrote that positive user trends would help offset the financial risk represented by various privacy concerns, reports Finance.Yahoo.com.
Shares rose as much as 2.3 percent, putting the stock on track for its highest close since August. At current levels, Facebook has gained more than 40 percent off a December low.
"Investors will continue to gain comfort with the incremental financial risk created by content and privacy concerns," analyst Michael Morris wrote to clients. "At the same time, we believe usage trends have remained solid," led by Instagram and global growth.
Loop Capital on Thursday wrote that "the biggest risk" to Facebook was regulation, "both domestic and international, due to privacy issues, the Cambridge Analytica crisis and the recent security breach." However, it affirmed its buy rating and $200 price target, saying the stock was "attractively priced, particularly if one imputes value for WhatsApp and Messenger."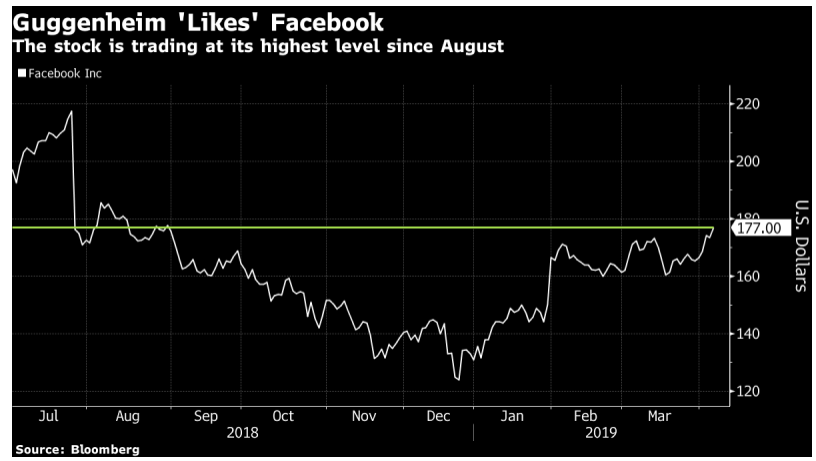 Source: Finance.Yahoo.com.
Guggenheim also raised its own target on Facebook to $200 from $175, putting it slightly above the $197 average target. "We still view the company's video strategy as un-developed and see the economic opportunity as limited without uniquely recognizable content and a presence on the television screen to complement the mobile experience," Guggenheim wrote.
Apple Music's (AAPL) strong growth rate has helped it surpass rival Spotify (SPOT) as the top paid music subscription service in the U.S., two news outlets reported Friday.
Apple's monthly growth rate of between 2.6% and 3% outpaced Spotify's 1.5% to 2% growth rate, leading Apple Music to reach more than 28 million paid subscribers in the U.S. compared to Spotify's 26 million, according to the Wall Street Journal and Reuters, citing unidentified sources familiar with the matter.
Globally, however, Spotify still holds a big lead when it comes to paid subscribers. As of December, Spotify boasted 207 million active users around the world, 96 million of whom are either paying subscribers or in a trial period. Meanwhile, Apple has most recently said it has more than 50 million paying subscribers around the world.
Spotify shares were rising 1.3% to $142.09 Friday afternoon while Apple shares are rising 0.62% to $196.91.
Amazon (AMZN) is set to leverage its global e-commerce footprint tied to its grocery chain acquisition of Wholefoods Market in the coming days.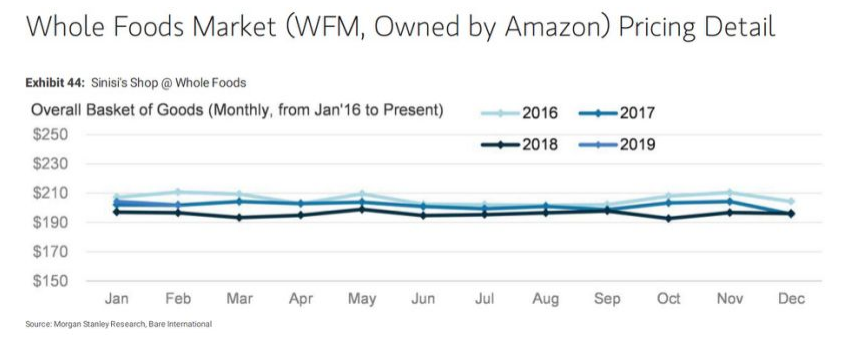 Source: Finance.Yahoo.com.
Amazon is unfolding the rest of its strategy tied to the Wholefoods acquisition with what could be a major shift in grocery market share in the coming years, according to Finance.Yahoo.com. Prime subscribers can anticipate a 20% price reduction on various food items from WFM.
The average basket of goods pricing has remained relatively stable, according to Morgan Stanley, but with the introduction of Prime Discount for 300 items, according to various media reports, analyst Ben Mahaney anticipates that the basket price will trend considerably lower to perhaps $170-$180 based on recent data. The drop in pricing would make Amazon hyper competitive with competing grocers like Kroger (KR) and Wal-Mart (WMT), who continue to bleed market share in virtually every category, anyway.
Amazon stock was relatively unresponsive to the announcement until now.
According to engadget.com, Netflix's (NFLX) US price increases will hit users in May.
The basic plan is rising from $8 to $9, while the standard package (which offers HD streaming on two devices simultaneously) is jumping from $11 to $13. The premium plan, which offers UHD streaming on up to four devices at once, will cost $16 instead of $14.
Netflix says it's increasing prices to help it pay for original shows and movies like Stranger Things, Our Planet, Black Mirror and The Irishman that aren't cheap. Netflix is also shelling out for other popular programming for its library, including Friends. It spent $12 billion on content in 2018 and that figure is expected to rise to $15 billion this year.
Facebook and Google (GOOG) could be liable for harmful content under UK plans. A white paper due to be released by the government next week will include proposals for an independent internet regulator, The Guardian reports.
Britain is set to unveil legislation on Monday that brings about a new legally-binding duty of care on social media firms to make their platforms safer, The Guardian reported, citing a leaked government document.
The news comes as social media giants face increasing calls to clean up their platforms in the wake of the Christchurch, New Zealand mosque attack.
"We will shortly publish a white paper which will set out the responsibilities of online platforms, how these responsibilities should be met and what would happen if they are not," a U.K. government spokesperson said. "We have heard calls for an internet regulator and to place a statutory 'duty of care' on platforms, and have seriously considered all options."
Sources: Reuters.com, MarketWatch.com, SPGlobal.com, Finance.Yahoo.com, TheStreet.com, engadget.com, CNBC.com.
The information presented herein does not constitute and does not intend to constitute Investment Advice. The information contained herewith is a compilation of public stock recommendations issued by various financial analysts and organised by Live News Recommendation in an easily presentable format, for information purposes only.
Key Way Investments Ltd does not influence nor has any input in formulating the information contained herein. The content herewith is generic and does not take into consideration individual personal circumstances, investment experience or current financial situation. Users/readers should not rely solely on the information presented herewith and should do their own research/analysis by also reading the actual underlying research. Users/readers should also consider the risk of encountering significant losses when trading CFDs. Therefore, Key Way Investments Ltd shall not accept any responsibility for any losses of traders due to the use and the content of the information presented herein. Past performance is not a reliable indicator of future results.
CFDs are complex instruments and come with a high risk of losing money rapidly due to leverage. 71.79% of retail investor accounts lose money and 28.21% win money when trading CFDs with cfdglobal.com. You should consider whether you understand how CFDs work and whether you can afford to take the high risk of losing your money.
The information presented herein is prepared by CAPEX.com and does not intend to constitute Investment Advice. The information herein is provided as a general marketing communication for information purposes only and as such it has not been prepared in accordance with legal requirements designed to promote the independence of investment research, and it is not subject to any prohibition on dealing ahead of the dissemination of investment research.

Users/readers should not rely solely on the information presented herewith and should do their own research/analysis by also reading the actual underlying research. The content herewith is generic and does not take into consideration individual personal circumstances, investment experience or current financial situation.

Therefore, Key Way Investments Ltd shall not accept any responsibility for any losses of traders due to the use and the content of the information presented herein. Past performance and forecasts are not reliable indicators of future results.