Image: The trends of global markets.
Every Monday we keep you up to date with the major events that happened the previous week so that you can make better trading decisions. Here's what happened last week!
After Soft Data, the Dollar Steadied; Trade Talks between U.S. and China Were in Focus
On Friday morning the dollar was modestly higher, steadying after a report that showed import price data weakened for the third straight month in January.
The Dollar Index, DXY, was 0.2% higher, in recovery after a week that showcased several weak data reports, including U.S. retail sales.
As everyone awaited the developments in trade talks between Washington and Beijing, major currencies remained range-bound.
Earlier, last week, markets cheered when the U.S. President Donald Trump made an upbeat assessment of the talks, but the lack of progress also caused declines for the Australian dollar.
"Any bad news out of the trade discussions on Friday could push the dollar back up, given investor demand for safe-haven assets during uncertain times," Turner declared for Reuters.
Hegde Funds Look at the Volatile Australian Dollar
Lately, hedge funds are looking at the Australian Dollar, especially since "it became the most-volatile Group-of-10 currencies in the past month".
"It's one of the best times to trade," said Nader Naeimi, who has short positions on the currency at the dynamic market fund he manages at AMP Capital Investors Ltd. "A lot of the good news is priced in the Aussie now so there's room for disappointment. That said, it's still so influenced by risk-on, risk-off sentiment so it gives you room to trade."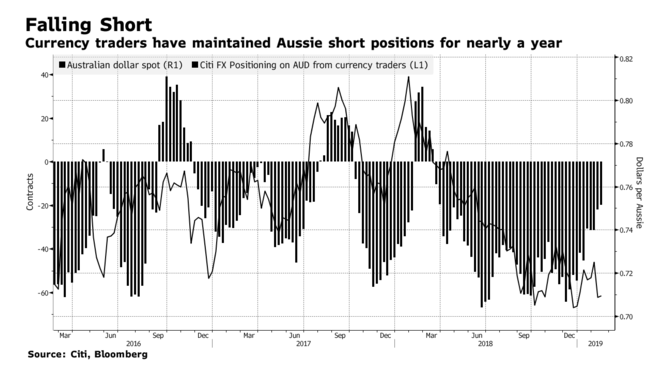 Image: Short positions on Australian Dollar.
Source: Bloomberg.com
The OPEC+ Oil Arrangement May Not Last
The OPEC+ Oil deal was updated in December. Saudi Arabia and Russia, the two big leaders, promised to take the biggest share of each group's pledged output cuts - Saudi Arabia shouldering 40% of the OPEC burden and Russia assuming 60% of the non-OPEC contribution.
After the first's month data was published, figures didn't look as they should have. Saudi Arabia cut more than it promised, reducing output to 10.213 million barrels a day.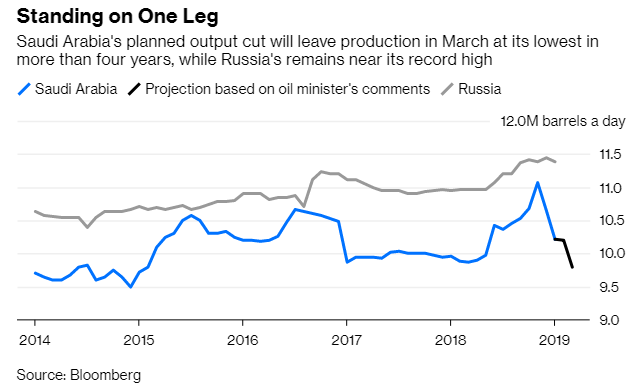 Image: Saudi Arabia's planned output cut.
Source: Bloomberg.com
Russia's performance was rather different. The country promised to make a cut of 230,000 barrel a day, but the value reached only 42,000 barrels, according to Bloomberg calculations. Russia said it will accelerate implementation, but its production rose between October and December rose, and it may not reach its target until May, just a month before the current deal expires.
Analysts are now considering that the pact between Saudi Arabia and Russia may not last.
NYMEX March Gas Showed Signs of Rebound Despite Near-term Cold Weather Outlook
In morning trade on Friday, the NYMEX natural gas futures contract rose, although there are expectations of cold weather in the near term.
At settlement, the front-month contract climbed 5.20 cents and traded at $2.625/MMBtu, moving between $2.543/MMBtu and $2.631/MMBtu.
Due to lower-than-normal temperatures, Daniel Myers of Gelber & Associates., an energy advisory firm, believes "there may be some stronger withdrawals closer to or above the five-year average in the second half of February."
National gas stocks currently stand at 1.882 Tcf, at a 15% deficit to the five-year average of 2.215 Tcf, according to US Energy Information Administration.
Gold Reaches Highest Level Since Mid-2018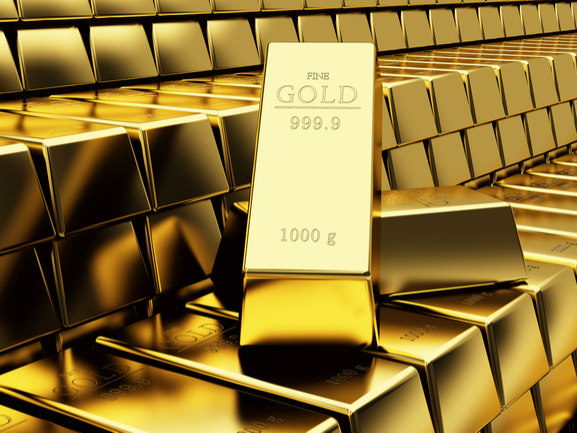 Image: Gold ingots.
On Thursday, gold prices climbed to a fresh 6-1/2 month peak, moving closer to the key $1,300 an ounce, being fuelled by concerns over economic slowdown and demand for haven bullions.
Spot gold gained 0.42% to $1,290.20 per ounce at 1:50 p.m. ET, having earlier touched $1,292.32, its highest since June 15. Gold futures settled $10.70 higher at $1,294.80.
"Gold is overbought on most measures and needs to consolidate but with the speculative long still building, the market will be looking for $1,300 sooner than expected," Saxo Bank analyst Ole Hansen said. "If the fourth quarter theme of lower dollar, stocks and yields carries on, gold is likely to break higher and set its sight on the previous high around $1,380."
Both U.S. and European Stock Markets Closed Higher on Friday
As progress was made in the U.S.-China negotiations, stocks rallied in the U.S. and on the European continent.
Major benchmarks in U.S. reached the following figures:
• Dow Jones Industrial Average DJIA, +1.74% rose 443.86 points, or 1.7%, to 25,883.25;
• S&P 500 index SPX, +1.09% gained 29.87 points, or 1.1%, to 2,775.60;
• Nasdaq Composite Index COMP, +0.61% rose 45.46 points, or 0.6%, to 7,472.41.
The pan-European STOXX 600 ended provisionally up by 1.42%. Still, the FTSE and the DAX both went down.

Image: Performance of European indices.
Source: CNBC.com
FAANG: Amazon Escapes from New York, Google Expands Presence in Boston and NYC
It hasn't been one year since Facebook (FB) made a $3 billion investment in virtual reality by purchasing Oculus VR. Now CEO Mark Zuckerberg is considering another multi-billion-dollar acquisition: that of Unity, the popular game engine that's used to build half of all gaming titles, according to TechCrunch.com.
Apple (APPL) has hired ex-Microsoft executive Sam Jadallah to revamp its smart home business to catch up Google and Amazon. The move shows that Apple plans to get serious about its own efforts in the home. By now the company has a range of products geared to the home:
• HomeKit, its software service that connects with a broad array of third-party products;
• HomePod, a smart speaker for the home with voice recognition, music and more.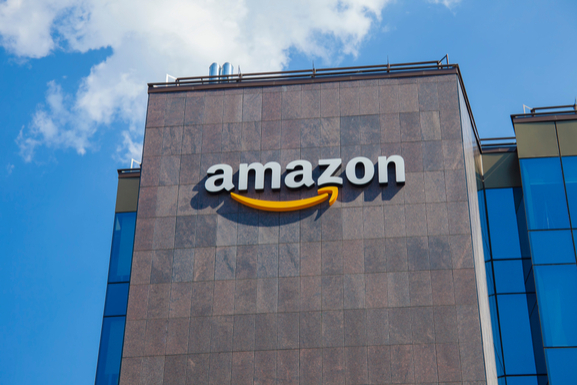 Image: The company logo of the giant Amazon.
Amazon (AMZN) planned to open a second headquarter in Long Island City, New York. But on Thursday morning, Amzon.com Inc. decided to renounce a deal that would have brought 25,000 high-paying jobs over 10 years to New York, in exchange for close to $3 billion in tax breaks and subsidies.
"After much thought and deliberation, we've decided not to move forward with our plans to build a headquarters for Amazon in Long Island City, Queens," Amazon announced on its corporate blog. "We are disappointed to have reached this conclusion."
Netflix's (NFLX) cost of your subscription is about to rise, from $1 to $2 per month, depending on the plan you use. Still, James Brumley from InvestorPlace.com believe that the new prices won't affect Netflix, as "the price tag is still negligible for most consumers".
Although Amazon decided to scrap its plan for a second HQ in Long Island City, New York City Mayor de Blasio said: "Instead of working with the community, Amazon threw away that opportunity. We have the best talent in the world and every day we are growing a stronger and fairer economy for everyone. If Amazon can't recognize what that's worth, its competitors will."
One of them already has, as Google (GOOG) had already announced a billion-dollar expansion in Hudson Square at the end of last year. Google will be moving into a brand-new building that currently is home to the MIT Coop bookstore. It plans to grab 365,000 square feet of the new building when it's completed, and, as in NYC, will be adding hundreds of new jobs to the 1,500 already in place.
Sources: Reuters.com, Bloomberg.com, SPGlobal.com, CNBC.com, MarketWatch.com, TechCrunch.com and InvestorPlace.com.
The information presented herein does not constitute and does not intend to constitute Investment Advice. The information contained herewith is a compilation of public stock recommendations issued by various financial analysts and organised by Live News Recommendation in an easily presentable format, for information purposes only.
Key Way Investments Ltd does not influence nor has any input in formulating the information contained herein. The content herewith is generic and does not take into consideration individual personal circumstances, investment experience or current financial situation. Users/readers should not rely solely on the information presented herewith and should do their own research/analysis by also reading the actual underlying research. Users/readers should also consider the risk of encountering significant losses when trading CFDs. Therefore, Key Way Investments Ltd shall not accept any responsibility for any losses of traders due to the use and the content of the information presented herein. Past performance is not a reliable indicator of future results.
CFDs are complex instruments and come with a high risk of losing money rapidly due to leverage. 71.79% of retail investor accounts lose money and 28.21% win money when trading CFDs with cfdglobal.com. You should consider whether you understand how CFDs work and whether you can afford to take the high risk of losing your money.