British Pound Fell as Cross-party Brexit Talks Collapsed
On Friday, the British pound remained in the spotlight, extending a decline versus major rivals, all due to talks between the U.K.'s two main political parties collapsed without an agreement on how to pursue the country's exit from the European Union.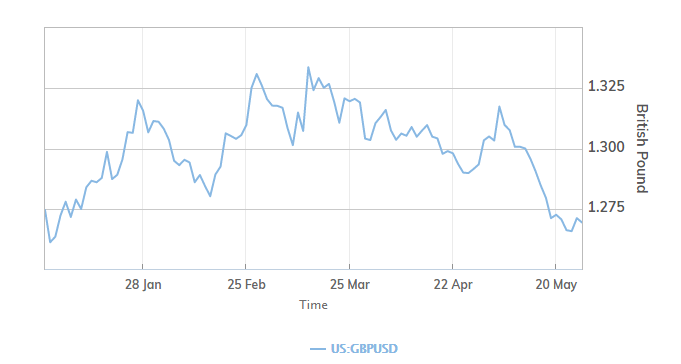 Source: MarketWatch.com.
The GBPUSD fell to a four-month low to change hands Friday morning at $1.2741, down from $1.2847 in New York trading hours late Thursday, while the EURGBP rose 0.3% to 87.66 pence.
"Markets are converging on a scenario of May's early exit and her replacement with a pro-Brexit PM and, implicitly, a growing risk of no deal exit and GBP weakness as a result," said Adam Cole, chief currency strategist at RBC Capital Markets, in a note.
Brazil Markets on Forex Intervention Alert as Real Slide Accelerates
The rapid acceleration of the Brazilian real's slide against the dollar has put traders on high alert for intervention from the central bank to stop the rot, although so far there is no sign the central bank has shown its hand.
With messy politics slowing the government's fiscal reform agenda in Congress, the domestic economy deteriorating and global trade war tensions rising, the real has plunged through 4.00 per dollar to its lowest level since September.
It has depreciated 3.5% this week, one of its biggest weekly declines since Brazil emerged from a brutal recession in late 2016.
A spokesman for the central bank declined to comment.
The last time the central bank intervened in the spot foreign exchange market was February 2009. Its interventions since then have been in the FX swaps market where it is routinely active, by adjusting the size and maturity of contracts it rolls over.
"It's a perfect storm for a speculative attack on the real. They (policymakers) will definitely be monitoring this," said a broker in Sao Paulo. "What the market is looking for is the point at which the central bank gets uncomfortable."
Oil Fell for the Session, Gaining for the Week Ahead of OPEC Committee Meeting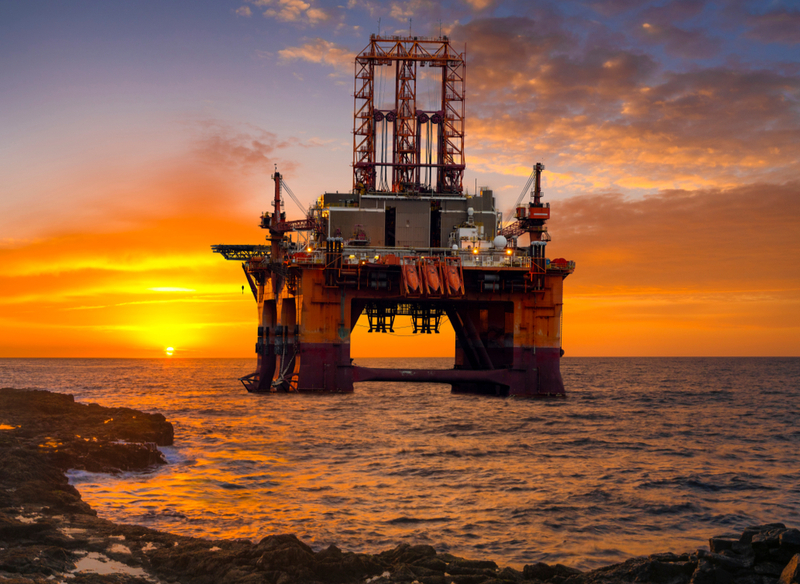 Oil futures finished lower Friday, with U.S. prices down for the first time in four sessions, but up for the week, as any potential demand worries tied to stock-market volatility were offset by supply concerns linked to Middle East tensions.
The price moves came ahead of a meeting Sunday of the Joint Ministerial Monitoring Committee of members and nonmembers of the Organization of the Petroleum Exporting Countries in Jeddah, Saudi Arabia.
West Texas Intermediate crude for June delivery fell 11 cents, or 0.2%, to settle at $62.76 a barrel, but prices climbed 1.8% for the week.
Global benchmark July Brent lost 41 cents, or 0.6%, to $72.21 a barrel on ICE Futures Europe, with front-month contract prices up 2.3% from the week-ago settlement. Thursday's finish at $72.62 Thursday marked the highest to date in May.
Natural Gas Prices to Remain Rangebound
Thursday's EIA report recorded another above-average triple-digit build of 106 BCF.
Even more, natural gas prices traded higher on Thursday despite strong inventory build:
• The front-month June natural gas futures contract finished Thursday up 1.40%, or 3.8 cents ($0.038), to $2.639.
• The July contract increased 4 cents ($0.040) to $2.674.
• The August contract gained 3.8 cents ($0.038) to $2.689.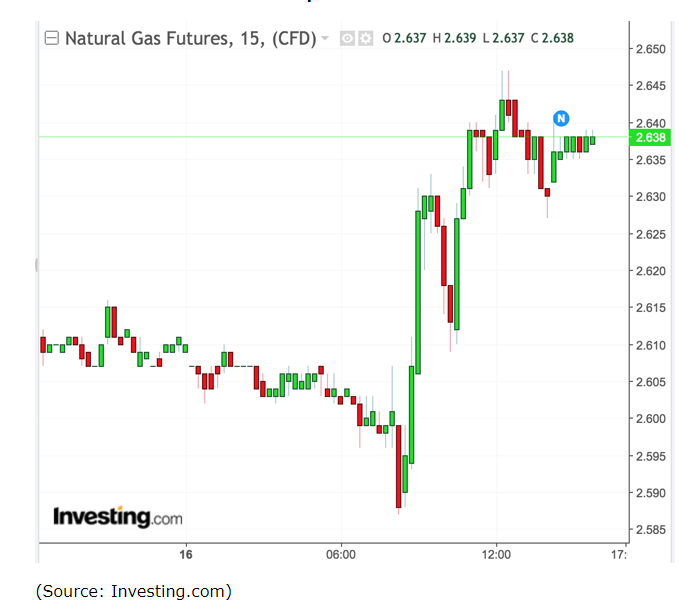 Source: SeekingAlpha.com.
Gold Extended Losses, at 2-Week Low
Gold prices were trading moderately down and hit a session low and two-week low in late-morning action Friday.
A recovery in the U.S. stock market from early losses and the U.S. dollar moving higher and hitting a new daily high were working against the precious metals markets bulls.
June gold was last down $9.10 at $1,277.10.
Stocks Fell for Second Week on Trade Concerns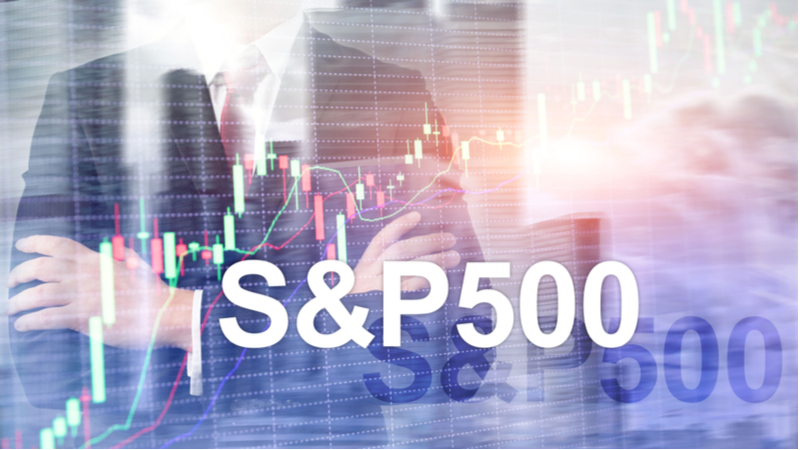 U.S. stocks fell for the first time in four days, with technology shares bearing the brunt of the selling in a market rattled by a barrage of trade-related headlines:
• The S&P 500 declined a second week for the first time this year as there have been concerns that U.S.-Chinese trade negotiations reached an impasse after tit-for-tat tariffs soured proceedings.
• The Nasdaq 100 slid 1%, with chipmakers under pressure a second day after the Trump administration threatened to ban Huawei Technologies Co. products.
"What's happening in markets is there's this push and pull idea of what's happening with the trade war with China. That's obviously what's on everyone's minds," said Chris Zaccarelli, chief investment officer for Independent Advisor Alliance.
Trade Rhetoric Weighs on European Shares
European shares dropped on Friday after three days of gains, as Beijing ratcheted up its war of words with Washington over trade, weighing on risk appetite.
The pan-European STOXX 600 index was down 0.7% by 07:20 GMT, though it was still looking at its best weekly performance since in 1-1/2 months.
Among country indexes, Germany's exporter-heavy DAX fell the most. Auto stocks lost 1.6%, with BMW shedding 5.7% as its shares traded ex-dividend.
Just Eat tanked 7.8%, making it their biggest faller on the FTSE 100, while Takeaway.com and Delivery Hero lost 4.8% and 3.7% percent respectively.
FAANG: Facebook to Raise Pay for Thousands of Contract Workers, Amazon's Stock Surged
Facebook Inc. (FB) said it will give raises to most of its U.S. contract workers, a group of people who have critical roles but aren't paid or treated as full-time company employees.
The world's largest social-media company said Monday that the current $15-an-hour minimum wage it requires for U.S. workers is no longer enough for those who live in expensive areas like the San Francisco Bay Area, where Facebook's headquarters is located
"Because wages so directly affect people's lives, we obviously have a deep responsibility to look after all the people who work for Facebook – with us as a partner or with us directly," Janelle Gale, Facebook's vice president of human resources, said in an interview.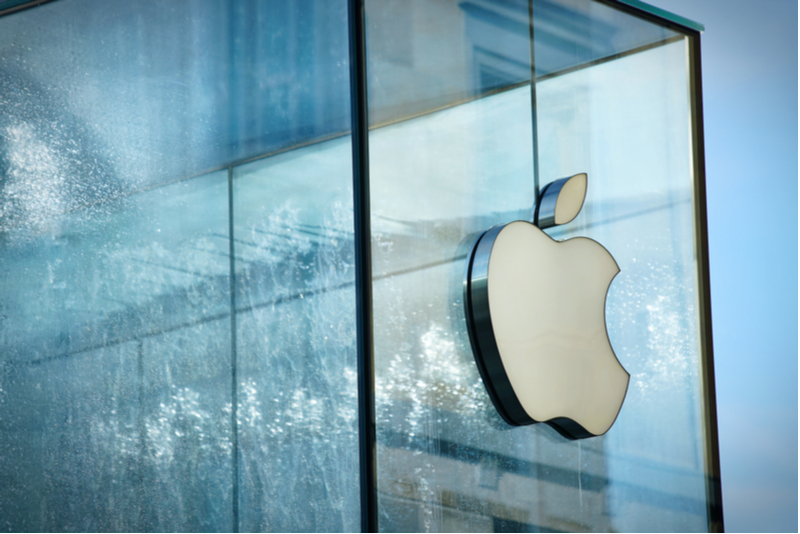 Apple (AAPL) stock is up about 21% in 2019, closed 1.2% higher at $190.92 on Wednesday.
Shares of Apple have just underperformed the S&P 500 over the last 12 months. Now, according to Kolovos, the stock is "oversold and at support."
Same Kolovos also believes that "without robust upside momentum, we should expect more time and the potential for lower prices. Downside risks are between 3-5% lower."
Shares of Amazon.com Inc. (AMZN) rallied 2.3% in morning trade Thursday, after Warren Buffett's Berkshire Hathaway Inc. disclosed that the stake it bought in the e-commerce and cloud giant was worth more than $900 million.
The stock was headed for a third-straight gain--it has run up 5.0% during that time--after snapping a six-session losing streak in which it shed 7.2%.
Netflix's (NFLX) competition with media companies has been intensifying, with most media giants having already unveiled their own streaming services.
Netflix had to pay a whopping $100 million to AT&T's Time Warner to keep the popular sitcom Friends on its platform. However, that deal is set to end later this year. Time Warner is launching its own streaming service, where Friends and other Time Warner shows are likely to end up.
Similarly, all Disney and Marvel movies will be available exclusively on Disney+. Meanwhile, NBCUniversal's The Office is still the most-watched show on Netflix.
To keep such popular shows, Netflix will have to pay its streaming competitors premiums similar to or higher than the sum it forked over to keep Friends—and that's only if these media companies decide to license their content. However, Netflix is preparing for such a situation. The company is spending billions of dollars each year to ramp up its already impressive library of quality original content.
Alphabet has been updating its plans for new advertising products at a company-run conference this week. Deutsche Bank 's Lloyd Walmsley, who has a Buy rating on the stock, is impressed. He boosted his price target on Alphabet stock (GOOG) by $100 to $1,400, more than 20% above current prices and above FactSet's $1,344 average.
"We see an accelerating pace of new ad product making us meaningfully more confident in the 2020 outlook," he wrote. "We think Google has among the best ad product pipelines we have seen" since 2015.
That includes plans to improve the financial power of Maps and to monetize its feed-like Discover product, which uses cards to sort information; updates to Shopping; and new ad units on Mail, Search, and elsewhere.
Sources: MarketWatch.com, Reuters.com, SeekingAlpha.com, Kitco.com, Bloomberg.com, Finance.Yahoo.com, Marketrealist.com, and Barrons.com.
The information presented herein does not constitute and does not intend to constitute Investment Advice. The information contained herewith is a compilation of public stock recommendations issued by various financial analysts and organised by Live News Recommendation in an easily presentable format, for information purposes only.
Key Way Investments Ltd does not influence nor has any input in formulating the information contained herein. The content herewith is generic and does not take into consideration individual personal circumstances, investment experience or current financial situation. Users/readers should not rely solely on the information presented herewith and should do their own research/analysis by also reading the actual underlying research. Users/readers should also consider the risk of encountering significant losses when trading CFDs. Therefore, Key Way Investments Ltd shall not accept any responsibility for any losses of traders due to the use and the content of the information presented herein. Past performance is not a reliable indicator of future results.