Image: Analysing financial data from market events.
Every Monday we make a summary of the major events that happened last week. Here's what you should know:
The Australian Dollar Is the Most Volatile Major Currency in the Past Month, according to Bloomberg
On Thursday, the Australian Dollar was swinging about 1.7% in just one day. How did the day look for the AUD? According to Bloomberg, the Aussie jumped on a surprise beat on jobs data. Less than an hour later, it sank when an influential economist at Westpac Banking Corp. said the central bank may cut rates twice. The Aussie got a reprieve on reports that the U.S. and China are nearing a trade deal, only to plunge more than 1% when Reuters reported that a Chinese port custom has banned its coal shipments indefinitely.
"There's probably a lot of gut fear that this Dalian story goes beyond pure economics and there may be worse things to come -- that's just sparked even more volatility in Aussie dollar trading on a day when it's already swung so much," said Kyle Rodda, analyst at IG Group in Melbourne. "This is unlikely to end anytime soon."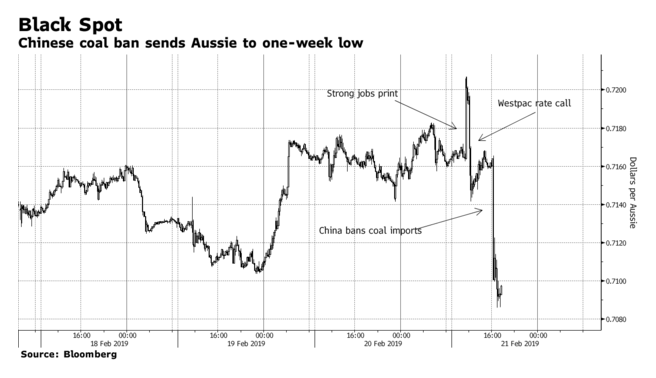 Image: Chinese coal ban sends Aussie to one week low
Source: Bloomberg.com
Sterling Set to End Three-week Losing Streak on Brexit Hopes
On Friday, the British Pound bobbed around the $1.30 mark, but it was set to end its losing streak as investors awaited for the talks between the United Kingdom and the European Union.
The pound was headed for a 1.2% rise for the week, breaking three consecutive weeks of losses. On a weekly basis, it was also the best performing currency among its major rivals.
"Without a breakthrough in Brexit talks it will be difficult for sterling to go through these levels," said MUFG currency analyst Lee Hardman, referring to the $1.30 and 87 pence per euro levels around which the pound has jumped back and forth in recent sessions.
Oil in New York Posted a Second Straight Weekly Advance
As investors focused on talks between the U.S. and Ching on trade and as OPEC showed commitments to curbing production, oil in New York posted a second straight weekly advance.
Futures added 0.5% in New York on Friday to the highest in more than three months. Oil has also climbed this year as OPEC and its allies committed to reduce production.
On Friday, West Texas Intermediate for April delivery added 30 cents to settle at $57.26 a barrel on the New York Mercantile Exchange. Futures climbed 3% last week. The U.S. benchmark also closed above its 100-day moving average after breaching the key level this week.
Brent for April settlement rose 5 cents to end the session at $67.12 a barrel on the London-based ICE Futures Europe exchange. The global benchmark crude was at a $9.86 premium over WTI.
EIA Reports Strong Storage Draw and NYMEX March Gas Futures Contract Jumps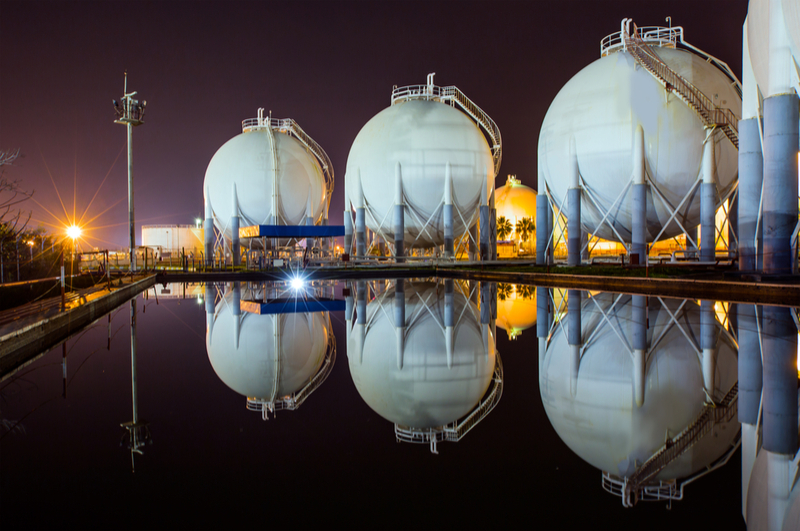 Image: Natural gas tank.
The NYMEX March natural gas futures contract climbed 6 cents Thursday after trending down in Wednesday trading.
The March contract settled at $2.697/MMBtu, a 6.1-cent rise from Wednesday's close, and trading in a range of $2.639/MMBtu to $2.701/MMBtu. The April and May contracts were trading up about 5 cents from Wednesday.
All these price movements emerged after the US Energy Information Association announced a 177 Bcf withdrawal for the week-ended February 15, more than twice the volume of the 78 Bcf withdrawal reported for the previous week-ended February 8.
Gold Prices Posted Largest One-day Loss Since August 2018
On Thursday gold prices dropped back from a 10-month high on Thursday, suffering from their largest one-day decline since August 2018.
According to MarketWatch, analysts attributed the steep loss to minutes from the Fed's January meeting released a day earlier, which sounded less dovish than investors had expected, as well as a stronger dollar and rising bond yields. Prices for the metal also sank on the back of technical trading pressure.
"Gold was due for a correction as the current rally was getting very extended," Michael Armbruster, managing partner at Altavest, told MarketWatch. "In our opinion, the pullback we're seeing in gold is technical in nature."
Gold for April delivery on Comex GCJ9, -0.03% fell $20.10, or 1.5%, to settle at $1,327.80 an ounce. That was the largest one-day dollar and percentage loss for a most-active contract since Aug. 13, FactSet data show. March silver SIH9, +0.19% also dropped 37.6 cents, or 2.3%, to $15.801 an ounce—the largest loss for futures prices since September.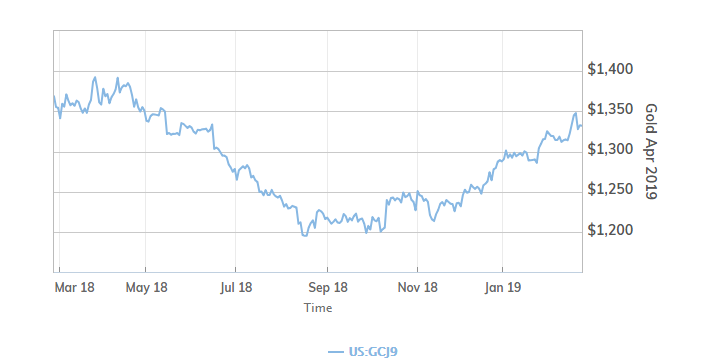 Image: Gold for April Delivery
Source: MarketWatch.com.
Both US Stocks-Futures and European Markets Green on Signs of Progress in Trade Talks
On Friday U.S. stock index futures rose on Friday on signs of progress in the ongoing trade talks between the United States and China.
Officials haggled over some of the toughest issues in the trade war. "It would appear that there's been some real progress made in the talks, at least enough to extend the truce and avoid further tariff hikes," Craig Erlam, senior market analyst at Oanda in London, wrote in a note.
As a result, at 7:05 a.m. ET, Dow e-minis were up 124 points, or 0.48 percent. S&P 500 e-minis were up 11.25 points, or 0.41 percent and Nasdaq 100 e-minis were up 40 points, or 0.57 percent.
How Did European Markets Perform?
The Stoxx Europe 600 SXXP, +0.20% gained 0.2% to 371.33, after finishing down 0.3% on Thursday.
Italy's FTSE MIB index I945, +0.86% was the region's top climber, adding 0.3% to 20,277.26.
Meanwhile the rest of Europe's major indexes added around 0.3% on Friday, with the German DAX DAX, -0.57% rising 0.6% to 11,487.86, the FTSE 100 UKX, +0.11% jumping 0.6% to 7,206.28 and France's CAC 40 PX1, +0.30% rising 0.4% to 5,214.81.
FAANG: Top Hedge Funds Buy Facebook Shares
According to CNBC.com, top hedge funds bought the huge dip in tech stocks as the sector dominated top holding in the fourth quarter. Facebook (FB) was preferred by the largest hedge funds as the market staged its first quarter comeback, followed by Microsoft, Alphabet, Amazon and Alibaba. Citi Research reviewed the regulatory filings from the largest 50 hedge funds by value of securities that document their top 10 holdings as of end of December.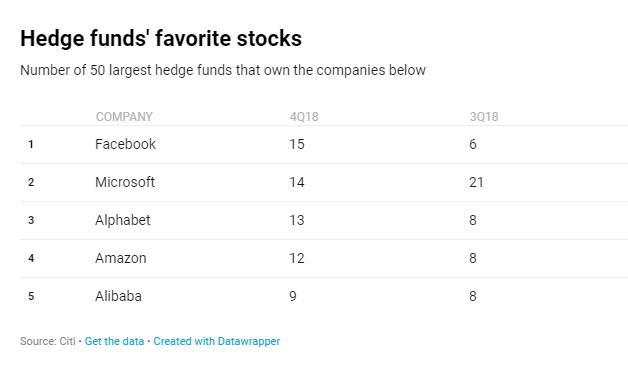 Image: Hedge funds' favourite stocks.
Source: CNBC.com
By the end of the fourth quarter, 15 of the 50 largest hedge funds owned Facebook shares as one of their top 10 holdings, more than double the number of funds from the third quarter, Citi data show. The smart money bought the huge dip in the social media giant when it lost more than 20% amidst fourth quarter's market turmoil. Facebook has rebounded in the new year with its shares rising almost 25% year to date.
Apple (APPL) and Goldman Sachs Group Inc. plan to start issuing this spring a joint credit card paired with new iPhone features that will help users manage their money. The card will be rolled out to employees for testing in the next few weeks and officially launch later this year, according to people familiar with the matter, said Market Watch.
eMarketer says that Amazon's (AMZN) ad business will steal market share from Google this year. Amazon is projected to claim 8.8% of the all-digital ad spending in 2019, up from 6.8% in 2018, and could reach 10% by next year, according to the study made by research firm eMarketer. The same study expects Amazon to grow its U.S. ad business by 50% this year.
Netflix (NFLX) stocks sank as market gained. On Wednesday, Netflix closed at $359.91, marking a -0.56% move from the prior day. This move lagged the S&P 500's daily gain of 0.18%. Elsewhere, the Dow gained 0.24%, while the tech-heavy Nasdaq added 0.03%. Still, investors hope for strength from NFLX as it approaches its next earnings release. Analysts expect the company to report EPS of $0.58, down 9.38% from the prior-year quarter. Meanwhile, Zacks latest consensus estimate is calling for revenue of $4.49 billion, up 21.29% from the prior-year quarter.
Last week Google (GOOG) announced its intention to acquire Alooma, a company that allows enterprises to combine all their data sources into services like Google's BigQuery, Amazon's Redshift, Snowflake and Azure. The promise of Alooma is that it handles the data pipelines and manages them for its users. In addition, Alooma also helps with migrating to the cloud, cleaning up this data and then using it for AI and machine learning use cases.
Sources: Bloomberg.com, Reuters.com, SPGlobal.com, MarketWatch.com, CNBC.com, Zacks.com and TechCrunch.com.
The information presented herein does not constitute and does not intend to constitute Investment Advice. The information contained herewith is a compilation of public stock recommendations issued by various financial analysts and organised by Live News Recommendation in an easily presentable format, for information purposes only.
Key Way Investments Ltd does not influence nor has any input in formulating the information contained herein. The content herewith is generic and does not take into consideration individual personal circumstances, investment experience or current financial situation. Users/readers should not rely solely on the information presented herewith and should do their own research/analysis by also reading the actual underlying research. Users/readers should also consider the risk of encountering significant losses when trading CFDs. Therefore, Key Way Investments Ltd shall not accept any responsibility for any losses of traders due to the use and the content of the information presented herein. Past performance is not a reliable indicator of future results.
CFDs are complex instruments and come with a high risk of losing money rapidly due to leverage. 71.79% of retail investor accounts lose money and 28.21% win money when trading CFDs with cfdglobal.com. You should consider whether you understand how CFDs work and whether you can afford to take the high risk of losing your money.