Image: Trader reading CFD Global financial news.
Read our comprehensive article to find out the significant events that happened last week on the markets so that you can make informed decisions. Here's what you should know:
Dollar Sank Against the Dollar as U.S. Treasury Curve Flashed Warning
On Friday, the dollar fell against the Japanese yen as dismal U.S. manufacturing data fuelled worries about the wider economy, and Treasury bond yields signalled growing fears of recession, Reuters reported.
Even so, the dollar rose against the euro as a much weaker-than-expected German manufacturing survey raised concerns that Europe's powerhouse economy might be slowing.
Looking at the data, Sean Simko, head of global fixed income management at SEI Investments Co in Oaks, Pennsylvania, affirmed: "You have to take it seriously that it is a signal for slowing growth or a potential recession in the next 12 to 18 months. This is what the Fed looks at closely."
The dollar was 0.66 percent lower against the yen at 110.07, a nearly six-week high for the Japanese currency, and Alfonso Esparza, senior currency analyst at OANDA in Toronto, said "the recovery (in the yen) is not on the strength of the Japanese economy, it's more about safe-haven flows."
The Lira Tumbled as Turkish Central Bank Announced A Surprise Monetary Tightening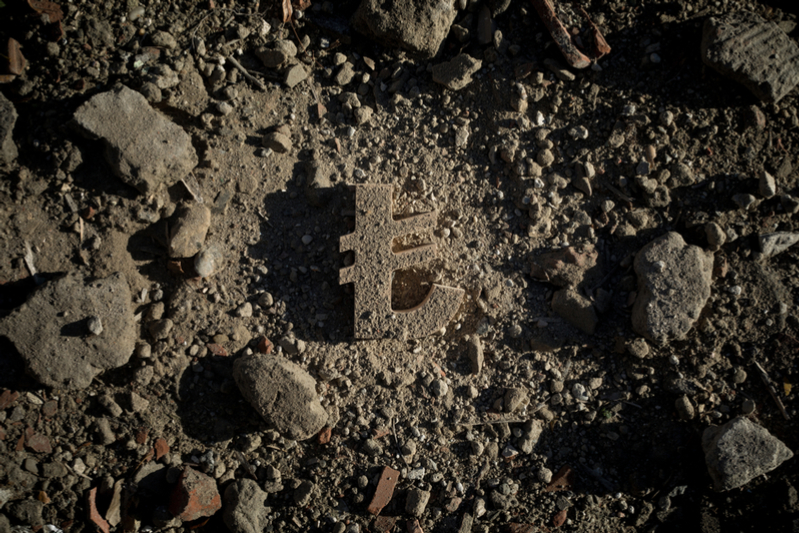 Image: Turkish lira tumbled 5.8% on Friday.
Last week it came as a surprise when Turkey's central bank announced a surprise tightening of monetary policy and moved to calm concern over a sudden drop in official reserves in a failed attempt to slump in the lira which tumbled on Friday as much as 5.8%.
The central bank announced it will be making steps to push lenders towards its more-expensive overnight borrowing facility.
According to Bloomberg, a central bank official said late Friday that a drop in official reserves during the first two weeks of March wasn't anything out of the ordinary, citing foreign-debt repayments and sales of hard currency to state energy companies.
"Today's move is about buying time," said Timothy Ash, a strategist at BlueBay Asset Management in London. "This could be the last chance for the current central bank management to prove themselves."
Oil Continues to Dip from 2019 Highs on Demand Worries
On Friday, oil fell about 2 percent, slipping further from the 2019 highs as focus shifted to:
• lack of progress in U.S.-China trade talks;
• grim manufacturing data from Germany and the U.S. that reignited fears of a slowdown in the global economy and oil demand.
Brent crude futures settled at $67.30 per barrel, 83 cents, or 1.2 percent below their last close and down about 0.2 percent on the week. The contract hit a four-month high of $68.69 on Thursday.
U.S. West Texas Intermediate (WTI) futures fell 94 cents, or 1.6 percent, to settle at $59.04 per barrel. WTI marked a 2019 peak on Thursday at $60.39 and rose 0.8 percent on the week.
The Power of Siberia Natural Gas Pipeline on Track for the December Start-up
A senior executive at state-run PetroChina, China's biggest gas importer and producer, said late Thursday that the Power of Siberia natural gas pipeline from Russia to China is on track and gas supply is expected to commence by December 2019.
This is one of the most anticipated energy projects in Asia and it is expected to eventually pump 38 Bcm/year of natural gas from East Siberia to China.
"Currently the pipeline construction process is right on track and we think we can hit the target to get the supply by December 20, 2019," Ling Xiao, PetroChina's vice president and head of the gas and pipeline business, said at a briefing in Hong Kong. "According to the agreement, Russia will supply 5 Bcm of gas in 2020 and will increase the annual volume year on year to hit 38 Bcm in 2025."
Gold Hits Highest Finish in 3 Weeks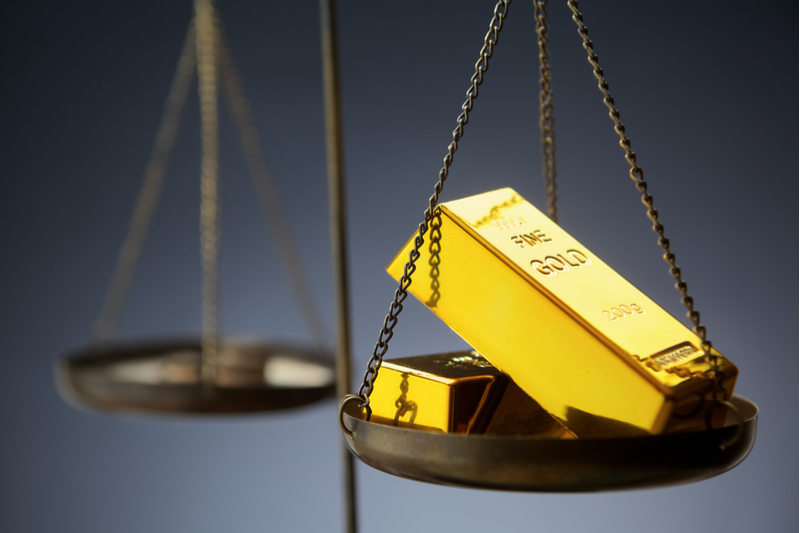 Image: Gold settled higher Friday.
Economic data fed global growth worries and gold settled higher Friday as investors reacted to fresh global growth fears and a recessionary alarm bell sounding in the bond market.
Gold for April delivery GCJ9, +0.41% on Comex rose $5, or 0.4%, to settle at $1,312.30 an ounce. It scored a weekly gain of 0.7%, which marked its third weekly rise in a row, according to FactSet data. The most-active contract logged its highest finish since Feb. 28.
"Along with gold, traditional havens for capital like U.S. bonds and the Japanese yen have been rallying while risk markets like stocks (particularly in Europe), and commodities (particularly copper and crude oil) have been under pressure," said Colin Cieszynski, chief market strategist at SIA Wealth Management. "I think this change in risk tolerance and investor sentiment may continue through next week and well into April at least," he said, noting that "the terrible German flash manufacturing PMI report has crystallized the risks of Brexit uncertainty for the continental economy and remaining EU members."
Stocks Were Hit on Friday with Some Shares Felling the Most
As fears of recession sent bond prices soaring, the vice versa happened to stocks prices. As a result, major U.S. indices tumbled:
• Dow Jones Industrial Average DJIA, -1.77% sank 460 points, or 1.8%, to close at 25,502.32 Friday;
• S&P 500 SPX, -1.90% slumped 1.9%;
• Nasdaq Composite Index COMP, -2.50% slid 2.5%.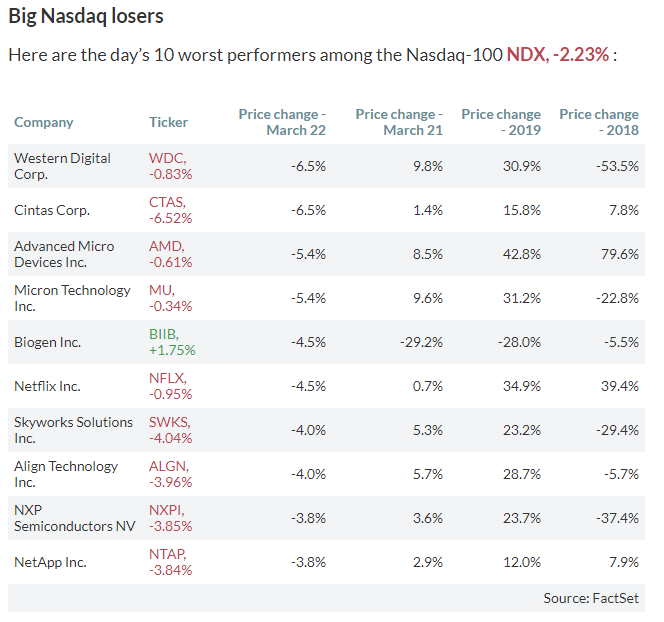 Image: Nasdaq 10 worst performers on Friday, 22.03.2019.
Source: MarketWatch.com.
European Shares Deepened Losses Due to Dismal Data from the U.S.
After the German manufacturing sector reignited fears of a recession in the region's biggest economy, data from the U.S. affected the European stocks:
• the STOXX 600 index, which had opened higher on relief at the extension of Britain's Brexit deadline, slipped for a third day to close down 1.2 percent to take weekly losses to 1.3 percent - its steepest this year;
• the London and Paris bourses sank more than 2 percent, while Frankfurt and Madrid fared only slightly better with roughly 1.5 percent declines.
FAANG: Instagram Moves to Increase Revenue, Amazon to Boost Its Advertising Business
Facebook (FB) is making it easier for customers to buy products they like, while Instagram is leveraging its popularity among consumer-oriented brands, which have preferred to advertise their products on the photo-sharing app.
Now, when a user finds on the app a product he/she likes, he/she will be able to buy it without leaving the app. Instagram will keep a small cut of such a transaction. When Instagram launched this initiative, Facebook stock rose 0.6% on March 19.
Apple (AAPL) hares have rallied 23.6% year to date, outperforming the S&P 500 composite's growth of 13.4%. According to Zacks Equity Research, this can be attributed to the buzz related to the upcoming event on March 25, where the iPhone-maker is expected to launch the much-anticipated video streaming service.
Even more, the move to update and upgrade its iPad and iMac devices along with the recently revealed next-generation AirPods helped Apple in gaining attention of investors and Wall Street analysts.
Apple's streaming video offering is a "pivotal step" as the company looks to boost its services business, according to Wedbush analyst Daniel Ives, who has an Outperform rating on the stock.
Needham analysts, Laura Martin and Dan Medina upgraded Apple's shares from "Buy" to "Strong Buy" and price target from $180 per share to $225. They believe that the to-be-announced streaming service "could attract new users to Apple's ecosystem."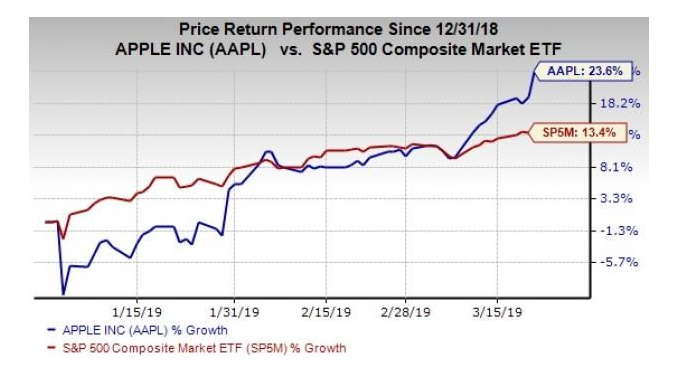 Image: Price Return Performance Since 31.12.2018 – Apple Ince vs S&P 500 Composite Market ETF.
Source: Finance.Yahoo.com.
Amazon's (AMZN) advertising business had a stellar 2018, more than doubling year over year to reach about $10 billion. Analysts don't expect much of a slowdown in 2019, with expectations of greater than 50% growth (i.e., the same amount on an absolute basis). But some analysts have already raised concerns that the online retail giant is reaching the point where increasing the number of ad units it shows could negatively impact the shopper experience. Amazon's solution is to focus on delivering greater value to advertisers. Its latest product to do so is a mobile video ad unit within its app. The company is currently testing the product in its iOS app with plans to expand to Android this year, according to Bloomberg.
Netflix, Inc. (NFLX) is off to another hot start to 2019, and RBC analyst Mark Mahaney expects that bullish momentum to continue. He reiterated his Outperform rating and $480 price target for Netflix.
Alphabet (GOOGL) shares had gained 6.74% over the past month. This has outpaced the Computer and Technology sector's gain of 4.76% and the S&P 500's gain of 2.14% in that time.
Wall Street will be looking for positivity from GOOGL as it approaches its next earnings report date. The company is expected to report EPS of $10.55, up 6.24% from the prior-year quarter. Meanwhile, Zacks Equity Research latest consensus estimate is calling for revenue of $29.98 billion, up 20.59% from the prior-year quarter.
For the full year, our Zacks Consensus Estimates are projecting earnings of $47.40 per share and revenue of $131.79 billion, which would represent changes of +8.47% and +19.7%, respectively, from the prior year.
Sources: Reuters.com, Bloomberg.com, SPGlobal.com, MarketWatch.com, Articles.Marketrealist.com, Finance.Yahoo.com and Nasdaq.com.
The information presented herein does not constitute and does not intend to constitute Investment Advice. The information contained herewith is a compilation of public stock recommendations issued by various financial analysts and organised by Live News Recommendation in an easily presentable format, for information purposes only.
Key Way Investments Ltd does not influence nor has any input in formulating the information contained herein. The content herewith is generic and does not take into consideration individual personal circumstances, investment experience or current financial situation. Users/readers should not rely solely on the information presented herewith and should do their own research/analysis by also reading the actual underlying research. Users/readers should also consider the risk of encountering significant losses when trading CFDs. Therefore, Key Way Investments Ltd shall not accept any responsibility for any losses of traders due to the use and the content of the information presented herein. Past performance is not a reliable indicator of future results.
CFDs are complex instruments and come with a high risk of losing money rapidly due to leverage. 71.79% of retail investor accounts lose money and 28.21% win money when trading CFDs with cfdglobal.com. You should consider whether you understand how CFDs work and whether you can afford to take the high risk of losing your money.