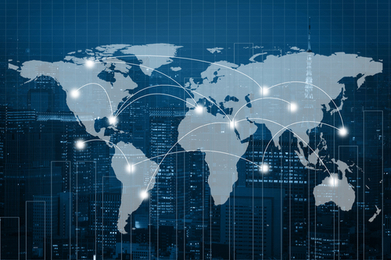 Once again, it's time to find out about the major events that happened last week for you to be prepared to trade wisely. Here's what you should know:
Dollar Rallied as Risk Appetite Rose
On Friday, the U.S. dollar rose, hitting 10-week-highs against the yen as risk appetite improved amid a more upbeat outlook on some major economies and the prospect of a trade deal between the United States and China.
The dollar index rose 0.4% on Friday and it posted its largest daily percentage gain in two weeks.
"Looking at the whole G10 (Group of 10 major currencies) space, there has been more follow-through from U.S.-China trade optimism that was already in the process of getting priced in during the month of February," said Stephen Gallo, European head of FX strategy, at BMO Capital Markets in London. "Meanwhile, one of the biggest boosts to the U.S. dollar is coming from a weak yen," he added.
Initially, the weaker than expected U.S. economic data weighed on the dollar initially, especially the manufacturing index, but the greenback rallied to trade higher on the day. In afternoon trading, the dollar index rose 0.4% to 96.307. For the month of February, the dollar index was up 0.4%.
Goldman Sachs Group Inc. Says the Pound Rally Has Further to Go
According to Goldman Sachs Group Inc., the GBP rally has further to go as Brexit hedges are unwound. As the prospect grew of a longer delay to U.K.'s exit from the EU, the pound jumped to the highest since July.
The rally started after Prime Minister Theresa May once again staved off the threat of rebellion. Still, an increasing number of foreign investors who bought hedges since the June 2016 Brexit vote need to reduce those positions and that will mean continued support for sterling, Goldman's market strategy chiefs told clients at a conference in Sydney on Wednesday.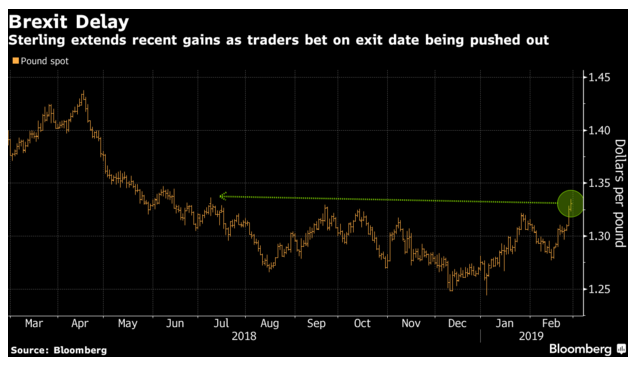 Image: Brexit delay – Sterling extends recent gains as traders believe that exit date will be pushed out.
Source: Bloomberg.com
Long positions in sterling are now looking the most crowded trade, especially in the options markets, said Brian Friedman, Goldman's global head of market strategies.
"When the hedges have to come off, the pounds are not there anymore because they've gone for good into corporate coffers, and so there is a good risk of an overshoot in the pound,'' Rzymelka told the Goldman Sachs macro conference. He also added: "If Brexit is really bad, then clearly growth in the U.K. is going to look worse than in Europe, and on the other hand every foreign central bank is now being priced to cut rates. It doesn't make any sense for the U.K. to price hikes."
Oil fell 2% as Demand Worries Overtook Supply Cuts
On Friday, oil prices settled down about 2% on Friday, ending around 3% lover on the week due to concerns over global demand growth after weak U.S. manufacturing data overshadowed OPEC-led supply cuts and sanctions on Venezuela and Iran.
U.S. West Texas Intermediate crude (WTI) futures fell $1.42, or 2.5 percent, to settle at $55.80 per barrel, after hitting $57.88, its highest since mid-November.
Global benchmark Brent crude futures for May settled $1.24, or 1.9 percent, lower at $65.07 a barrel.
"We have been the island of prosperity, globally, so if the economic slowdown is coming our way that is bad news for oil prices," said John Kilduff, a partner at Again Capital LLC in New York.
Even more, a Reuters poll showed that analysts are more pessimistic over the prospects for a significant price rally this year, global fuel consumption is expected to dip this year in the face of a broad economic slowdown.
Asia is confronting with different kind of events over the region:
1. China's February factory activity fell for a third month as the world's second-largest economy continued to struggle with weak export orders, a private survey showed on Friday.
2. South Korea's exports contracted at their steepest pace in nearly three years in February as demand from China cooled further.
3. Fuel consumption, especially in Asia's developing economies which are key drivers of global oil demand, is so far holding up.
NYMEX March Gas Futures Contract Jumped After EIA Report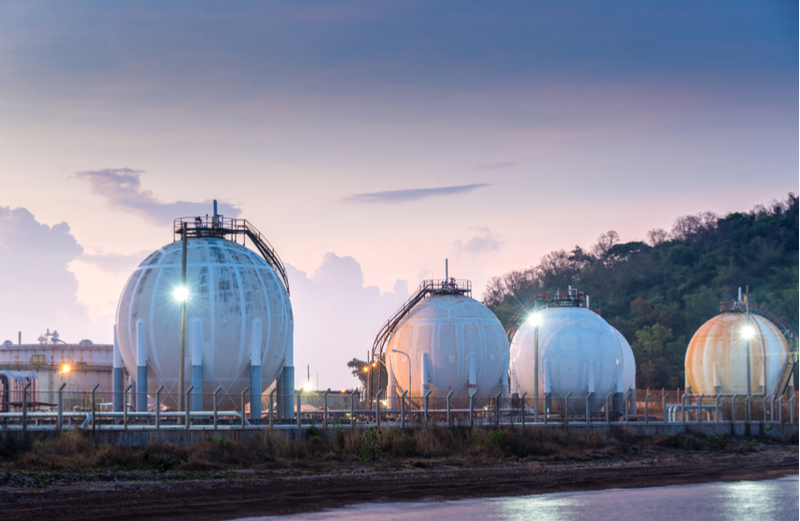 Image: Natural gas tank in the Refinery industry.
The NYMEX March natural gas futures contract climbed 6 cents Thursday after trending down in Wednesday trading. The March contract settled at $2.697/MMBtu, a 6.1-cent rise from Wednesday's close, and trading in a range of $2.639/MMBtu to $2.701/MMBtu. The April and May contracts were trading up about 5 cents from Wednesday.
Price movements appeared after the U.S. Energy Information Association announced a 177 Bcf withdrawal for the week-ended 15, more than twice the volume of the 78 Bcf withdrawal reported for the previous week-ended February 8.
According to EIA, Stocks are now at 1,705, sitting 362 Bcf lower than the five-year average of 2,067 Bcf. Inventories at this time last year stoodabout 4% higher than current levels at 1,778 Bcf.
Forecasts made by different entities show the following:
• S&P Global Platts Analytics data projects total US demand to drop off as the weekend approaches, falling an about 4.6 Bcf from Wednesday to 111.6 Bcf. This fall is driven by continued weakening residential and commercial demand as the end of winter approaches, falling about 4 Bcf on the day.
• Dry gas production is expected to dip for the third consecutive day to 84.9 Bcf and is predicted to inch up to 85.1 Bcf/d in the next eight to14 days, according to Platts Analytics.
After a Stronger than Expected U.S. GDP Data, Gold Ends At 2-Week Low
On Thursday, gold prices settled at a two-week low Thursday, as denuclearization talks between U.S. and North Korea ended up abruptly, while stronger-than-expected reading on the U.S. economy contributed to the metal's loss for the month.
U.S. GDP grew at a 2.6% annual pace in the fourth quarter. Economists polled by MarketWatch had only forecast a 1.9% growth rate. The GDP number "was solid as a rock," said Naeem Aslam, chief market analyst at ThinkMarkets UK. "There are no signs of slowing down and gold price eased off on the back of this."
Following the better-than-expected figures, April gold GCJ9, -0.79% fell $5.10, or 0.4%, to settle at a two-week low of $1,316.10 an ounce. The bullion lost about 0.7% in February, based on the most-active contract, following four consecutive months of gains, FactSet data show.
Dow and S&P 500 Are Up More than 300% Since 2009
In March 2009, the U.S. economy was in the midst of the Great Recession. The government had just reported that more than 650,000 jobs were lost in the prior month. The Dow and S&P 500 were each down more than 50% from their October 2007 peaks.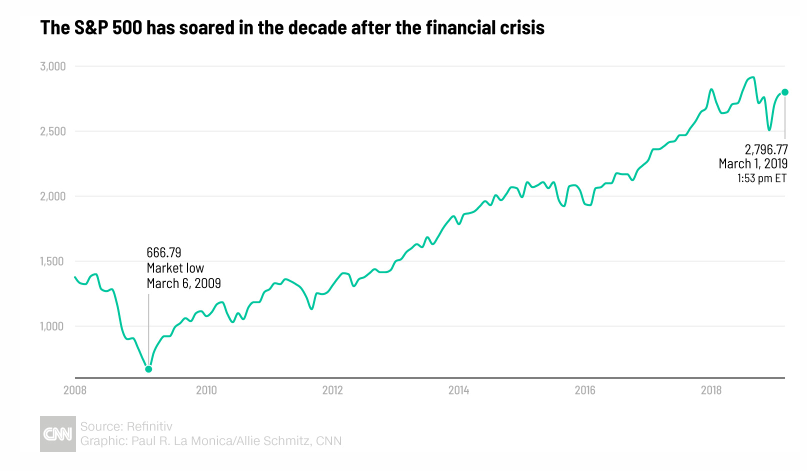 Image: S&P 500 has soared in the decade after the financial crisis.
Source: Edition.cnn.com.
Ten years later the U.S. indices are up more than 300% since they hit bottom on March 6, 2009. But now, that the 10-year anniversary is approaching, some are wondering how much longer the rally can last.
The S&P 500 had been trading at 18 times 2019 earnings estimates before stocks cratered last fall. That multiple fell as low as 14 following the huge sell-off. But it's now at 16 after the index started 2019 with a 12% pop.
"What's happened in this rally is that valuations have crept back up," said Hugo Rogers, chief investment strategist with Deltec. "Stocks were oversold last year but now they are no longer cheap."
Now earnings growth is expected to slow this year and that could hurt earnings for huge multinationals in the Dow and S&P 500 — companies like Apple (AAPL), Caterpillar (CAT), Coca-Cola (KO) and Procter & Gamble (PG).
Although the Federal Reserve has announced that it will probably not raise interest rates this year, the U.S. economy may also start to slow because of the lag from prior rate hikes. "The markets may be topping out," said Randy Swan, CEO of Swan Global Investments. "The damage from the Fed's rate hikes could already be done."
European Shares Start March on a High
European shares rose to five-month highs at the open of the first trading day of March as a fresh batch of corporate updates helped drive a risk-on mood after U.S. President Donald Trump earlier fuelled some concerns over trade talks with China.
The STOXX 600 index was up 0.5% by 08:25 GMT to above 374 points, a level last seen on October 8, 2018.
Gains spread across all regional bourses and sectors. The only exception was the telecoms sector, down 0.8%.
Italian luxury group Moncler stole the spotlight with its 2018 results, which broker Jefferies called "remarkable", and rose 8.7 percent.
FAANG: Facebook Says It Will Launch Its Long-Awaited Clear History Feature, While Netflix Stocks Are Expected to Rally, According to Analyst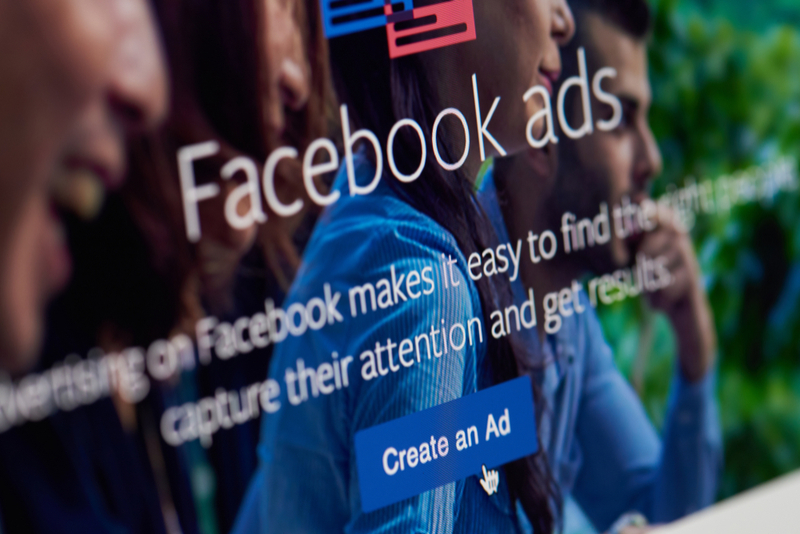 Image: Facebook's ability to target ads might be impacted by new feature.
On Thursday, Facebook (FB) CFO David Wehner said Facebook will launch its long-awaited clear history feature later this year. He also added that the tool will impact Facebook's ability to target ads.
Goldman Sachs published a report on Monday which showed that more than half of large-cap mutual funds have outpaced their respective benchmarks year to date, higher than the 10-year average of 34%. They also added that it's too soon to tell whether that will continue, but a peek into active managers' portfolios shows their love/hate relationship with technology stocks, including Apple (AAPL).
The stocks with the five biggest increases in total fund allocation were:
• Apple (AAPL);
• Cigna (CI);
• United Parcel Service (UPS);
• Microsoft (MSFT);
• General Electric (GE);
• Facebook (FB).
The five stocks that saw the biggest declines in total fund ownership were:
• Amazon.com (AMZN);
• Berkshire Hathaway (BRKB);
• Netflix (NFLX);
• Alphabet (GOOGL);
• Linde (LIN).
Several retail stocks fell Friday afternoon following reports that Amazon.com (AMZN) was planning to expand its bricks-and-mortar grocery footprint substantially. The story was reported by The Wall Street Journal and cited "people familiar with the matter".
Shares of companies including Kroger (KR), recently down nearly 3%. Several other companies, including Walmart (WMT), off just under 1%, also fell, though some recovered quickly, while shares of Amazon were recently up 1.4%, to $1,663.41.
An Amazon spokeswoman who was reached via email said the company doesn't comment on speculation or rumours.
Several analysts believe that Netflix (NFLX) will rally because it can raise prices:
1. Piper Jaffray believes Netflix (ticker: NFLX) will extend its recent domestic price increases to international markets.
2. The firm's analyst Michael Olson reiterated his Overweight rating for Netflix stock, citing positive data from a survey of 1,100 international Netflix subscribers.
YouTube said it's banning comments on some videos featuring minors, responding to criticism and the loss of advertisers after the service was used by potential predators to exploit children. The Google (GOOG) unit, one of the world's largest video services, disabled comments from tens of millions of videos "that could be subject to predatory behavior" and will continue to identify similar troubling videos in coming months, the company said Thursday in an unsigned blog post
Sources: Reuters.com, Bloomberg.com, SPGlobal.com, MarketWatch.com, Edition.cnn.com, CNBC.com and Barrons.com.
The information presented herein does not constitute and does not intend to constitute Investment Advice. The information contained herewith is a compilation of public stock recommendations issued by various financial analysts and organised by Live News Recommendation in an easily presentable format, for information purposes only.
Key Way Investments Ltd does not influence nor has any input in formulating the information contained herein. The content herewith is generic and does not take into consideration individual personal circumstances, investment experience or current financial situation. Users/readers should not rely solely on the information presented herewith and should do their own research/analysis by also reading the actual underlying research. Users/readers should also consider the risk of encountering significant losses when trading CFDs. Therefore, Key Way Investments Ltd shall not accept any responsibility for any losses of traders due to the use and the content of the information presented herein. Past performance is not a reliable indicator of future results.
CFDs are complex instruments and come with a high risk of losing money rapidly due to leverage. 71.79% of retail investor accounts lose money and 28.21% win money when trading CFDs with cfdglobal.com. You should consider whether you understand how CFDs work and whether you can afford to take the high risk of losing your money.
The information presented herein is prepared by CAPEX.com and does not intend to constitute Investment Advice. The information herein is provided as a general marketing communication for information purposes only and as such it has not been prepared in accordance with legal requirements designed to promote the independence of investment research, and it is not subject to any prohibition on dealing ahead of the dissemination of investment research.

Users/readers should not rely solely on the information presented herewith and should do their own research/analysis by also reading the actual underlying research. The content herewith is generic and does not take into consideration individual personal circumstances, investment experience or current financial situation.

Therefore, Key Way Investments Ltd shall not accept any responsibility for any losses of traders due to the use and the content of the information presented herein. Past performance is not a reliable indicator of future results.