Dollar Suffered a Firm Slump as Jobs Report Looked Better than Expected
In lower afternoon trade on Friday, a popular U.S. dollar gauge moved sharply lower, after the employment report for April was released by the Labor Department.
The report showed the economy added 263,000 jobs, while the unemployment rate fell to a 49-year low at 3.6%. The results were better-than-expected as economist polled by MarketWatch were expecting 213,000 new jobs and for the unemployment rate to hit 3.7%.
The same day, the ICE Dollar Index was trading at 97.546, down 0.3%. The index fell 0.6% from its intraday peak above 98.10.
"Despite the 263K job gains and 3.6% unemployment rate, the dollar weakened. Now the non-manufacturing data has come in weaker than expected which gives a weaker economic reason to sell the dollar," said Greg Michalowski, technical analyst at ForexLive.
The British Pound Surged to a 1-Month High on Brexit Deal Hopes
The British Pound surged past $1.3150 on Friday after the leader of Britain's opposition party said parliament must break the deadlock over Brexit and "get a deal done" to exit the European Union.
Lee Hardman, MUFG's currency analyst based in London said "optimism" over a "cross-party deal to break the impasse" had extended the move higher in sterling:
• against the dollar, the pound surged more than a percent to $1.3175, a one-month high;
• against the euro, the pound surged 0.9% to 84.98 pence, a new one-month high.
Oil Edged Up After Strong Economic Data, but Ended Week Lower
As U.S economic data boosted demand sentiment and as sanctions hit Iran and Venezuela, oil prices inched up on Friday. Still, oil futures recorded weekly declines after a jump in U.S. crude inventories reported this week:
• Brent crude oil futures settled at $70.85 a barrel, rising 10 cents. The global benchmark shed 2.6% for the week, breaking a five-week winning streak.
• U.S. WTI crude futures closed at $61.94 a barrel, up 13 cents, while losing about 3% during the week, its second straight weekly decline.
EIA's Weekly Natural Gas Storage Report Showed a Storage Build of 123 Bcf for the Week Ending April 26
The EIA's report released last week showed better than expected results as analysts had predicted a storage of +116 Bcf, and the figure was that of +123 Bcf for the week ending April 26.
The +123 Bcf was significantly higher than the five-year average of +70 Bcf and last year's +62 Bcf.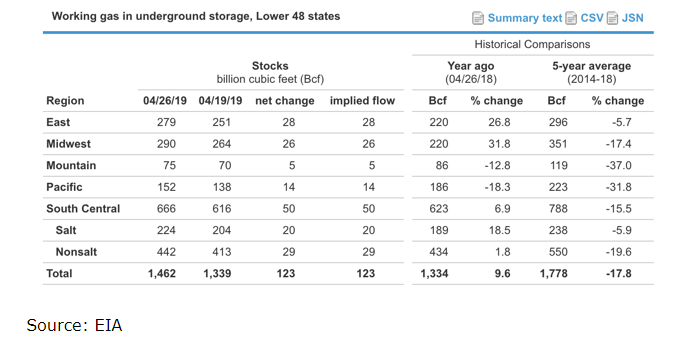 Gold Prices Were Higher Despite Strong U.S. Jobs Data
Following the U.S. economic report, gold prices were trading modestly higher in early-morning U.S. trading Friday.
June gold futures were last up $2.20 an ounce at $1,274.30. July Comex silver was last up $0.068 at $14.685 an ounce.
According to Jim Wickoff, gold's resilience in the face of the strong jobs report suggests recent selling pressure has at least temporarily exhausted the bears, and the yellow metal is due for at least a respite from downside pressure.
Nasdaq Rings Up a Record to End the Week after Better-Than-Expected April Jobs Report
The Nasdaq on Friday closed at a record, and the S&P 500 narrowly missed its own, as investors bought stocks following the April employment report that had better results than expected, underscoring consistent labour-market strength. Here's how the figures looked for the main indices:
• The Nasdaq Composite Index advanced 127.22 points, or 1.6%, at 8,164, buoyed by gains in e-commerce giant Amazon.com Inc.
• The S&P 500 index climbed 28.12 points, or 1%, at 2,945.64.
• The Dow Jones Industrial Average rose 197.16 points, or 0.8%, to 26,504.95.
European Shares Rose on Strong U.S. Jobs Data
European shares rose on Friday, recovering from their worst day in six weeks with support from robust jobs data from the United States and strong results from Adidas and HSBC.
The pan-European STOXX 600 index closed up 0.4 percent. On the week, the index fell 0.2 percent after two weeks of gains.
FAANG: UBS Upgraded Facebook after Q1 Results, Amazon Stocks Rose after Confirmation from Warren Buffett that Berkshire Hathaway Is Buying
After Facebook (FB) announced its Q1 results, out of 47 analysts that cover the social media company, 38 rated the stock a "buy", while 8 rated the stock a "hold". Only one analyst gave it a "sell" rating. Analysts have set a target price of $207.49 for the stock, which implies an upside of 13.6% based on its closing price of $182.58 on April 24.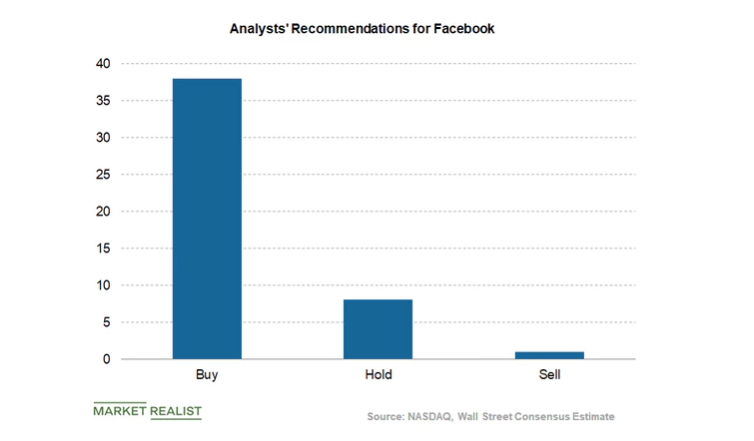 Source: Articles.MarketRealist.com.
Most analysts recommend "buys" on Apple (AAPL) after the company's earnings report. According to the data compiled by Reuters on April 30, 51% of the 41 analysts covering Apple (AAPL) have given its stock "buy" recommendations. Another 44% of analysts have given the stock "holds," while the remaining 5% of analysts (or two) have given it "sell" recommendations.
On April 30, analysts' consensus 12-month target price on Apple was $208.09, reflecting a minor potential upside of ~3.7% from its current price of $200.67.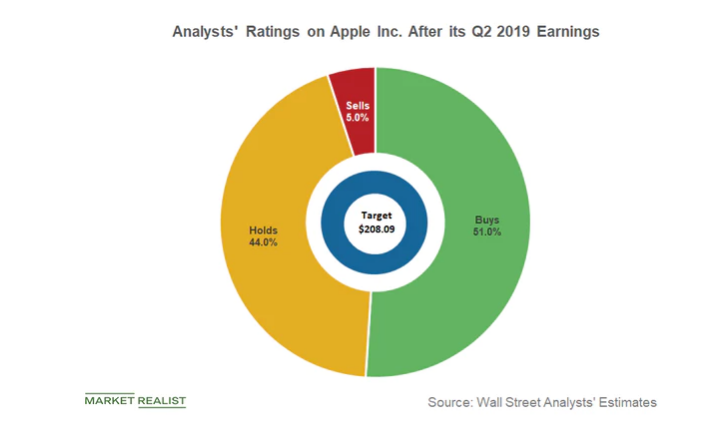 Source: Articles.MarketRealist.com.
Amazon (AMZN) stock rose after Warren Buffett confirmed that Berkshire Hathaway was buying. Buffett told CNBC he hadn't made the decision, but that "one of the fellows in the office that manage money" bought shares of Amazon.
Amazon shares were rising 2% on Friday to $1,939.28. The stock has risen 29% so far in 2019.
Netflix (NFLX) shares have rallied more than 39% in 2019, and according to Finance.Yahoo.com it made the list of "the 25 best stocks to own in the month of May".
In order to make the list of best S&P 500 Index (SPX) stocks to own in May over the past 10 years, the shares had to have at least eight years' worth of historical returns, per Schaeffer's Senior Quantitative Analyst Rocky White. Netflix has averaged a healthy May gain of 7.51%, and ended the month higher 80% of the time, placing it near the top of the list.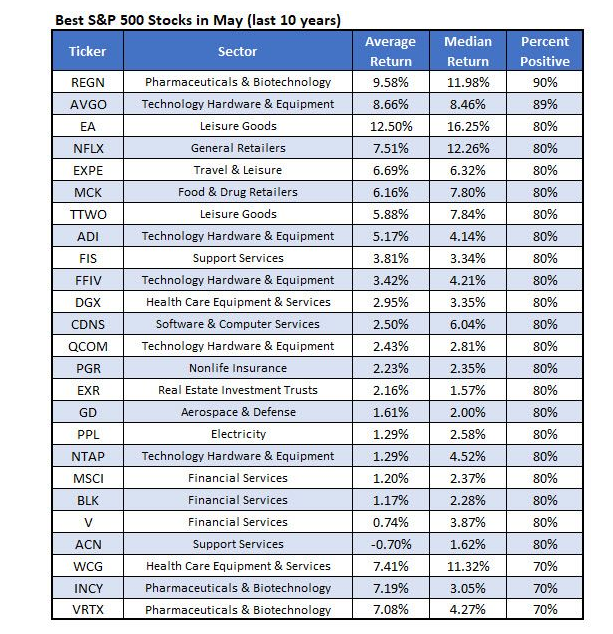 Source: Finance.Yahoo.com.
Alphabet's Google (GOOG) and Facebook (FB) are competing more and more closely. The two companies are the global leaders in digital advertising, a fast-growing market that's expected to rise 17% to $327 billion this year, according to eMarketer.
The two have different strengths in digital advertising. Google dominates with its search engine and properties like YouTube; Facebook, which also owns Instagram, excels with its vast user knowledge, which allows for precise ad targeting.
Although they have different models, their stocks have outperformed the S&P 500 over the last five years: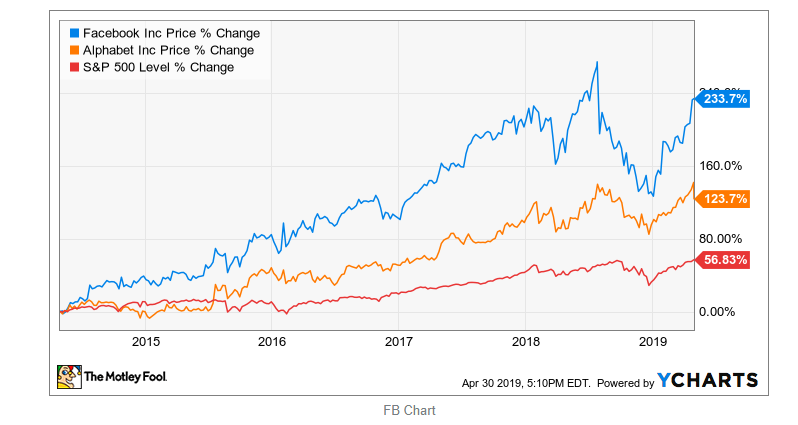 Source: Finance.Yahoo.com.
With both companies reporting their first-quarter earnings, there will be plenty of fresh news to dig into, so keep your eyes on future news and events.
Sources: MarketWatch.com, Reuters.com, SeekingAlpha.com, Kitco.com, Articles.MarketRealist.com, Barrons.com, and Finance.Yahoo.com.
The information presented herein does not constitute and does not intend to constitute Investment Advice. The information contained herewith is a compilation of public stock recommendations issued by various financial analysts and organised by Live News Recommendation in an easily presentable format, for information purposes only.
Key Way Investments Ltd does not influence nor has any input in formulating the information contained herein. The content herewith is generic and does not take into consideration individual personal circumstances, investment experience or current financial situation. Users/readers should not rely solely on the information presented herewith and should do their own research/analysis by also reading the actual underlying research. Users/readers should also consider the risk of encountering significant losses when trading CFDs. Therefore, Key Way Investments Ltd shall not accept any responsibility for any losses of traders due to the use and the content of the information presented herein. Past performance is not a reliable indicator of future results.