Once again, it's time to find out about the significant events that moved the markets last week to make better trading decisions. Here's what happened on the markets:
Sterling Falls as May Tries Last Push to Break Brexit Deal Deadlock
On Friday, the British Pound fell in a volatile session as British Prime Minister Theresa May urged the European Union to make "just one more push" to break the deadlock over the Brexit deal by offering the EU representative her changes to a deal.
The pound fell as low as $1.3002, its weakest since February 22 as the markets where hit by the disappointment that a revised Brexit deal is unlikely to materialise soon. It was down 0.5 percent at $1.3021 by 16:05 GMT.
Against the euro, sterling fell as much as 1 percent to 86.415 pence.
With less than three weeks to go before Britain is due to leave the EU, officials are at an impasse over the so-called backstop aimed at ensuring a frictionless border between the British province of Northern Ireland and EU member Ireland.
This week the lawmakers will vote on the withdrawal agreement British Prime Minister Theresa May negotiated with Brussels and which they overwhelmingly rejected in January.
Goldman Sachs Was Half Right about Its Predictions for the U.S. Dollar
Goldman Sachs Group Inc. was half right about what its predictions concerning the more dovish-sounding Federal Reserve. But that didn't save its U.S. Dollar trade, and now the company is trying a different approach.
The firm recently recommended to short the U.S. Dollar Index (DXY), but that hit a stop in the aftermath of the European Central Bank meeting. That's a potential loss of 1.4 percent, Goldman strategists led by Zach Pandl wrote in a note late Friday.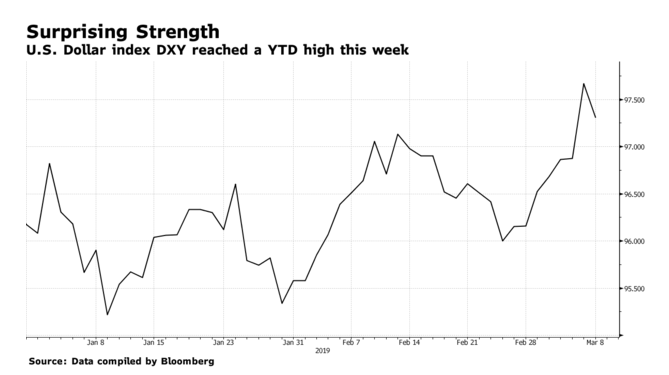 Image: U.S. Dollar index reached a YTD high this week.
Source: Bloomberg.com
Now, analysts from Goldman Sachs have another suggestion: to short the dollar versus the Japanese yen. "The main beneficiary of the current data backdrop seems likely to be the yen," the Goldman strategists wrote. "We continue to expect dollar weakness, but even if incoming data cooperate this may take time to materialize on DXY (with its high euro weight) due to market pessimism about global growth."
Saudi Oil Minister Said no OPEC+ Output Policy Change Until June
On Sunday, Saudi oil minister Khalid al-Falih said it would be to early to change OPEC+ output policy at the group's meeting in April and that China and the U.S. would lead healthy demand for oil this year.
Between April 17 and 18, the OPEC+ alliance will meet in Vienna, and another meeting is scheduled for June 25-26.
When referring to these gatherings, the Saudi oil minister stated that it is unlikely that the group will change the output policy in April and if required changes will be made in June.
China's February Natural Gas Imports Rose 10% on Year to 7.6 Mil Mt
China's natural gas imports, comprising LNG and pipeline gas, totalled 7.57 million mt, or 10.43 Bcm, in February, preliminary General Administration of Customs data released Friday showed.
The total was up 9.5% YoY from 6.91 million mt, or 9.53 Bcm, in February, S&P Global Platts calculations based on the data showed.
Customs data showed:
• the total was also down 22.9% from 9.81 million mt, or 13.53 Bcm, in January;
• over January-February, China imported a total 17.36 million mt, or 23.94 Bcm, of natural gas, up 18.5% year on year.
Gold Gained 1% on Chinese Market Fears and Weak U.S. Jobs Data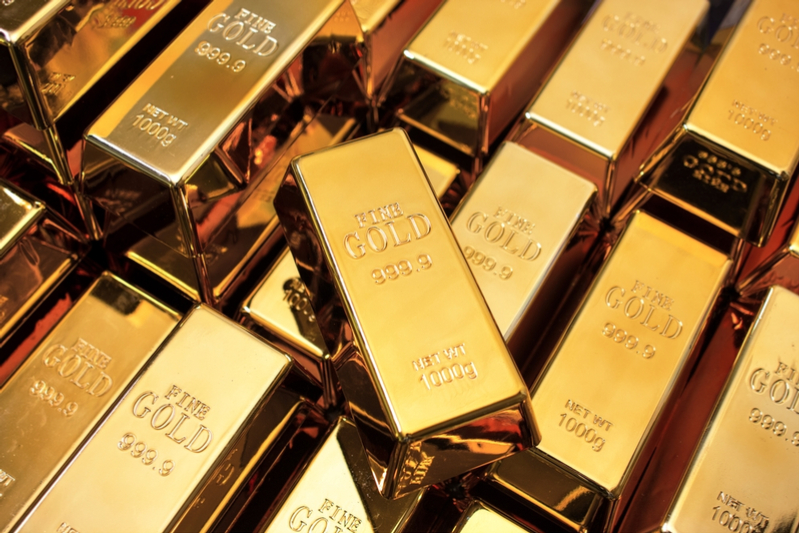 Image: Gold prices rose due to losses in global stock markets.
The gold prices were boosted 1% on Friday due to losses in global stock markets on the heels of weak Chinese export and U.S. jobs data.
April gold GCJ9, -0.29% added $13.20, or 1%, to settle at $1,299.30 an ounce after briefly trading as high as $1,301.30. After a back-and-forth week, including the lowest settlement on Tuesday since late January, prices for the most-active contract were up 10 cents from the week-ago finish, FactSet data show.
Gold was "clearly reacting to the jobs numbers, but this is too obvious," said Jeff Wright, executive vice president of GoldMining Inc. "In my opinion, gold is responding to the weekly downtrend in the U.S. equity markets along with U.S. dollar weakness [Friday] across the major currencies."
The Dow Jones Industrial Average DIJA, -0.09% was sharply lower after the Friday U.S. employment report showed the weakest job creation in 17 months, with only 20,000 new names added to February payrolls.
Not only the job report contributed to the evolution of gold prices, but also the stocks that tumbled. Tumbling 4.4%, Chinese stocks logged their worst one-day percentage drop since October on Friday, after the nation reported a 20% drop in February exports on the heels of a 9.1% gain in January.
The U.S. Market Upswing Turned 10 Years Old on Saturday
The longest "bull market" (citing CNN) in American history has now been alive for a decade:
• the S&P 500 has more than quadrupled from its devil's bottom of 666 in March 2019;
• the Dow has spiked nearly 19,000 points, or almost 300%;
• the Nasdaq has skyrocketed just under 500%.
This remarkable market reflects the slow-but-steady recovery in the economy, record corporate profits and ridiculously easy money from global central bankers.
The 10th birthday of the "bull market" makes everybody ask themselves how much can it last?
Scott Clemons, chief investment strategist at Brown Brothers Harriman, says: "Bull markets don't have expiration dates. A bull market usually comes to an end when financial excesses go to extremes, and we don't see that anywhere right now."
European Stocks Further Due to a Cocktail of Poor Data
European stocks notched up their biggest weekly fall since December on Friday, extending losses as weak China and German data and poor U.S. jobs numbers tightened bears' grip on the market, underscoring worries about a global economic slowdown:
The STOXX 600 fell 0.8% on the day for its biggest weekly fall since Dec 21. Germany's DAX was down 0.5%.
Losses deepened in afternoon trading after the U.S. report showed that the employment market stalled last month.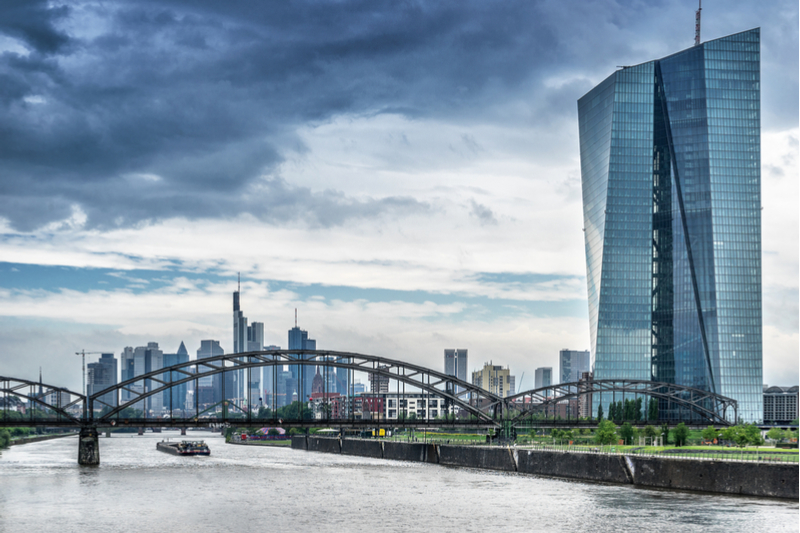 Image: European Central Bank.
Euro-zone bank stocks extended Thursday's fall after the European Central Bank cut its growth forecasts and pushed out an interest rate hike.
FAANG: Wall Street Looks for Positivity from Facebook, Google Pays Apple Billions to Protect Its Search Tool Status
Facebook
On Friday, Facebook (FB) closed at $169.60, moving +0.28% from the previous trading session. Even more, shares of the social media company has gained 1.65% in the past month.
Wall Street will be looking from positivity from Facebook, especially since the next earnings report date is approaching. In the report, analysts expect FB to post earnings of $1.63 per share. This would mark a year-over-year decline of 3.47%.
Meanwhile, the Zacks Consensus Estimate for revenue is projecting net sales of $14.96 billion, up 25.03% from the year-ago period. Looking at the full year, Zacks Consensus Estimates suggest analysts are expecting earnings of $7.55 per share and revenue of $68.89 billion. These totals would mark changes of -0.31% and +23.37%, respectively, from last year.
Apple
Apple (APPL) generates most of its revenue form its iPhone business, but over the years, the company has aggressively tried to expand its offering. The tech company has enjoyed success with several new hardware products, such as Apple Watch and AirPods, which are the foundation of the company's wearables business – one that Apple CFO Luca Maestri said on the company's most recent earnings call is "approaching the size of a Fortune 200 company."
According to respected analyst Ming-Chi Kuo with TF International Securities, Apple will introduce another new hardware product category next year: augmented reality (AR) glasses. "The analyst says that the AR glasses will essentially act as a display only with the actual computing rendering, internet connectivity and location services coming from the iPhone in the user's pocket," read 9to5Mac's summary of Kuo's report.
Amazon
A report cited by TechCrunch.com shows that U.S. smart speaker owners grew 40% over 2018, and now reach 66.4 million, meaning 26.2% of the U.S. adult population. The same report also reconfirmed that Amazon Echo is leading the way, noting the Alexa-powered smart speaker grew to a 61% market share by the end of last year — well above Google Home's 24% share.
Netflix
According to analyst Michael Olson at Piper Jaffray, Netflix Inc. NFLX, -0.85% is tracking toward reporting "strong" first-quarter results, with subscriber additions expected to top forecasts.
Olson said he projects year-over-year domestic subscriber growth of 12.6%, compared with "consensus" calls for 9.1% growth, and a 51.3% increase in international subscribers versus consensus expectations of a 37.9% rise.
Google
Alphabet's Google (GOOG) has turned to a strategic partnership to gain competitive edge in the Internet search business. According to Business Insider, citing Goldman Sachs estimates, Google paid Apple ~$9.0 billion last year to accord its search engine default status in iOS devices.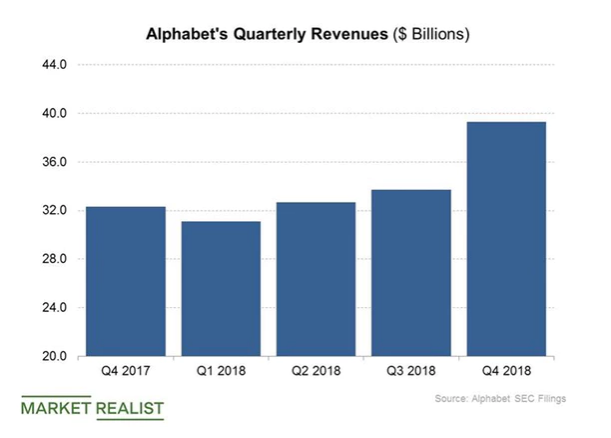 Source: Articles.Marketrealist.com.
In the fourth quarter, Google generated $36.2 billion in advertising revenue, while Facebook generated $16 billion and Baidu generated $3.1 billion.
Sources: Reuters.com, Bloomberg.com, SPGlobal.com, MarketWatch.com, Edition.cnn.com, Finance.Yahoo.com, TechCrunch.com and Articles.Marketrealist.com.
The information presented herein does not constitute and does not intend to constitute Investment Advice. The information contained herewith is a compilation of public stock recommendations issued by various financial analysts and organised by Live News Recommendation in an easily presentable format, for information purposes only.
Key Way Investments Ltd does not influence nor has any input in formulating the information contained herein. The content herewith is generic and does not take into consideration individual personal circumstances, investment experience or current financial situation. Users/readers should not rely solely on the information presented herewith and should do their own research/analysis by also reading the actual underlying research. Users/readers should also consider the risk of encountering significant losses when trading CFDs. Therefore, Key Way Investments Ltd shall not accept any responsibility for any losses of traders due to the use and the content of the information presented herein. Past performance is not a reliable indicator of future results.
CFDs are complex instruments and come with a high risk of losing money rapidly due to leverage. 71.79% of retail investor accounts lose money and 28.21% win money when trading CFDs with cfdglobal.com. You should consider whether you understand how CFDs work and whether you can afford to take the high risk of losing your money.