Image: Lyft battling with Uber in the race to IPO.
Everyone has heard about Uber, but not everyone knows about it's smaller rival Lyft, a company founded in 2012 in San Francisco, that offers ridesharing services and that operates in over 300 cities across the United States and Canada.
Lyft is the second largest ridesharing service provider in the United States behind Uber and it accounted 22% of the market as of September 2017, according to Statista.
In 2017, Lyft provided around 275.5 million rides and generated a net revenue of 1.5 billion U.S. dollars.
Now the company is in a rush to beat its rival Uber, as both are preparing for their initial public offerings (IPOs).
Two Ride-sharing Companies on a Cavalcade for High-Value IPOs
Late in 2018, Uber and Lyft, the two largest ride-sharing companies in the United States, each submitted confidential filings with the Securities and Exchange Commission (SEC) in preparation of an initial public offering (IPO). Both listings are awaited by the public, and it seems that Lyft has taken the lead in the race to reach the market first.
Lyft is preparing to start trading in early April, reports The New York Times. The same publication mentions that Lyft intends to begin its roadshow, in which it meets with investors, the week of March 18.
Lift will list on the Nasdaq and expects to be valued between $20 billion and $25 billion, according to people familiar with the company's plans that were cited by The New York Times.
The company's listing is a win for Nasdaq, which has struggled to attract tech companies ever since the exchange suffered delays and technical issues when Facebook's IPO took place, after which companies from the tech industry made their debut on the New York Stock Exchange.
Coming Down to Lyft's Awaited IPO
Although Lyft is the smaller of the two companies, investors have eagerly waited for its IPO as Lyft has now the chance to splash by being first, especially if the company will move as aggressively as reports indicate.
Lyft generated $563 million in revenue in the third quarter, up from $300 million in the same period a year earlier, a person familiar with the matter said in October. Even though losses increased to $254 million in the period from $195 million in 2017, Bloomberg reports:
"Getting out before Uber would be a minor victory for Lyft, though not one without risk. Three years younger than its much larger competitor, Lyft has plotted a faster route to the public markets and will want to make sure that it's front and centre in investors' minds. Filing first will give Lyft an opportunity to highlight favourable metrics before Uber discloses new details."
What will also count in the IPO value are average fare per ride, marketing spending and driver churn, according to a Lyft shareholder who asked not to be identified because he isn't authorized to speak on behalf of the company.
Other favourable elements that will count for investors are:
● Lyft's longer-term plans for its autonomous driving program;
● Lyft's non-ride hailing business, namely scooter and bike sharing.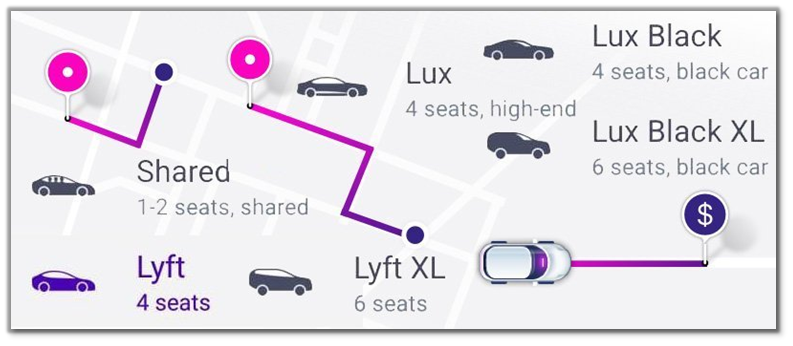 Image: Five types of rides offered by Lyft.
Risk associated with the IPO will also most likely be considered by investors. According to Bloomberg the following would be included:
● insight on potential regulatory hold-ups;
● legislation that could require Lyft to classify its drivers as employees;
● the company's governance structure, as the Wall Street Journal reported that Lyft's founders were preparing to take near-majority voting control, despite together owning less than 10% of the company.
Predictions for Lyft's IPO
Oceanic Partners, an early holder of Lyft shares, is valuing the company at about $23 billion, said Jaclyn Strife, the venture capital firm's co-founder and chief operating officer. That's based on a multiple of about seven times the $3 billion in net revenue that Oceanic predicts Lyft will have this year. The estimate also factors in about $2.5 billion in cash, which Lyft has in its coffers.
"We're excited to see that Lyft is going first," Strife said. "It's good for them to come out and set the stage ahead of Uber, which will certainly take the spotlight later."
Sources: NYTimes.com, Fool.com, Bloomberg.com and Statista.com.
Update 1: Reports Show That Lyft Drivers Might Get Stock in the Highly Anticipated IPO
According to CNBC.com, Lyft would give drivers with 10,000 rides logged in $1,000. The amount can be kept or used to participate in the company's IPO. Lyft drivers with at least 20,000 rides would be eligible for $10,000 in cash or a stock equivalent.
The Wall Street Journal report cited by CNBC.com mentions people, familiar with the matter, said the company will include a program to give long-serving and highly active drivers a cash award with the option to convert it into stock. This is unusual since ordinary investors usually are not able to buy a company's stock at its IPO price and because the drivers are contract employees.
Source: CNBC.com
Update 2: Lyft Files for IPO, Passing Uber in the Race to Go Public
On Friday, Lyft filed paperwork to the United States Securities and Exchange. The company will list on Nasdaq under the stock ticker "LYFT".
After years of investors waiting for the long list of start-ups with billion-dollar valuations to come to Wall Street, it seems that 2019 will bring a stampede of so-called unicorns, as companies such as Uber, Airbnb, Pinterest are expected to go public this year. Lyft's IPO could also be an indication of how all these companies could be received by the public.
The company has the allure of a fast-growing business: it hit $2.2 billion in revenue in 2018, double the previous year. Other figures look good for the company as well:
● 1.9 million drivers offered transportation to 30.7 million riders in 2018;
● Booking in 2018 summed up $8.1 billion;
● The company scored a revenue of $2.2. billion in 2018.
Even more, in the filling submitted to the SEC, the company states:
"Our revenue was $343.3 million, $1.1 billion and $2.2 billion in 2016, 2017 and 2018, respectively, representing year-over-year growth of 209% from 2016 to 2017 and 103% from 2017 to 2018.
We generated Bookings of $1.9 billion, $4.6 billion and $8.1 billion in 2016, 2017 and 2018, respectively, representing year-over-year growth of 141% from 2016 to 2017 and 76% from 2017 to 2018."
Sources: Edition.cnn.com and Sec.gov.
Update 3: Lyft's IPO May Be as High as $3 billion
Lyft's IPO final amount may be as high as $3 billion, according to SeekingAlpha.com.
Investors have invested over $5.1 billion in several financing rounds and include firms such as Rakuten (OTCPK:RKUNY), Alibaba (BABA), Andreessen Horowitz, CapitalG (GOOG), Fidelity Management & Research Company, Floodgate Fund, Forerunner Ventures, Kingdom Holding, Mayfield Fund, KKR (KKR), and others.
Source: Seekingalpha.com and Venturedeal.com.
The information presented herein does not constitute and does not intend to constitute Investment Advice. The information contained herewith is a compilation of public stock recommendations issued by various financial analysts and organised by Live News Recommendation in an easily presentable format, for information purposes only.
Key Way Investments Ltd does not influence nor has any input in formulating the information contained herein. The content herewith is generic and does not take into consideration individual personal circumstances, investment experience or current financial situation. Users/readers should not rely solely on the information presented herewith and should do their own research/analysis by also reading the actual underlying research. Users/readers should also consider the risk of encountering significant losses when trading CFDs. Therefore, Key Way Investments Ltd shall not accept any responsibility for any losses of traders due to the use and the content of the information presented herein. Past performance is not a reliable indicator of future results.
CFDs are complex instruments and come with a high risk of losing money rapidly due to leverage. 71.79% of retail investor accounts lose money and 28.21% win money when trading CFDs with cfdglobal.com. You should consider whether you understand how CFDs work and whether you can afford to take the high risk of losing your money.