Mobile trading evolved tremendously in the past few years, quickly becoming a feature found in many brokers' offers.
Nowadays, you can see people using smartphones and tablets to complete their everyday trading tasks such as buying and selling their favorite financial instruments. These gadgets are usually equipped with tools conceived to make trading more accessible, faster-paced, and more interesting for a wider audience - all packaged in an easy to use, responsive, and customizable trading experience!
Learn more about mobile trading apps from the few lines below.
How do financial mobile trading apps work?
Trading on your mobile device is similar to trading on your Web browser, from the comfort of your desk. You create a trading account with your favorite broker, deposit your desired amount of money (depending on your risk tolerance and your market expertise) via bank transfer, wire transfer, or other alternative payment methods, and then start trading.
However, what differentiates mobile devices from desktop devices is the possibility of trading on the go. No matter where you are, you can always trade your preferred assets on your smartphone or tablet as long as you have an Internet connection. Plus, the trading platform's interface can be easier to use and more user-friendly because developers want to make sure everything fits into smaller screens.
What can you trade on mobile apps?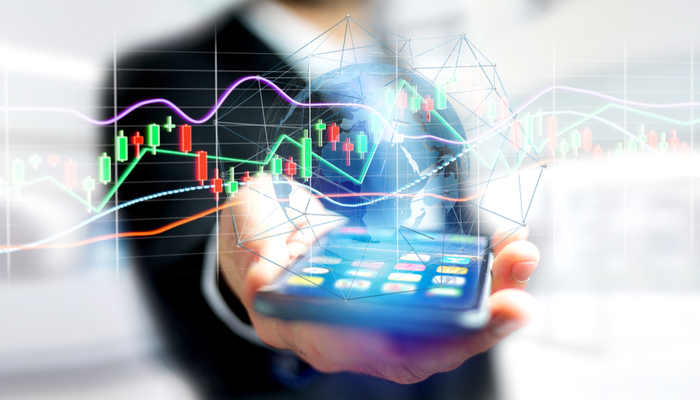 You can trade various assets on a mobile trading app, depending on its profile. Options, banking products, investment funds, futures, stocks and ETFs, financial derivatives such as CFDs, and many others – and the offer is still growing and growing.
Are you interested in learning more about trading CFDs? Check out our Academy, full of educational materials and resources designed to help you develop suitable strategies and gain relevant market knowledge!
Anything you can trade on desktop devices is available on mobile gadgets as well. Besides, trading on your smartphone or tablet comes with additional benefits such as portability, ease of use or simplicity, to name just a few.
How to choose the right app for you
Picking a proper mobile trading app for your needs is very important, as it should satisfy your risk, portability, and security needs. First, you need to decide on your preferences. What do you enjoy trading the most? Is it investment funds or futures? Perhaps you're a fan of CFD trading who fancies building a diverse portfolio of assets? Whatever it is, you must be sure you want to go that path before moving to step number two.
After you've settled for your preferences, you need to develop a good solution for managing risks. For detailed info on how you can accomplish that, you can take a look at our article here.
Depending on their risk management approaches and their level of market knowledge, people decide what suits them best when picking mobile apps for trading. Some might opt for mobile apps equipped with dense desktop features in their platforms, such as various charting options, research analytics, or other third-party resources. Others could be happy with just the basic mobile features of a trading app, maybe adding alert notifications to keep them up to date with the latest price changes.
Irrespective of your choice, using a mobile app allows you to trade anywhere and anytime. You will always be connected to your portfolio of assets in real-time, giving you the option to monitor your trades at your own will.
Go Mobile with the CAPEX.com trading app!
Manage your account from the palm of your hand - with the Capex App, you get the same fast and stable access to our broad range of assets on WebTrader. All packed in a simple and easy-to-use interface!
• Obtain real-time quotes and place trades on 2100+ assets from currencies and commodities to shares, ETF's, and many more, all with a single tap.
• Benefit from amazing functionality, including technical and fundamental analysis resources, diverse order types, and execution modes.
• Tailor your risk level according to your skills accessing a powerful and secure mobile platform, equipped with built-in risk management tools.
No matter where you are in the world, you can enjoy a great trading experience with Capex Mobile App!
Download it from here and jump aboard our team of investors!
The information presented herein is prepared by CAPEX.com and does not intend to constitute Investment Advice. The information herein is provided as a general marketing communication for information purposes only and as such it has not been prepared in accordance with legal requirements designed to promote the independence of investment research, and it is not subject to any prohibition on dealing ahead of the dissemination of investment research.

Users/readers should not rely solely on the information presented herewith and should do their own research/analysis by also reading the actual underlying research. The content herewith is generic and does not take into consideration individual personal circumstances, investment experience or current financial situation.

Therefore, Key Way Investments Ltd shall not accept any responsibility for any losses of traders due to the use and the content of the information presented herein. Past performance and forecasts are not reliable indicators of future results.