Rising rate cut expectations and slow U.S. growth impact the dollar

The Labor Department announces the 164,000 job increase in Nonfarm payrolls in July and a moderate wage increase after Donald Trump spoke about an additional 10% tariff on $300 billion worth of Chinese imports. The Greenback fell 0.76% against the JPY, reaching its lowest price since the start of January. Against the EUR, the dollar fell 0.22% while the Swiss franc was 0.83% stronger. The U.S. Central Bank cut the short-term interest rate, the first time since 2008. Jerome Powell described the expected 25-basis-point as a mid-cycle policy adjustment that's meant to protect the U.S. expansion from an economic global slowdown.
AUDUSD rebound on track as trade risks lighten up
The Aussie has slowly lifted itself with 3 pips, reaching 0.6803, after a consecutive 10-day decline, with this bounce also shifting to the Bond market. After the Australian retail sales data was close to expectations, the big day is today, with the trade balance announcement and the RBA decision. There seems to be a strong consensus for no change, but there is still a long way until late October.
Oil price climbup slowed by Trump tariff tweet, traders react negatively
The biggest 1-day drop in more than 4 years was seen in the market after U.S. President Donald Trump stated that he will impose additional import tariffs on Chinese products. Tensions about the trade war created even more fear, making the WTI Crude for September delivery rise by 3.2% to $1.71, settling at %55.66/barrel. The oil volatility will probably remain high, as stated by a JBC Energy analyst, since the Chinese authorities will probably adopt new measure to counter Trump's intentions, with a change of a swift agreement between the two economic giants, slowly diminishing.
U.S. Natural Gas production is slowing, chances of turning negative in 2020
In the first half of 2018, the U.S. have produced 16,241 bcf of natural gas, meaning 12% more than the same period in 2018. Keeping these numbers in mind, the results for the second half of the year and for 2020 are expected to be less impressive. The U.S. Energy Information Administration recently released their statistics for April 2019 for the natural gas, but traders are more interested in recent data and forecasts. Can the current production rate be sustained in a medium to long term? Will there be enough resources? According to oil and gas executives that responded to the Dallas Fed Energy Survey, the business activity sector is starting to stagnate, with both the company outlook index and the company outlooks experiencing a decline.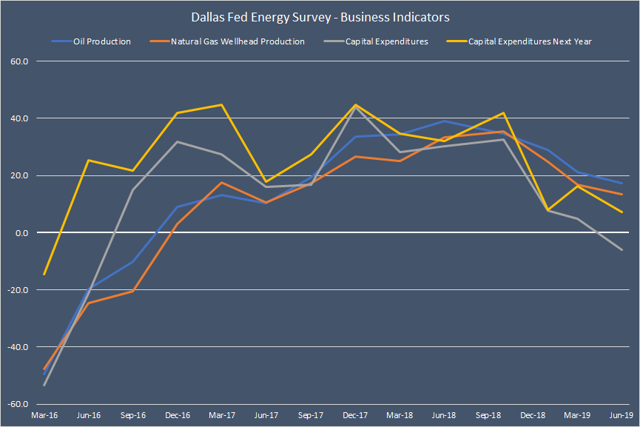 Source: Dallas Fed Energy Survey
The rapid lack of investor interest in conventional and unconventional oil and gas was the biggest impact, with securities of oil and gas companies now selling at a fraction of what they once represented.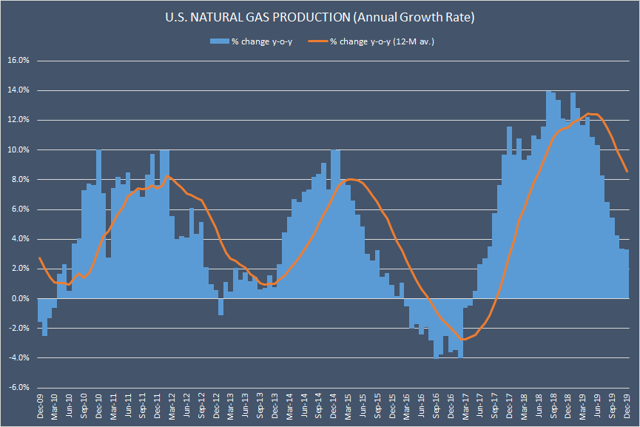 Source: Bluegold Research estimates and calculations At this very moment, based on the current charts and calculations, the production is expected to peak in December 2019, with the winter engulfing the countries and remain flat for most of 2020.
Steady U.S. Employment data and higher wages boosted gold prices
Holding onto recent events even as the labor market continued is growth, gold prices were up by more than 1%. The managing director at Forexlive.com described the employment report as the most neutral one he has ever seen. The senior economist at CIBC stated that the most recent employment numbers highlight the fact that the U.S. economy isn't in serious trouble. It seems that the data does not support further rate cuts from the Federal Reserve.
5-day decline for stocks after Trump escalates the trade conflict
Weekly losses have been hitting S&P 500 and Nasdaq since late December 2018, with investors worrying that President Trump's comments upon the trade war with China will impact the economic growth. The Dow Jones Industrial Average fell at 98.41 points, by 0.4%, closing at 26,485, the S&P 500 declined 21.51 points, by 0.7%, finishing at 2,932.05. The Nasdaq Composite Index ended at 8,004.07, by a fall of 1.3%. It seems that the additional import tariffs are taking their toll on a trend of declining business investments that could extend from the manufacturing sector to companies supplying consumer goods.
Trump's China tariff lowers European stocks to the worst 7-month result
After abruptly stating that he would impose a 10% tariff on $300 billion of Chinese exports starting on 1st of September, Donald Trump is now scheduled to make a statement on trade with the European Union, this Friday.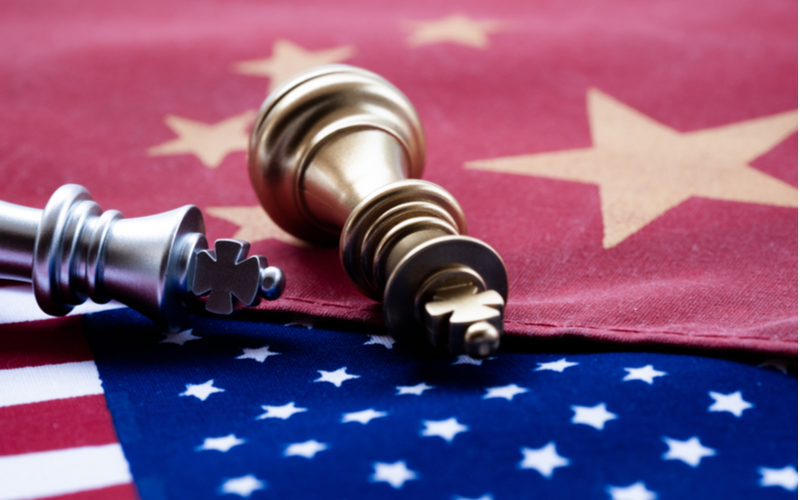 Following these statements, the pan-European STOXX 600 index sank by 2.5% to hit a 6-week low. Germany's DAX index slumped by 3.1%, whereas losses for good makers dragged down France's CAC 40 by 3.6%, as these draw a large part of their revenue from China.
FAANG Earnings Season High Performers
With 75% of public US equities having already reported their results, the market was almost indifferent to Q2 earnings as the S&P 500 was trading flat in late July. As for the recent market tumble it seems that the recent 10% tariff announcement is a leading cause. Alphabet has had a positive activity in its 2nd quarter results, with YouTube also growing fast y-o-y. GOOGL was up by over 9% from the earnings report, but share prices have fallen over 3% with the China tariff as the key trigger. Apple's China exposure will probably suffer the effects of the tariffs, with the company hoping that the next wave of 5G devices will bring back growth.
FAANG Earning Season Weak Performers
Netflix got crushed when releasing its 2nd quarter results, with the entertainment giant losing subscribers substantially. The company was expecting an added subscription of 5 million and only managed to reach 2.7, making this the worst growth figure in 3 years. Amazon has fallen by 4% since its earnings release, beating sales expectations but missing on EPS for the first time in 2 years, upholding investor fears. Struggling with short term costs due to its one-day delivery investments, analysts expect the growth to emerge from the AWS Cloud business. Facebook has a reduced ability to produce targeted advertisements, with its growth significantly halted after the FTC slapped a $5 billion civil penalty, the largest fine in the agency's history.
Sources: forexlive.com, kitco.com, marketwatch.com, reuters.com, seekingalpha.com, zacks.com
The information presented herein does not constitute and does not intend to constitute Investment Advice. The information contained herewith is a compilation of public stock recommendations issued by various financial analysts and organized by Live News Recommendation in an easily presentable format, for information purposes only.
Key Way Investments Ltd does not influence nor has any input in formulating the information contained herein. The content herewith is generic and does not take into consideration individual personal circumstances, investment experience or current financial situation. Users/readers should not rely solely on the information presented herewith and should do their own research/analysis by also reading the actual underlying research. Users/readers should also consider the risk of encountering significant losses when trading CFDs.
Therefore, Key Way Investments Ltd shall not accept any responsibility for any losses of traders due to the use and the content of the information presented herein. Past performance is not a reliable indicator of future results.
HIGH RISK INVESTMENT WARNING: CFDs are complex instruments and come with a high risk of losing money rapidly due to leverage. 78.32% of retail investor accounts lose money when trading CFDs with this provider. You should consider whether you understand how CFDs work and whether you can afford to take the high risk of losing your money.