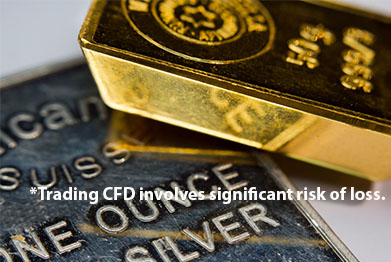 Silver has been following the lead set by gold over the past several months, and this has led to the sister metal of gold to be beaten down, underappreciated, and some say extremely oversold. There's not much hope for silver as long as gold remains weak, and there hasn't been any sign that gold is going to reverse its downtrend anytime soon.
On a technical basis our analysts point out that silver prices have recently broken below the long-term support at the $15.55 level, and the uptrend line on the hourly chart which was at the $15.45 level. The next level of support is at $15.30, and we've seen strong demand for physical silver down to the $15.00 level in the past.
On the other side of the trade the slope of the long-term downtrend line is flattening, and a bounce that goes back to that downtrend line would see price coming back near the $16.50 level. That would put silver price right back in the center of the trading range that was seen from February through June of this year.
The real driver for silver of course will be the U.S. dollar. While silver does still have industrial uses, it is far more sensitive to the U.S. dollar. With interest rates expected to continue rising in the U.S. through the end of 2018, the U.S. dollar should continue to exhibit strength, and that's bad news for silver.
Source: FXEmpire.com
The information presented herein is prepared by CAPEX.com and does not intend to constitute Investment Advice. The information herein is provided as a general marketing communication for information purposes only and as such it has not been prepared in accordance with legal requirements designed to promote the independence of investment research, and it is not subject to any prohibition on dealing ahead of the dissemination of investment research.

Users/readers should not rely solely on the information presented herewith and should do their own research/analysis by also reading the actual underlying research. The content herewith is generic and does not take into consideration individual personal circumstances, investment experience or current financial situation.

Therefore, Key Way Investments Ltd shall not accept any responsibility for any losses of traders due to the use and the content of the information presented herein. Past performance and forecasts are not reliable indicators of future results.