Stock market symbols can help investors decipher and simplify critical information surrounding the fast-paced financial world. Let us take a closer look at this vital topic.
Stock Market Tickers – understanding what lies beneath.
A ticker symbol (also called stock symbol) refers to the group of letters or characters (or a combination of both) representing a particular financial security registered in a stock exchange.
These stock tickers show price changes for their respective stocks throughout a trading day. You can see them on websites of exchanges such as Nasdaq or NYSE, as well as on major financial cable news networks.
It is essential for companies (from Tech100, USA30, USA500 or others) to issue their shares in a specific market and pick a ticker symbol for their stocks. By doing this, traders and investors can identify them easier and then place orders.
Note that each stock listed on a stock market has a distinct ticker symbol. So, a stock trading on Nasdaq has a different ticker symbol than the same stock trading on New York Stock Exchange.
Cheeky ticker symbols: Anheuser Busch Inbev (BUD), HEINY (Heineken), Asia Tigers Fund (GRR), Cheesecake Factory (CAKE), Harley-Davidson (HOG), National Beverage Corp. (FIZZ), Petco Health and Wellness (WOOF), Southwest Airlines (LUV), and Yum! Brands (YUM).
Ticker Symbols – main elements
Several vital components are forming a ticker symbol, including:
The symbol for the relevant security (ticker symbol itself) – for example, AAPL (Apple) or WMT (Walmart); in the below examples, a three-letter symbol means the stock is trading on New York Stock Exchange, while a four-letter ticker informs traders that the stock is most probably trading on Nasdaq.
The number of shares traded – the volume for the trade being quoted.
The price traded - latest price quote for the security.
Up or down arrow (alternatively, a plus or minus sign) - indicates whether the security's price is rising or falling, compared with the previous day's close.
Red or green colouring, often in charts - shows whether a security's price is up or down compared with the previous day's close.
Stock Market Tickers - a bit of history.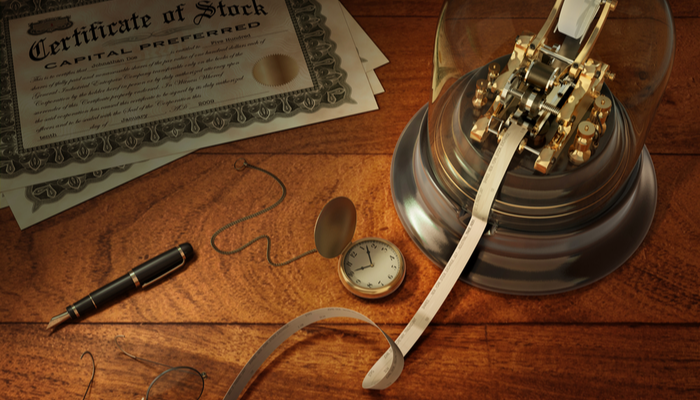 An American electrician named Edward Augustin Calahan is credited with inventing the world's first stock ticker system in the 19th century.
While working for Western Union in 1867, Calahan watched telegram boys delivering messages of buy and sell transactions to brokers in nearby stock markets when he came up with his revolutionary idea. The stock price ticker system he invented was top-line trading technology at the time. Essentially, it involved a telegraph receiver that used Morse code to print information on a paper tape.
Ticker symbols were created to be as short as possible when they were first developed to easily fit onto the tapes printed by the stock ticker machines. This also made it easier for them to be recognized by investors and traders.
Several months later, inventor Thomas Edison improved on Calahan's system. He came up with a machine that printed one character per second by using alphanumeric numbers. It targeted the rising new market for alphanumerical tickers that reported price fluctuations on the New York stock and gold markets to subscribing bankers and brokers.
This type of mechanical stock ticker lasted for many decades before television transmissions, and computerized tickers took over in the 1960s. But even though they may be long gone from market floors, they built the foundation for the lightning-quick connected world of the modern financial system.
Stock tickers – Key Takeaways.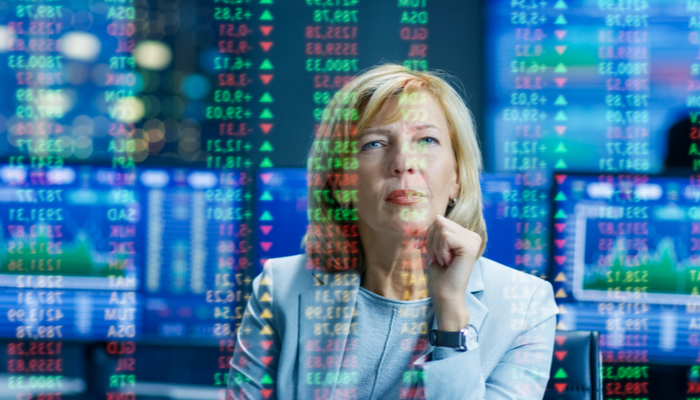 They make it easier for interested people to find out which stock is on financial market websites and trading sites.
They help identify the stock exchange on which shares of a company are listed.
They show whether a particular stock is rising or falling.
Market participants can use them to get essential information such as earnings reports, stock split, dividend data, etc.
They facilitate a constant flow of trade orders in and out of stock markets daily.
They help identify the type of stocks listed on various stock market.
Sources: finance.yahoo.com, investopedia.com.
The information presented herein is prepared by CAPEX.com and does not intend to constitute Investment Advice. The information herein is provided as a general marketing communication for information purposes only and as such it has not been prepared in accordance with legal requirements designed to promote the independence of investment research, and it is not subject to any prohibition on dealing ahead of the dissemination of investment research.

Users/readers should not rely solely on the information presented herewith and should do their own research/analysis by also reading the actual underlying research. The content herewith is generic and does not take into consideration individual personal circumstances, investment experience or current financial situation.

Therefore, Key Way Investments Ltd shall not accept any responsibility for any losses of traders due to the use and the content of the information presented herein. Past performance and forecasts are not reliable indicators of future results.