Image: Britain's economy influenced by the Brexit impasse.
Britain's economy slowed sharply in late 2018, pushing full-year growth to its weakest in six years. Brexit worries hammered investments made by companies and the global economic slowdown weighed on trade, official data showed on Monday.
Consequences for the U.K. Economy and the Pound in Recent Months?
The pace of economic growth fell to a quarterly rate of 0.2% from October to December. The same indicator was 0.6% in the previous quarter. Output alone also dropped in December by the most since 2016.
"The UK economy lost its summer exuberance in the final months of 2018, and there are signs of further chill winds ahead," economist Tej Parikh at the Institute of Directors said.
Sterling went down by a third of a cent to below $1.29.
For the whole 2018, growth dropped to its lowest since 2012 at 1.4%, down from 1.8% in 2017.
Exports suffered from global weakness and consumers and businesses grew increasingly concerned about the lack of a plan for when Britain is due to leave the European Union on March 29.
Prime Minister Theresa May Keeps Failing and the Impasse Is Challenging for the U.K.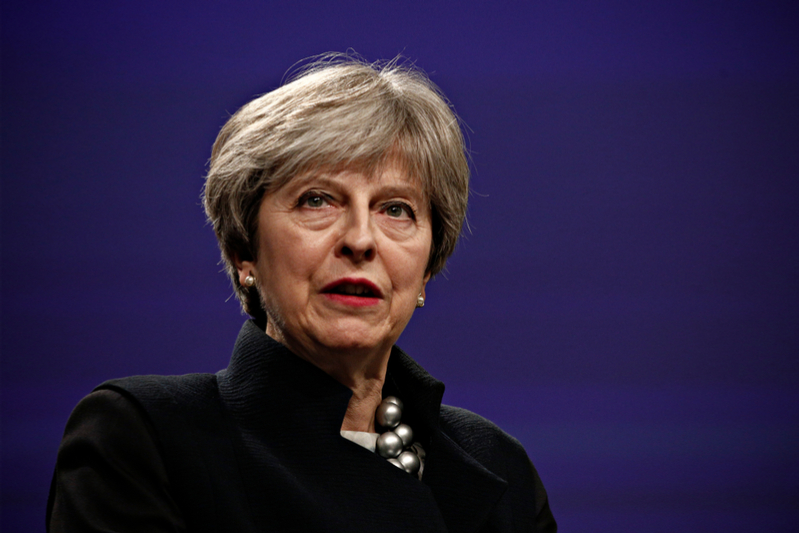 Image: Prime Minister of the U.K. Theresa May.
U.K.'s Prime Minister Theresa May has so far failed to get support from the parliament for the plan she agreed with Brussels to avoid reimposing checks on goods exported from Britain.
Major economies around the world also suffered a slow pace in late 2018. One of the major reasons for the slow economic growth refers to what seems to be a never-ending trade tension between the United States and China, and the Brexit is yet another added challenge for Britain.
Last week the Bank of England chopped its forecast for growth this year by 0.5 percentage points to 1.2 percent, which would be the weakest year since the 2009 recession.
Monday's data showed net trade lopped more than 0.1 percentage points from the fourth-quarter growth rate.
"GDP slowed in the last three months of the year with the manufacturing of cars and steel products seeing steep falls and construction also declining," Office for National Statistics statistician Rob KentSmith said.
In December alone, the economy contracted by 0.4 percent, the biggest fall since March 2016.
Finance minister Philip Hammond said the data showed the economy remained "fundamentally strong" and that public sector forecasters did not foresee a recession.
Business investment dropped 3.7 percent in the fourth quarter compared with a year earlier, the biggest fall since the first three months of 2010, when Britain was emerging from recession.
Investment has contracted for four consecutive quarters, the longest run since the third quarter of 2009.
Household spending remained resilient, up 1.9 percent on a year ago, as did government spending.
Overall, business investment has stalled since June 2016's referendum, which the BoE blames for stagnating economic productivity. The BoE expects business and housing investment to fall this year, and for export growth to halve.
Sources: Reuters.com, CNBC.com, Investing.com, Bloomberg.com, BusinessInsider.com.
The information presented herein does not constitute and does not intend to constitute Investment Advice. The information contained herewith is a compilation of public stock recommendations issued by various financial analysts and organised by Live News Recommendation in an easily presentable format, for information purposes only.
Key Way Investments Ltd does not influence nor has any input in formulating the information contained herein. The content herewith is generic and does not take into consideration individual personal circumstances, investment experience or current financial situation. Users/readers should not rely solely on the information presented herewith and should do their own research/analysis by also reading the actual underlying research. Users/readers should also consider the risk of encountering significant losses when trading CFDs. Therefore, Key Way Investments Ltd shall not accept any responsibility for any losses of traders due to the use and the content of the information presented herein. Past performance is not a reliable indicator of future results.
CFDs are complex instruments and come with a high risk of losing money rapidly due to leverage. 71.79% of retail investor accounts lose money and 28.21% win money when trading CFDs with cfdglobal.com. You should consider whether you understand how CFDs work and whether you can afford to take the high risk of losing your money.