There is an ominous sounding 'death cross' on the chart of the US stock indices, but it is not necessarily grim news.
S&P 500, the benchmark index for the U.S. stock market has been tumbling for weeks, buffeted by expectations of a new regime of higher interest rates to be ushered in by the FED as it combats surging inflation. Concerns about the military conflict in Europe also have provoked anxieties among bullish investors and driven down the value in stocks in speculative and yield-sensitive areas of the market.
The index's 50-day moving average has dropped below its 200-day moving average
On Monday, its 50-day moving average, often viewed as a tracker of short-term trends, crossed below the 200-day average, seen as an indicator of the longer-term pattern—for the first time since 2020.
A death cross is significant in the eyes of technical analysts because it suggests short-term momentum in the underlying asset is worsening and that the price is entering a long-term downtrend. That can often signal a major downturn.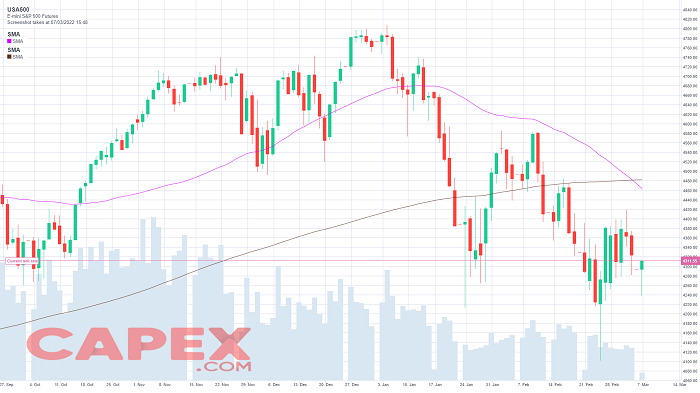 The formation occurred in June 2000 when the dot-com bubble burst, in January 2008 ahead of the global financial crisis, and again during the 2020 market turmoil.
Death crosses are not that rare and do not necessarily bring significant losses either, but when you hear 'death cross' your antenna goes up. It does not always mean doom and gloom are coming. It just means a more likely extended downtrend.
Rising interest rates, inflation, and market volatility are on the horizon
The FED is preparing for its sharpest monetary policy tightening in decades to bring down prices and inflation. This has sparked wild swings among the rate-sensitive stocks since their elevated valuations become targets as borrowing costs rise.
Bank of America and Goldman Sachs expect the Fed to raise rates by 25 basis points at each of its remaining seven meetings this year, pushing the federal fund's target range to 1.75% to 2%. With Ukraine attacked, it adds more credence to the view that the Federal Reserve will be more dovish than the market currently believes as the armed conflict would make the outlook even more uncertain. This could upend the economy.
The cross can help investors put a selloff in perspective
History shows that while stocks usually keep falling after a death cross, the time it takes to hit the bottom—and the final loss—vary a lot.
A death cross has historically been a lagging trading indicator, meaning that by the time it appears, the move has already occurred. In 2020, the market was already 35% down before the death cross appeared.
Indeed, history has shown that death crosses are not as bearish as they sound. This one may be one of those times ... or it may not be. Mostly though, such technical events should be taken with a grain of salt.
The information presented herein is prepared by CAPEX.com and does not intend to constitute Investment Advice. The information herein is provided as a general marketing communication for information purposes only and as such it has not been prepared in accordance with legal requirements designed to promote the independence of investment research, and it is not subject to any prohibition on dealing ahead of the dissemination of investment research.

Users/readers should not rely solely on the information presented herewith and should do their own research/analysis by also reading the actual underlying research. The content herewith is generic and does not take into consideration individual personal circumstances, investment experience or current financial situation.

Therefore, Key Way Investments Ltd shall not accept any responsibility for any losses of traders due to the use and the content of the information presented herein. Past performance and forecasts are not reliable indicators of future results.