How do analysts see the Dow Jones index moving in the coming days and years? We look at some of the latest Dow Jones analysis and price forecast for 2022 and beyond.
The Dow Jones Industrial Average (USA30) has been on a downtrend since the start of 2022, due to a worsening economic environment.

Will Dow Jones manage to hold on and reverse losses? We take a closer look at the recent Dow Jones performance to understand what factors influence one of Wall Street's most important market indices and view the latest Dow Jones outlook from analysts.
Dow Jones today – price analysis and forecasts
After hitting its all-time high of 36,799.65 points recorded on 4 January, the DJIA (US30) has fallen around 20% to almost 30,000 points during May. Like other major global indices, Dow Jones has struggled to stay afloat, hit by one unwelcome news after another, from Covid-19 Omicron variants to the Ukraine invasion.
The news in the last week of January that the US Federal Reserve (Fed) will start hiking rates from March 2022 had a bearish impact on investors. The main source of risk for the US stock market is inflation.
Analysts expect inflation to come down gradually in the second half of 2022 to between 5% and 6%.
If the Fed does see a trend of lower inflation, confirmed by three or four lower readings, we could see a shift in its rhetoric and pace of rate hikes.
For a trend reversal to occur there must be indicators of a substantial deceleration in inflation.
This will relieve the Federal Reserve's pressure to raise interest rates. It could also make it possible for the central bank to help the economy if it goes into a recession. Entering a recession when inflation remains high might be a nightmare for the stock market and Dow Jones.
What is the
US30
forecast amid the Fed's rate hike?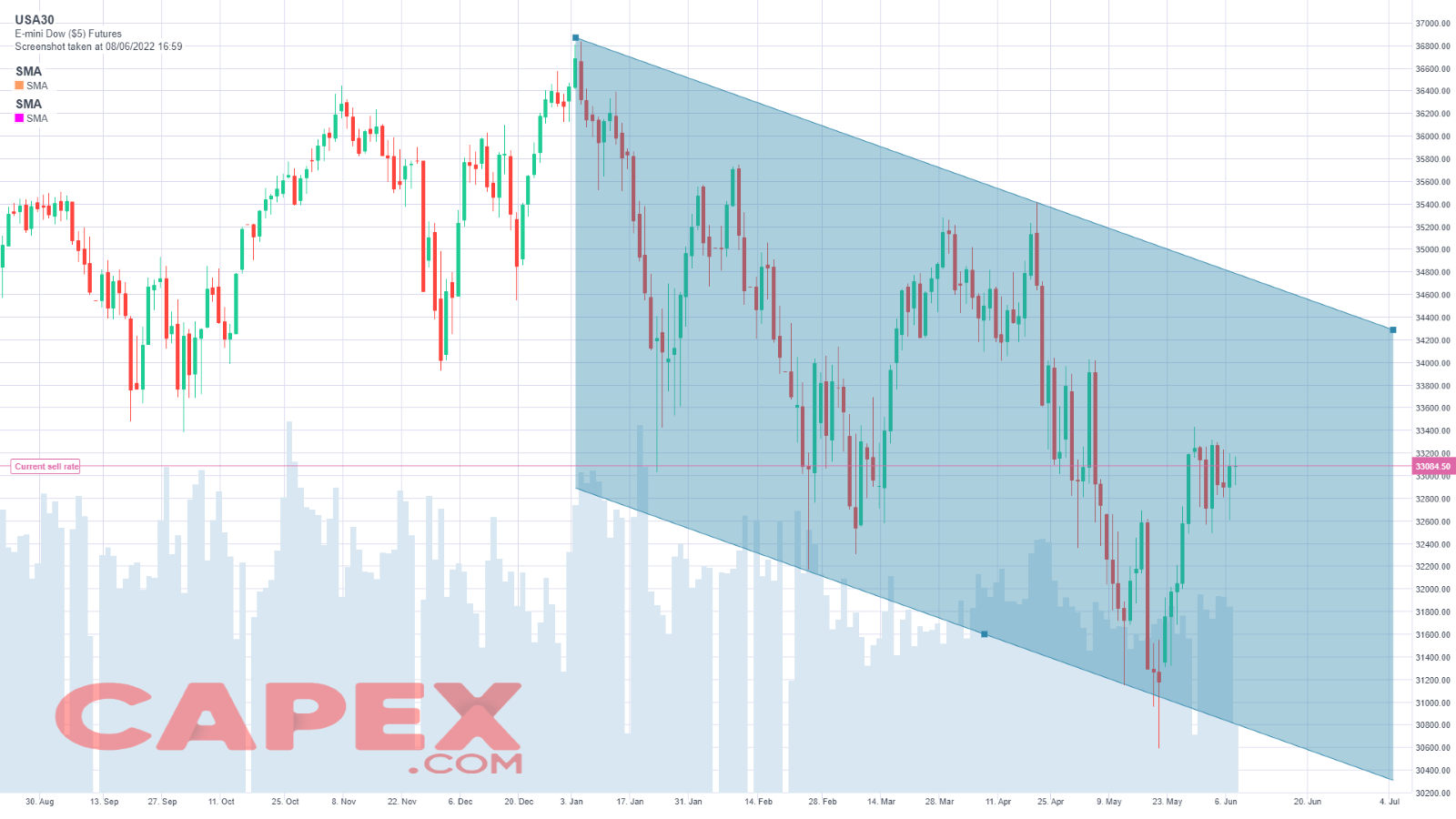 Looking at the Dow Jones price chart, an intermediate trend counter-trend is in place. In technical analysis, a downtrend is defined as a series of lower highs and lows.
There is no sign of panic within the price pattern yet. Note how each lower high goes above the previous low, indicating a distribution in place.
A space between a swing high and the previous swing low will indicate that bears are in control of the market and a strong downward trend (panic sell-off) may follow.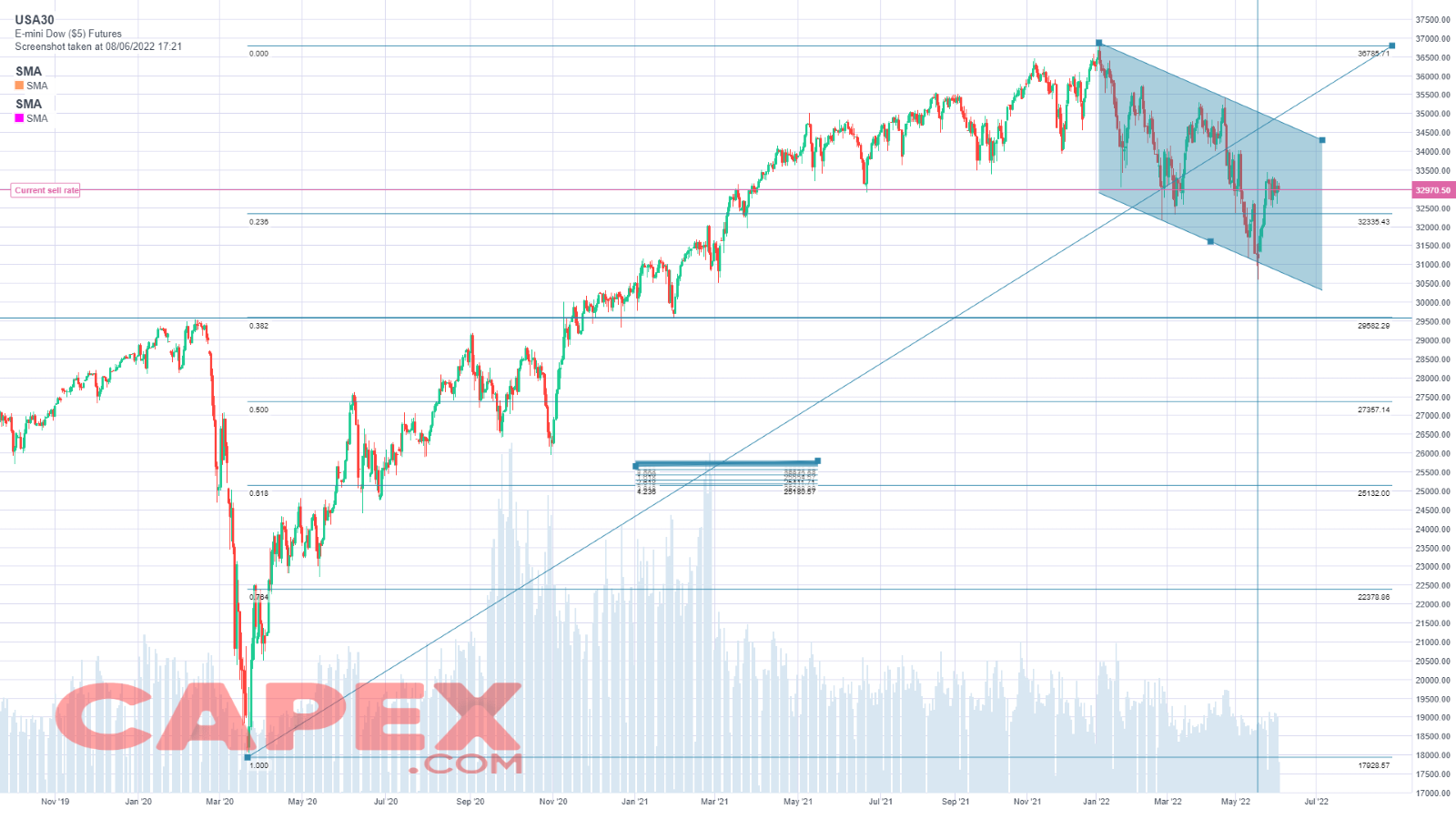 The weekly chart shows a potential low of around 30.000 points during the summer. Note that a 38.2% retracement is a normal correction of the latest leg up started in April 2020. It is also a historical price level, the top of the previous move up.
Dow Jones prediction 2022 and beyond from experts*
As for Dow Jones price predictions, Trading Economics expected the US30 index to trade at 30,489.73 points by the end of the first half of the year and estimated the index to trade at 28,285.77 in 12-months' time, based on its global macro models and analysts expectations.
The Economy Forecast Agency estimated that US30 could decline to 28,263 by December 2022.
The index could gradually climb to 29,356 points over a one-year period, reaching 35,966 points in March 2024. The Economy Forecast Agency did not provide Dow Jones price predictions for 2025 and 2030.
Algorithm-based forecasting service Wallet Investor was bullish on the Dow Jones index, saying DJIA is "a good long-term (1-year) investment". It estimated the index to climb to 36,441.96 points in Mid 2023, rising to 41,167.60 points in Mid 2024, and 45,801.33 points in Mid 2025.
Long Forecast expects Dow Jones to trade around 32.000 points by the end of 2022 and between 37.000-38.000 points by the end of 2023.
The forecasting services did not provide a 10-year forecast on DJIA.
Long Term Dow Jones Forecast 2025-2030*
While some advisors are optimistic that the bull market will continue, others are preparing investors for what they see as its imminent end. As the current bull is now the second-longest ever, these advisors say that the odds are overwhelming that it will soon be going bearish.
However, Dave S. Gilreath, partner and founder of Sheaff Brock Investment Advisors, is confident and sees a bright economic and other market future ahead. He believes the current bull is likely to continue galloping for years to come, pushing the Dow Jones Industrial Average above 40,000 by 2025.
Companies typically grow their earnings over time. Assuming an average growth of net earnings is 7% per year, in a five-year period a company's cumulative profits will be about $40 for every $100 invested.
Reasoning onward, using a mathematical forecasting model, analysts revealed more interesting results. The year 2020 marks when this math equation took us above 30,000. In 2030, projections and trends show that the Dow would reach 50,000, says Brian Evans - the owner of Madrona Funds, LLC and Bauer Evans CPAs, who also serves as the firms' chief investment officer, lead planner, and senior portfolio manager.
* Note that analyst predictions can be wrong. Forecasts shouldn't be used as a substitute for your own research. Always conduct your own diligence and remember that your decision to trade or invest should depend on your risk tolerance, expertise in the market, portfolio size, and goals.
Keep in mind that past performance doesn't guarantee future returns. And never invest or trade money that you cannot afford to lose.
Factors That Can Impact the Dow Jones Stock Price
Current News

-

T

he price of the Dow Jones is calculated using data from its companies. That is why it is important to keep a close eye on all the major news and results of the companies that weigh the most in this reference index.

Economic Data

- Figures may include unemployment, trade balance, GDP growth rate, inflation rate, retail sales, durable goods, industrial orders, business sentiment, or consumer confidence.

U.S. Dollar

- The value of the U.S. dollar will affect the export or import profitability of U.S. listed companies. If the U.S. dollar is going down, the stock index tends to rise also.

FED

- Communications from the U.S. Federal Reserve on interest rates, as well as the press conferences of these organizations usually impact the Dow Jones index.
Is Dow Jones a good investment?
Since its inception in May 1896, the Dow Jones index has returned a total of 1,710.902% with an annualized 2.325%. The values are adjusted for inflation according to the Dow Jones Return Calculator, Dividends Reinvested (DQYDJ).
In recent years, the Dow Jones price has risen enormously, as can be seen in the above tables. The Dow Jones rate has been tracked since 1896, and in 1976, the 1000-point limit was broken. Subsequently, the limit of 20,000 points was reached in 2017, and the Dow Jones price is now already at more than 30,000 points.
Nevertheless, the question remains where the limit lies for the Dow Jones index. What has become clear is that the Dow Jones price has become much more volatile, with daily fluctuations of hundreds of points being no exception.
Analysts outlined in the article viewed the Dow Jones Industrial Average (US30) could reverse the downtrend if inflation started to slow. However, the Fed signaled at the 4 May meeting that further rate hikes were expected as inflation is likely to remain elevated in the coming months.
Whether or not Dow Jones is a good investment for you depends on your attitude to risk, your expertise in this market, the spread of your portfolio, and how comfortable you feel about losing money.
Why has the Dow Jones been going down?
The index has been going down in recent weeks due to the Fed's interest rate hikes. The Fed has increased borrowing costs twice this year and has indicated more increases in the pipeline to bring inflation down to its target of below 2%.
Rising costs due to spikes in commodity and energy prices – partly induced by the Russia-Ukraine conflict, have also hurt the index on expectations that spiking costs would cut companies' earnings. In addition, the war has dampened markets' sentiment and raised uncertainties about economic growth.
If no bad news comes out about one of the 30 companies included in the index, and indicators signal a slowdown in inflation, the Dow Jones is projected to go up in value.
Is the Dow Jones going to crash?
This is unlikely because the DJIA includes only high-quality, economically relevant stocks. If they weaken, either in performance or relevance, they are cut from the index and are replaced by others.
How to forecast Dow Jones?
The Dow Jones Industrial Average is a perfect indicator of the US general economic state. The Dow Jones index is quite responsive to domestic and foreign economic and political events. The stock index and local currency trends are often positively correlated.
How many Dow Jones companies are there?
DJIA (US30) tracks the stock performance of 30 large publicly-listed companies on the US stock exchanges. A committee of representatives from S&P Dow Jones Indices and The Wall Street Journal selects the companies that appear on the index.
The information presented herein is prepared by Miguel A. Rodriguez and does not intend to constitute Investment Advice. The information herein is provided as a general marketing communication for information purposes only and as such it has not been prepared in accordance with legal requirements designed to promote the independence of investment research, and it is not subject to any prohibition on dealing ahead of the dissemination of investment research. It does not regard to the specific investment objectives, financial situation or the particular needs of any recipient.

Users/readers should not rely solely on the information presented herewith and should do their own research/analysis by also reading the actual underlying research.

Key Way Investments Ltd does not influence nor has any input in formulating the information contained herein. The content herewith is generic and does not take into consideration individual personal circumstances, investment experience or current financial situation.

Therefore, Key Way Investments Ltd shall not accept any responsibility for any losses of traders due to the use and the content of the information presented herein. Past performance and forecasts are not reliable indicators of future results.