After China proved to be too-big-to-tariff, the US tries its hand with the EU
The United States has announced through its trade representative that it is considering imposing new tariffs on imports of various products from Europe and the United Kingdom for an amount of $3.1 billion.
New US tariffs
Imports include food products such as cheese, olives, yogurt, and industrial products such as trucks or Airbus planes.
The North American administration's market is already used in its decisions that have more to do with political marketing than with conclusions based on economic criteria.
After having to admit that they are not going to penalize China with a breakdown in trade negotiations, something on which Trump would have mostly based his electoral strategy, the American administration threatens to open a new front of confrontation against Europe.
The words will remain, most probably, empty, although the dialectical tension could increase as the election date approaches.
Global indices
Due to this announcement and as the pandemic figures worsen in the American continent, the markets have reacted downwards with falls that reached 2% in the European indexes and 1% in the US stock markets. However, throughout the session, the red numbers have been decreasing.
In summary, this is a technical corrective move after continued increases in recent days, for which the trigger has been the news of possible European export tariffs and the data of the pandemic.
It is highly unlikely that these events will continue to be taken into account by investors who will be more focused on economic data that shows a rapid recovery in world economies.
In this sense, the June German IFO Business Climate has been published today with a figure of 86.2, above what was expected and significantly higher than the May figure of 78.9.
This number has been explained by IFO economist Klaus Wohlrabe, who has presented a somewhat optimistic view of the German economy with a growth of 7% for the third quarter, and a very significant rise in export expectations shows that the global economic revival after reopening is accelerating.
That is why Germany30 is continuing its current uptrend with corrections like today that are supported by the 200-day SMA at 12138, a level that acts as support.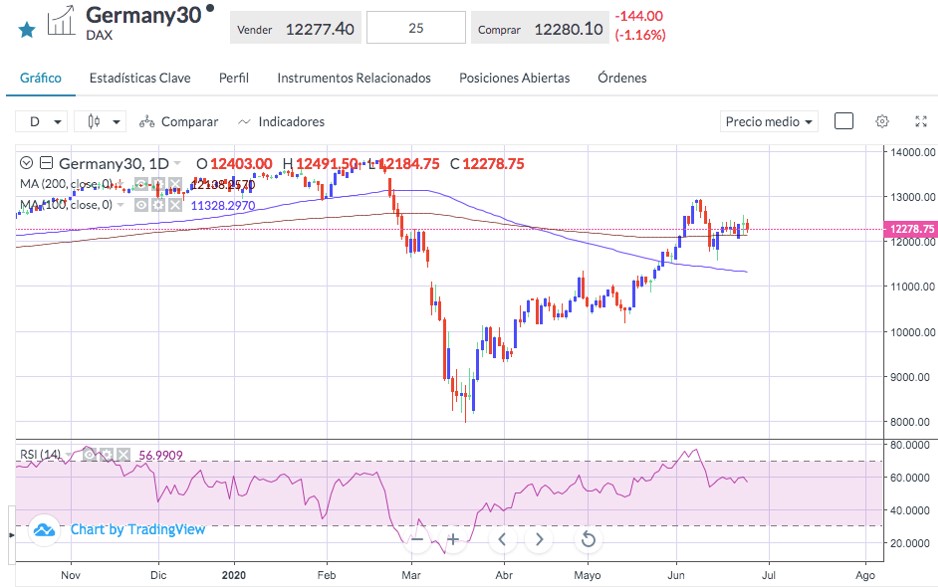 USD-based commodities
This corrective market movement that manifests itself as a mood of risk-off has caused drops in OIL of almost 1%.
Still, COPPER, the best indicator of industrial activity, continues to experience increases and is close to overcoming its latest highs at 2,698.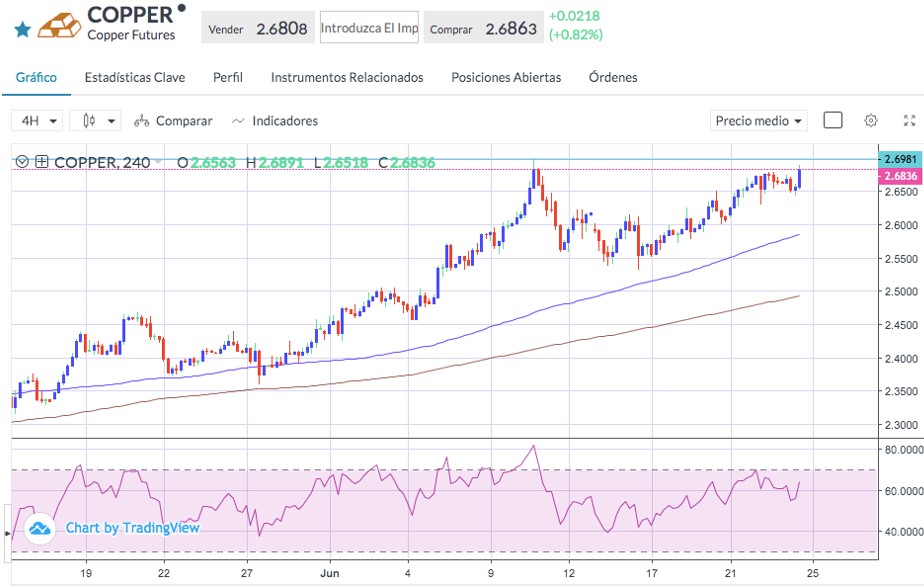 The Dollar has been strengthened today by the mood of risk-off.
It has dragged EUR/USD to correct to levels close to the support zone between 1.1250-1.1260, where the 100 and 200-hour SMAs pass, after the currency pair failed to overcome the resistance of 1.1350, in part because of its overbought condition as seen on the chart's RSI indicator.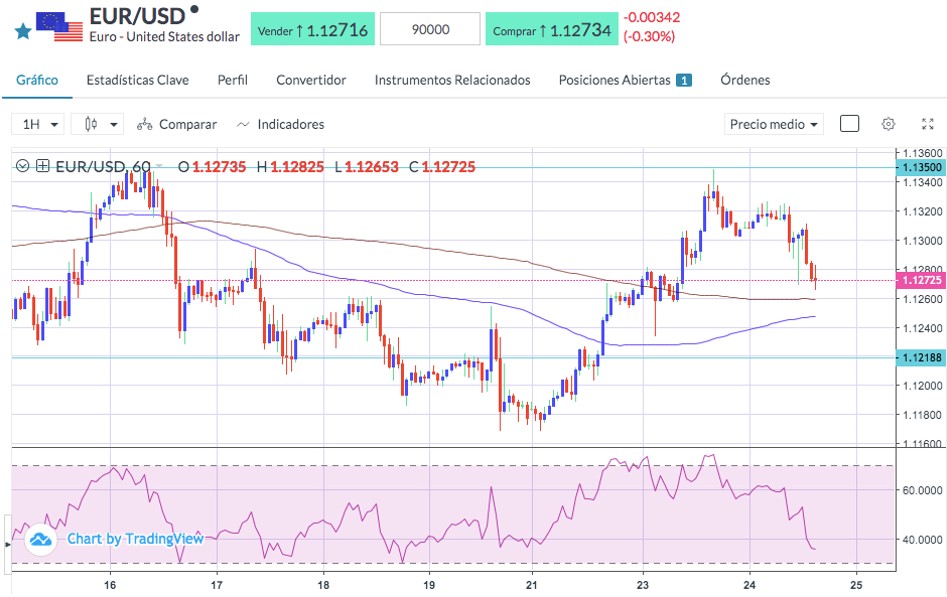 The information presented herein is prepared by Miguel A. Rodriguez and does not intend to constitute Investment Advice. The information herein is provided as a general marketing communication for information purposes only and as such it has not been prepared in accordance with legal requirements designed to promote the independence of investment research, and it is not subject to any prohibition on dealing ahead of the dissemination of investment research. It does not regard to the specific investment objectives, financial situation or the particular needs of any recipient.

Users/readers should not rely solely on the information presented herewith and should do their own research/analysis by also reading the actual underlying research.

Key Way Investments Ltd does not influence nor has any input in formulating the information contained herein. The content herewith is generic and does not take into consideration individual personal circumstances, investment experience or current financial situation.

Therefore, Key Way Investments Ltd shall not accept any responsibility for any losses of traders due to the use and the content of the information presented herein. Past performance and forecasts are not reliable indicators of future results.