The University of Michigan's Surveys of Consumers was in the center of attention.
This critical inflation figure showed a reversal in both short-term and medium-term expectations. Inflation expectations refer to data on which central banks base their monetary policy rather than current inflation data. If we add the collapse in the prices of the main raw material (agricultural, metals, and even crude oil - which fell by around 16% in the last two weeks), we can only conclude that the forecasts for an interest rate rise relaxed. The odds for a smaller 50-bps hike in the July meeting have doubled to 27%.
The leading indicators of the US economy already show signs of weakening. In this sense, the US consumer confidence figure published this week is of great importance. But for this reason (the economy weakening and the inflation expectations receding), the probability that the Federal Reserve will not have to raise interest rates as much as anticipated is increasingly high.
This week, a very important piece of data on inflation, Personal Consumption Expenditures (PCE), will be published, and the Federal Reserve will closely monitor the outcome to see the evolution of price levels. Without a doubt, the PCE report will directly impact the markets, whether it confirms the decline in inflation or shows an increase. In any case, the surprise would come from a lower figure that would therefore suppose an upward impulse for the stock markets.
That sentiment weighed on the US dollar and boosted stocks - all three major Wall Street indices showed sharp gains.
Nasdaq rose strongly last week, after two weeks of consecutive declines, and has technically broken through the first resistance zone at 11,792 and does not encounter any technical obstacles until the level of 12,947.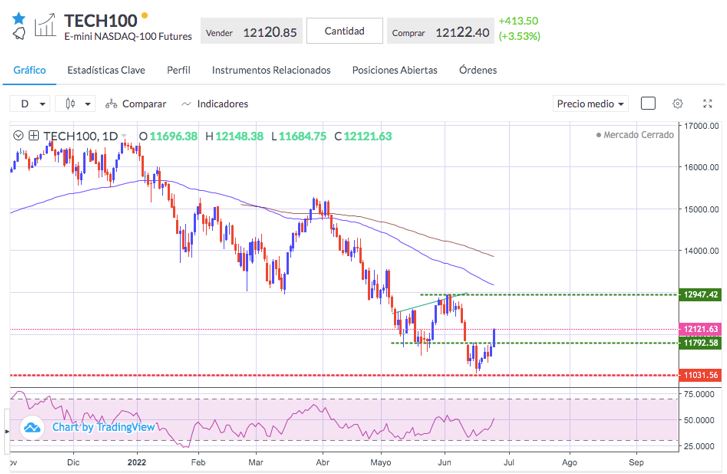 Sources: Bloomberg, Reuters.
The information presented herein is prepared by Miguel A. Rodriguez and does not intend to constitute Investment Advice. The information herein is provided as a general marketing communication for information purposes only and as such it has not been prepared in accordance with legal requirements designed to promote the independence of investment research, and it is not subject to any prohibition on dealing ahead of the dissemination of investment research. It does not regard to the specific investment objectives, financial situation or the particular needs of any recipient.

Users/readers should not rely solely on the information presented herewith and should do their own research/analysis by also reading the actual underlying research.

Key Way Investments Ltd does not influence nor has any input in formulating the information contained herein. The content herewith is generic and does not take into consideration individual personal circumstances, investment experience or current financial situation.

Therefore, Key Way Investments Ltd shall not accept any responsibility for any losses of traders due to the use and the content of the information presented herein. Past performance and forecasts are not reliable indicators of future results.