Quadruple witching day makes markets move sideways
The meeting of the EU leaders, as anticipated, does not seem to have any result concerning the COVID rescue fund.

EU Covid-19 rescue fund
The positions of the smallest EU countries that oppose the granting of funds without counterparts and that seek to impose conditions in addition to reducing the amount of the fund remain unchanged so far, according to sources with access to information from this meeting.
The Austrian Chancellor is the only one to have made statements confirming this position.
On the other hand, the German Chancellor Merkel has joined the ECB President to demand a favorable decision to the proposal of the European Commission since otherwise, the difficulties that the EU as a whole would face would be of enormous magnitude and could put the EU itself at risk.
In any case, it is unlikely that any advance will occur until well into July.
The result will not come without an intense debate that will directly and immediately affect financial markets, particularly the Euro, peripheral bonds, and European stock markets.
EUR/USD has been under pressure for much of the day, having briefly traded below 1.1200.
At the beginning of the North American session, it has experienced a sudden and powerful bullish momentum that has taken it in a matter of minutes to rise almost half a figure, stopping right at 1.1256 100-hour SMA, which is considered a pivot level.
Above it, buyers would begin to have a more significant role. This movement does not have any structural support neither of economic figures nor political character.
Quadruple witching day
Most likely it has to do with today's date, quadruple witching.
Today there are massive maturities of most financial derivatives, and rebalances of investment portfolios will have to be carried out, which will undoubtedly cause movements in different assets such as the EUR/USD that has maturities of 1.1 trillion in options with strikes at 1.1200.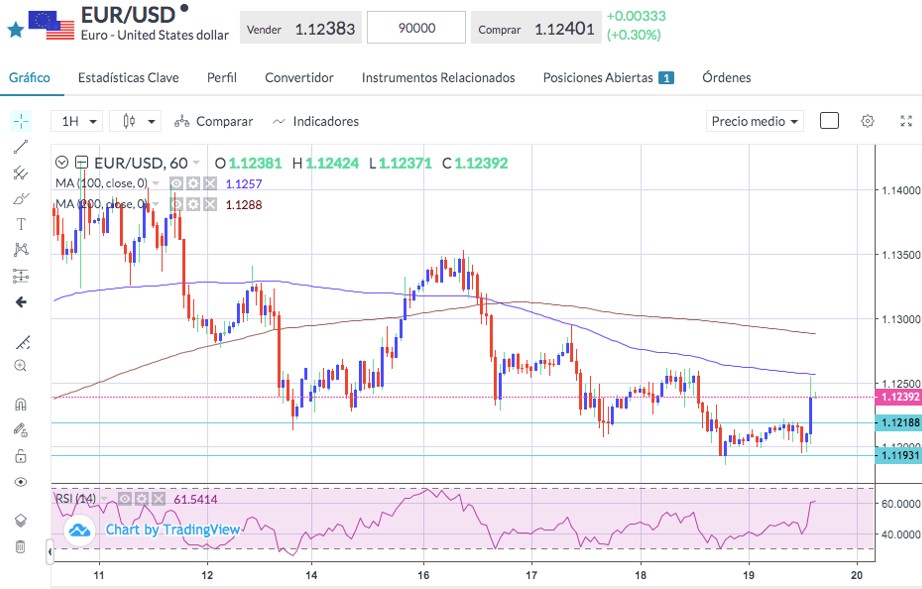 On the other hand, today, the market has returned to the risk-on mode for no apparent reason beyond the start of talks between the United States and China on trade agreements.
These conversations are only a very first approach, and it will be necessary to know the result of these to confirm if they evolve positively, with which the market bet on risky assets or, on the contrary, get stuck and return the confrontation. In this atypical market scenario, it will be Trump's tweets that give us the first clues.
The energy market
If this situation of higher risk appetite continues in the market, OIL will benefit, say market analysts. A report from one of the world's leading energy agencies has confirmed a gradual recovery in demand for crude oil in recent weeks. This is undoubtedly the most relevant factor in the price of crude oil since the supply remains unchanged.
OIL has been running for six consecutive days with slight increases. It is close to an intermediate resistance at $41.26, whose overcoming based on a daily closing would direct it towards $45.37 200-day SMA.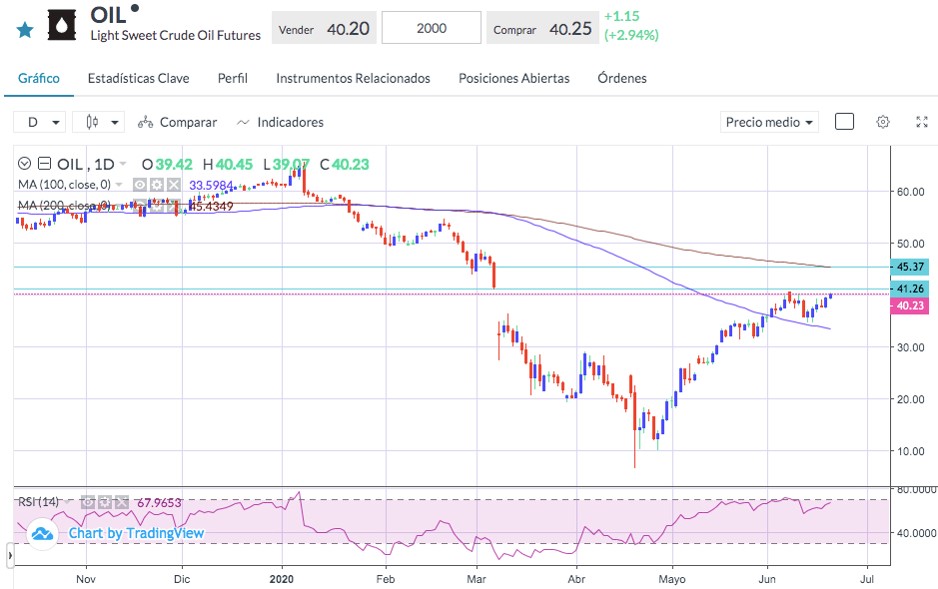 The information presented herein is prepared by Miguel A. Rodriguez and does not intend to constitute Investment Advice. The information herein is provided as a general marketing communication for information purposes only and as such it has not been prepared in accordance with legal requirements designed to promote the independence of investment research, and it is not subject to any prohibition on dealing ahead of the dissemination of investment research. It does not regard to the specific investment objectives, financial situation or the particular needs of any recipient.

Users/readers should not rely solely on the information presented herewith and should do their own research/analysis by also reading the actual underlying research.

Key Way Investments Ltd does not influence nor has any input in formulating the information contained herein. The content herewith is generic and does not take into consideration individual personal circumstances, investment experience or current financial situation.

Therefore, Key Way Investments Ltd shall not accept any responsibility for any losses of traders due to the use and the content of the information presented herein. Past performance and forecasts are not reliable indicators of future results.