Tensions rise from the energy sector once more.
Oil rose sharply because of the market once again weighing in the possibility of an embargo on Russian oil by Europe. US President Joe Biden is heading to Europe to meet with his allies and continues pushing for oil and natural gas imports from Russia to be suspended.
There are European countries that support this proposal. However, among others, Germany is opposed to it due to the serious consequences that it could bring, which could lead to a recession in Europe. A huge economic slowdown caused by the war is not ruled out.
Russia announced that purchases of oil and Natural Gas by "unfriendly" countries must be paid in rubles. The ruble strengthened slightly after news came out. A decision of this type has little credibility since it would not bring any benefit to Russia. At the moment, the country needs income in strong currencies such as dollars or euros to deal with payments abroad.
In addition to all the above, the markets learned yesterday that an oil supply facility in the Sea of ​​Azov had suffered serious damage due to weather conditions. This unfortunate event could lead to a drop in supply of around 1M BPD.
These factors contributed to oil prices rising almost 6% to the $115 area. From a technical perspective, oil is on track for the latest highs, around $130.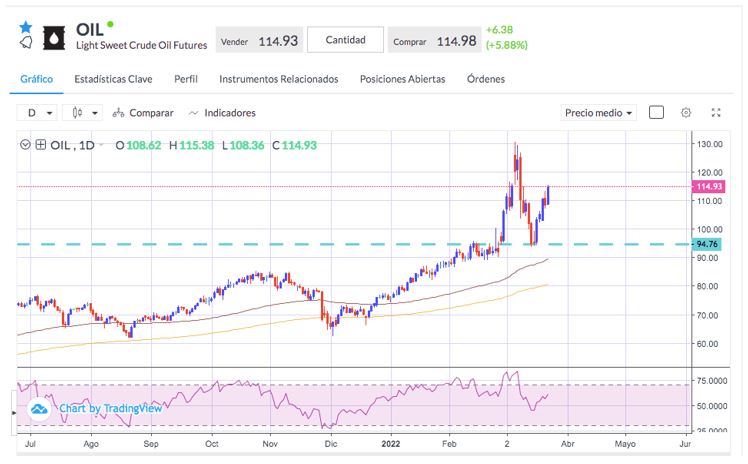 Energy raw materials prices tightened, worsening an already worrying inflationary scenario and negatively impacting the stock markets. Additionally, the Fed officials showed their determination to carry on a more aggressive monetary policy approach, which could lead to a 50 bps interest rise increase in May.
The Nasdaq technology index fell just over 1%. From a technical point of view, this movement can be a simple correction after a week of continuous rises. The scenario remains bullish as long as prices stay above the 14,250 mark.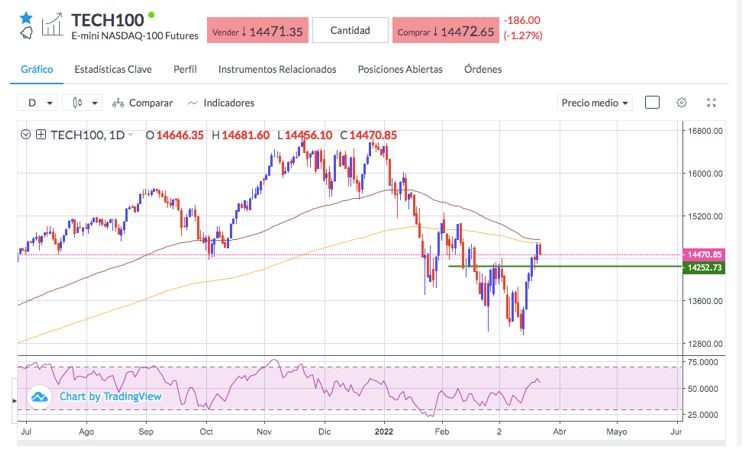 Sources: Bloomberg, Reuters.
The information presented herein is prepared by Miguel A. Rodriguez and does not intend to constitute Investment Advice. The information herein is provided as a general marketing communication for information purposes only and as such it has not been prepared in accordance with legal requirements designed to promote the independence of investment research, and it is not subject to any prohibition on dealing ahead of the dissemination of investment research. It does not regard to the specific investment objectives, financial situation or the particular needs of any recipient.

Users/readers should not rely solely on the information presented herewith and should do their own research/analysis by also reading the actual underlying research.

Key Way Investments Ltd does not influence nor has any input in formulating the information contained herein. The content herewith is generic and does not take into consideration individual personal circumstances, investment experience or current financial situation.

Therefore, Key Way Investments Ltd shall not accept any responsibility for any losses of traders due to the use and the content of the information presented herein. Past performance and forecasts are not reliable indicators of future results.