The week started with a public holiday in the US. However, later during the day, President Putin declared Ukraine regions of Lugansk and Donetsk independent entities in signed decree.
In a televised speech, Putin maintained that those regions and all of Ukraine are territories historically linked to Russia and that Ukrainian governments have acted as puppets of Western powers. He also did not hold back in his statement calling NATO an organization working against Russian interests and justified his decision as a means to protect the citizens of these regions with close ties to Russia.
EU officials who were already aware of Putin's decision had previously warned that they would take serious action against Russia in the form of sanctions. Now it remains to be seen what the reactions of both Europe and the United States and even NATO will be. The possibilities are multiple, from military action by the Ukrainian government in defense of its territories, an increase in NATO's military presence in neighboring countries integrated into the organization, and/or political and economic sanctions against Moscow.
Everything will depend on the intensity and content of these potential actions or sanctions to know their impact on the market. In any of the cases, none of them will be beneficial for Europe from the most to the least extreme.
The first market reaction was the rise in oil (1% up) and Natural Gas prices (4.6% up), the fall of the ruble, which fell close to historic lows, and the collapse of the German DAX index with a loss of more than 4%, the biggest daily drop in months.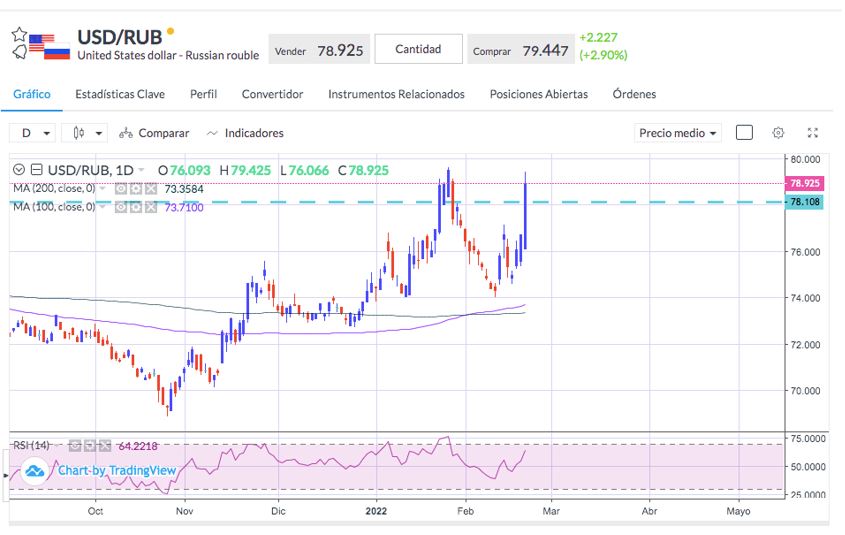 Technically, the German index lost the support zone of 14,900 in place since March 2021 and did not find any downward obstacle until the 14,100 zone.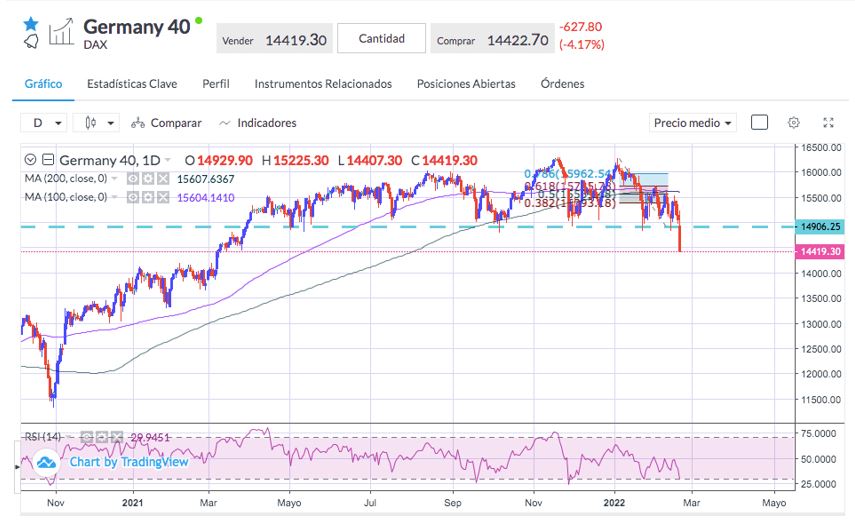 Sources: Bloomberg, Reuters.
The information presented herein is prepared by Miguel A. Rodriguez and does not intend to constitute Investment Advice. The information herein is provided as a general marketing communication for information purposes only and as such it has not been prepared in accordance with legal requirements designed to promote the independence of investment research, and it is not subject to any prohibition on dealing ahead of the dissemination of investment research. It does not regard to the specific investment objectives, financial situation or the particular needs of any recipient.

Users/readers should not rely solely on the information presented herewith and should do their own research/analysis by also reading the actual underlying research.

Key Way Investments Ltd does not influence nor has any input in formulating the information contained herein. The content herewith is generic and does not take into consideration individual personal circumstances, investment experience or current financial situation.

Therefore, Key Way Investments Ltd shall not accept any responsibility for any losses of traders due to the use and the content of the information presented herein. Past performance and forecasts are not reliable indicators of future results.