Investment banks like Goldman Sachs expect the Fed to raise 75 bps in November, 50 bps in December, and 25 bps in February to reach a final interest rate of 4.5–4.75%.
The market behaved somewhat more volatile and without direction yesterday, mainly because it was a holiday in the United States and the bond market was closed.
The Wall St. indexes started the session lower, weighed down by a drop in technology stocks following the White House's announcement of new export restrictions on US companies that sell semiconductor chips and other chip-making equipment to China.
New US export control restructuring aimed at halting Beijing's chip-making capabilities that could enhance its military capabilities sent chipmaker shares down about 4%, a sector that remains under pressure amid fears of another 75-basis point rate hike by the Federal Reserve next month.
Investment banks like Goldman Sachs expect the Fed to raise 75 bps in November, 50 bps in December, and 25 bps in February to reach a final interest rate of 4.5–4.75%. In any case, this is roughly what the market is already discounting.
This is despite Fed Vice President Brainard's remarks on Monday that a second-half GDP rebound will be limited and that real GDP growth will be essentially flat this year.
Slowing growth, however, does not appear to be deterring the Fed from maintaining its monetary policy. Other economists argue that the Federal Reserve's rate hikes and, in general, tightening of monetary policy have already begun to affect the economy and that the real results will be visible in the coming months, so the Fed risks overreacting if it maintains the pace of rate hikes in upcoming meetings.
The indices trimmed losses at the session's close to end, nearly unchanged from Friday's close in the case of the DowJones30 and S&P500, with only the technological Nasdaq experiencing a moderate drop of around 0.40%.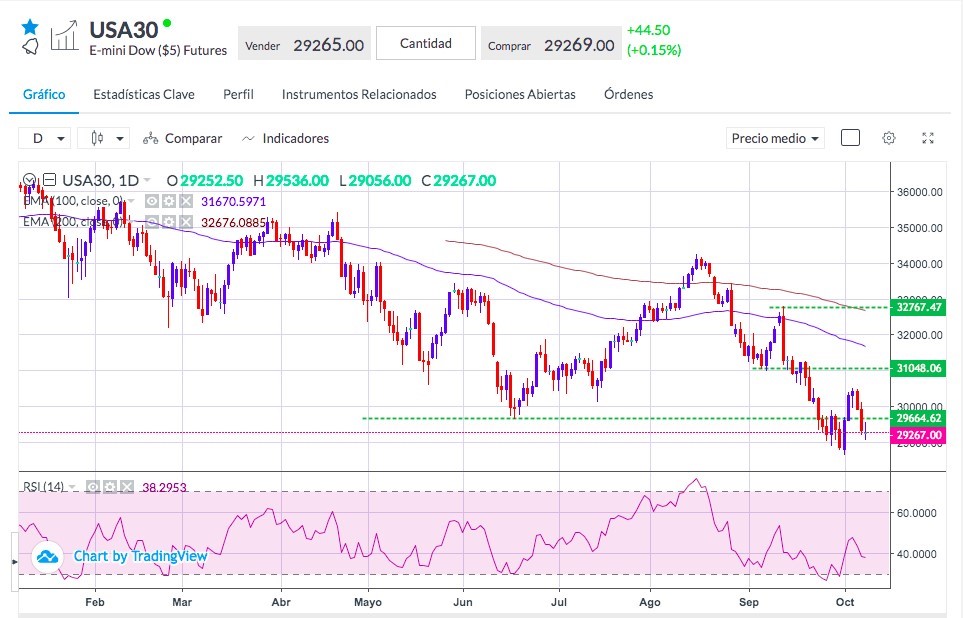 Sources: Bloomberg, Reuters
The information presented herein is prepared by Miguel A. Rodriguez and does not intend to constitute Investment Advice. The information herein is provided as a general marketing communication for information purposes only and as such it has not been prepared in accordance with legal requirements designed to promote the independence of investment research, and it is not subject to any prohibition on dealing ahead of the dissemination of investment research. It does not regard to the specific investment objectives, financial situation or the particular needs of any recipient.

Users/readers should not rely solely on the information presented herewith and should do their own research/analysis by also reading the actual underlying research.

Key Way Investments Ltd does not influence nor has any input in formulating the information contained herein. The content herewith is generic and does not take into consideration individual personal circumstances, investment experience or current financial situation.

Therefore, Key Way Investments Ltd shall not accept any responsibility for any losses of traders due to the use and the content of the information presented herein. Past performance and forecasts are not reliable indicators of future results.