On a day with no major economic data releases, the market was focused yesterday on the news about geopolitical pressures in Ukraine, which brought renewed volatility.
The stock markets first rebounded from previous lows after news emerged that Kremlin might accept a continuation of the talks and thus that a diplomatic solution might be possible. The Russian President Vladimir Putin showed his support for Russia continuing discussions with the United States and its allies after his Foreign Minister Sergei Lavrov had described the proposals put forward by Washington as "constructive."
However, the United States rejected Russia's main demand for assurances that NATO will not allow Ukraine to become a member but offered to discuss limits on missile deployment in Europe and restrictions on military exercises.
But CBS later reported that Russia had placed its troops in positions to launch an attack, according to satellite images, sparking new fears of an imminent invasion of Ukraine, which pushed stocks to daily lows.
On top of everything, fears regarding a more aggressive decision by the Federal Reserve on its monetary policy also emerged in the market. The central bank member Bullard reiterated his conviction about the need for raising rates by 0.50% at the next meeting and even drastically reducing the Fed's balance sheet by selling bonds in the market.
For this reason, and despite the enormous geopolitical tensions that normally bring bond yields lower, the 10-year benchmark shot up to 2.00% after falling to 1.92% the day before.
This brought a strengthening of the dollar, which in the case of EUR/USD lost 50 pips and traded again below 1.1300. The pair is under additional pressure due to the tensions in Ukraine since Europe would be the most vulnerable area in the event of war escalations. Additionally, the EUR/USD pair was also affected after the European Central Bank gave signs of retracting its more restrictive position.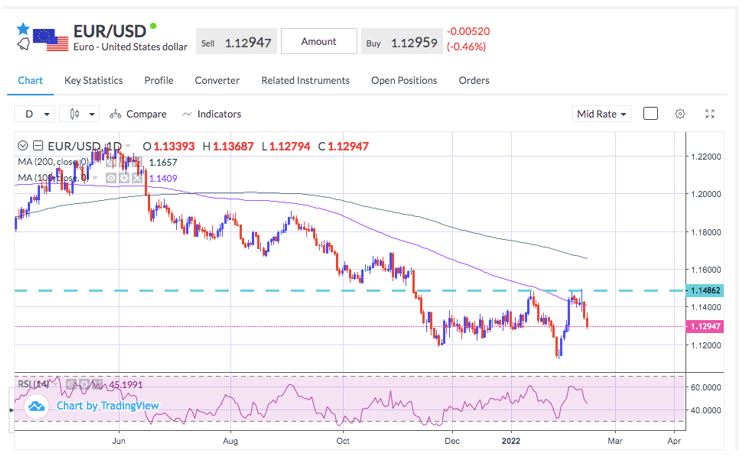 Oil continued to rise yesterday despite the European Union foreign commissioner Borrell announcing that an Iran nuclear deal was in sight. This could have been a strong reason for oil to fall if fears of a conflict in Ukraine had not prevailed. Iran's inclusion in the oil market could lead to a production of between 500k and 1M barrels per day in the first phase, and an announcement like the one made by Commissioner Borrell was a sign that the agreement could be signed soon.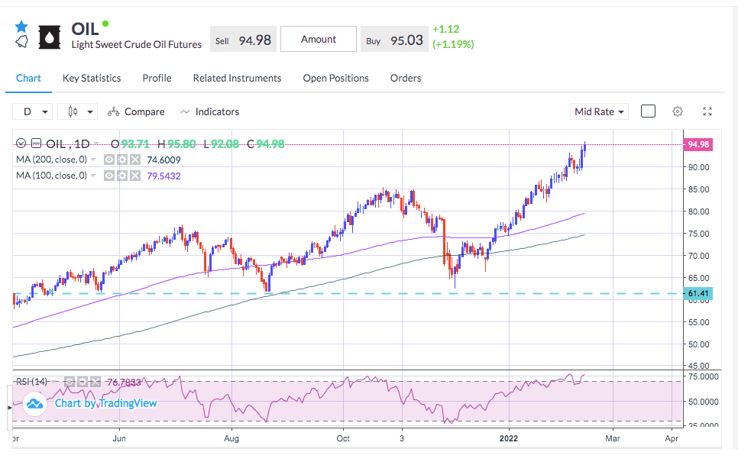 Sources: Bloomberg, Reuters.
The information presented herein is prepared by Miguel A. Rodriguez and does not intend to constitute Investment Advice. The information herein is provided as a general marketing communication for information purposes only and as such it has not been prepared in accordance with legal requirements designed to promote the independence of investment research, and it is not subject to any prohibition on dealing ahead of the dissemination of investment research. It does not regard to the specific investment objectives, financial situation or the particular needs of any recipient.

Users/readers should not rely solely on the information presented herewith and should do their own research/analysis by also reading the actual underlying research.

Key Way Investments Ltd does not influence nor has any input in formulating the information contained herein. The content herewith is generic and does not take into consideration individual personal circumstances, investment experience or current financial situation.

Therefore, Key Way Investments Ltd shall not accept any responsibility for any losses of traders due to the use and the content of the information presented herein. Past performance and forecasts are not reliable indicators of future results.