US indices started yesterday's session on a downward spiral, with the Tech100 index shedding close to 5%. European stock markets and energy prices fall too.
The US indices all entered the so-called correction zone - another way of calling a trend change. But as the session progressed, they all recovered to a certain degree.
The prospect of a Russian attack on Ukraine comes as an additional troublesome element for investors who were already worried about the Fed's tightening of monetary policy, something that may start as early as tomorrow after the FOMC meeting.
NATO said on Monday that it was putting forces on standby and bolstering Eastern Europe with more ships and fighter jets in response to Russia's military buildup at Ukraine's borders. At the same time, the United States announced that they were willing to send 5,000 troops in aid.
Tensions are reaching a boiling point, with huge military forces on both sides of the Russian-Ukrainian border and with the departure of staff from some Western embassies in Kyiv. Therefore, all the circumstances are in place for an episode of risk aversion similar to the one we witnessed yesterday.
Investors continued to buy treasuries as safe-haven assets, pushing the US 10-year yield down to 1.70%, despite future Fed rate hikes being a certainty.
Although the demand for energy raw materials should be high in case of a potential confrontation with Russia - the main supplier of Natural Gas to Europe and one of the main oil suppliers – both commodity prices fell.
However, European indices suffered the greatest losses, somehow logical if the reason for the crash was the fear of a confrontation in Ukraine on European territory. It is a known fact that 40% of the Natural Gas that Europe consumes is imported from Russia.
DAX fell to a major support zone around 14,900, from where it rebounded. Below this level, the German index would enter a "correction zone," losing the previous upward trend.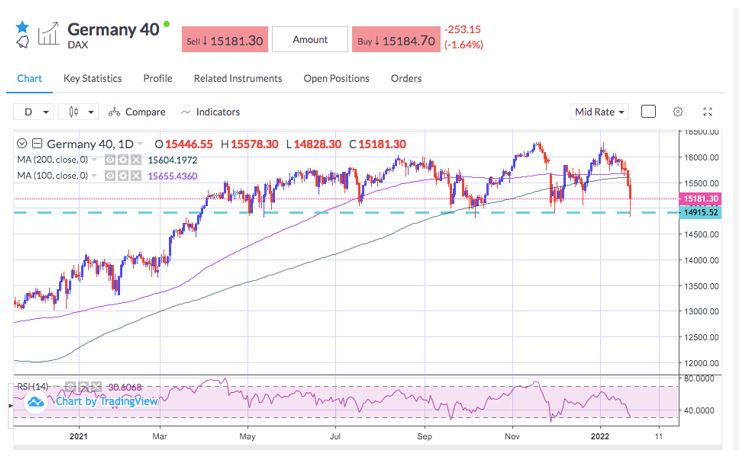 Sources: Bloomberg Reuters.
The information presented herein is prepared by Miguel A. Rodriguez and does not intend to constitute Investment Advice. The information herein is provided as a general marketing communication for information purposes only and as such it has not been prepared in accordance with legal requirements designed to promote the independence of investment research, and it is not subject to any prohibition on dealing ahead of the dissemination of investment research. It does not regard to the specific investment objectives, financial situation or the particular needs of any recipient.

Users/readers should not rely solely on the information presented herewith and should do their own research/analysis by also reading the actual underlying research.

Key Way Investments Ltd does not influence nor has any input in formulating the information contained herein. The content herewith is generic and does not take into consideration individual personal circumstances, investment experience or current financial situation.

Therefore, Key Way Investments Ltd shall not accept any responsibility for any losses of traders due to the use and the content of the information presented herein. Past performance and forecasts are not reliable indicators of future results.