Both China and Japan start posting better economic figures
China continues to advance on the path of economic recovery
The country that was the origin of the pandemic that continues to hit the whole world has caused the most intense economic decline since the last world war has overcome the crisis and is growing sustainably.
Today's figures released from PMI confirm this. Manufacturing PMI 51 and non-manufacturing PMI 55.2, this last figure is of particular relevance since it indicates that the service sector, most affected by the crisis, is recovering strongly. If we consider that China's GDP accounts for around 16% of the global economy, these latest data are undoubtedly an encouraging sign for international investors.
Even though the pandemic is in a second wave process in almost all countries of the world with alarming contagion figures, everything indicates that the disease's virulence is lower and that health systems are better prepared to face it. Evidence of this is the figure for hospitalized patients and deaths, which is significantly lower than that at the beginning of the crisis.
Investment firms such as Berkshire Hathaway Inc, of the prestigious Warren Buffet, are already beginning to take sizable positions. This firm has announced that it has invested $6 billion in Japanese trading firms such as Itochu, Marubeni, or Mitsui in an exact bet on global economic recovery. These companies obtain most of their income via exports, and their stock valuation was below their book value.
The JAPAN225 index has gained more than 1% today and more than 7% in the last month, despite the momentary negative impact of the news of Prime Minister Abe's resignation, and is currently near a resistance zone located at 23,400, above which, the path is paved to the highs at the beginning of the crisis in the 24,000 zone.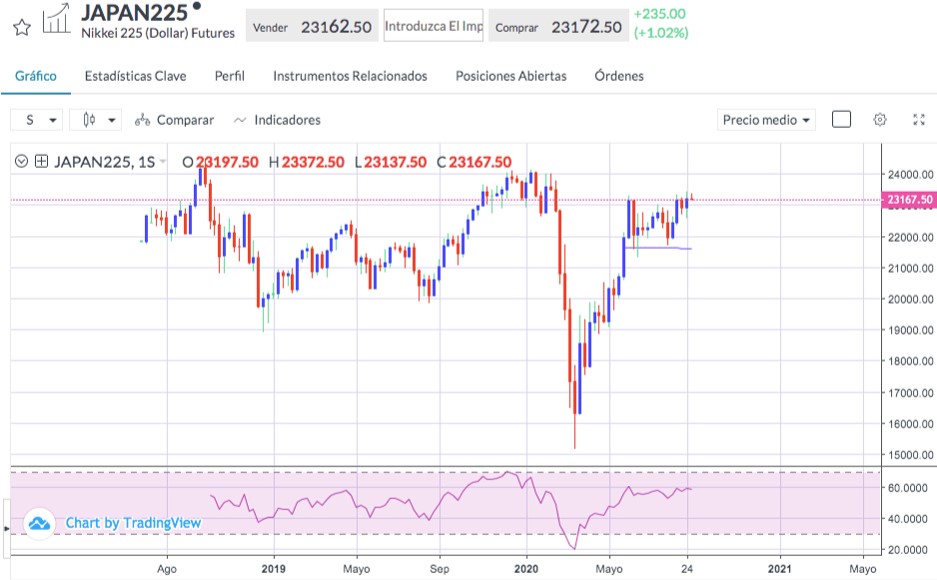 The metals market
Another focus of investor interest is metals. COPPER has reached highs not seen since mid-2018 at $3.02 per lb, which is evidence of a significant rebound in industrial activity globally, especially in China, which is the leading global consumer of this metal.
SILVER is also showing an exciting performance. This metal is correlated with GOLD since both share a financial component as a store of value, and world monetary policy conditions favor them.
But SILVER is of interest because it has lagged in its upward movement concerning GOLD. This metal is also used in industrial activities such as electrical components, so everything indicates that the demand for SILVER will continue to be strong soon.
Technically, it has just broken up a bullish continuation triangle, after a period of lateral consolidation, which has a theoretical target at $32.50 per ounce, almost 18% higher than its current value.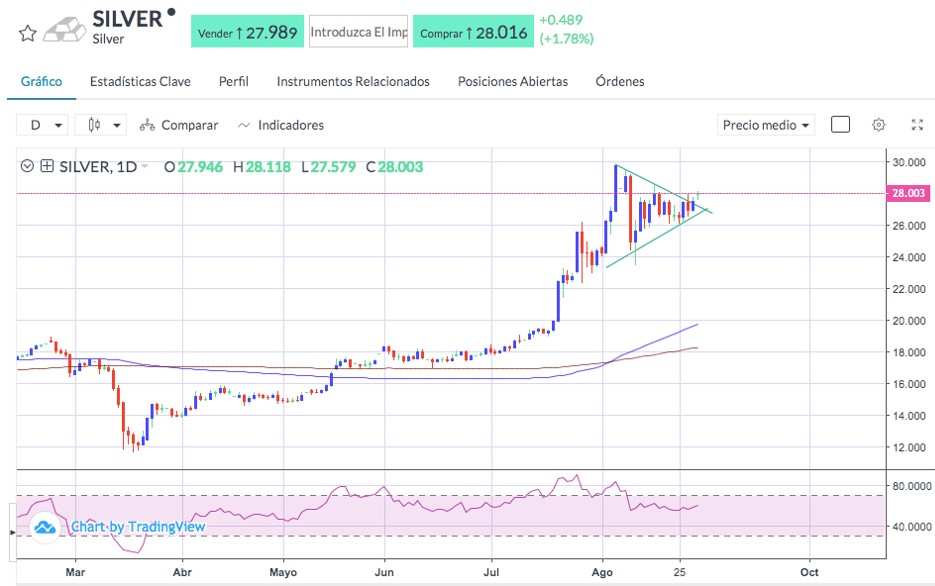 The information presented herein is prepared by Miguel A. Rodriguez and does not intend to constitute Investment Advice. The information herein is provided as a general marketing communication for information purposes only and as such it has not been prepared in accordance with legal requirements designed to promote the independence of investment research, and it is not subject to any prohibition on dealing ahead of the dissemination of investment research. It does not regard to the specific investment objectives, financial situation or the particular needs of any recipient.

Users/readers should not rely solely on the information presented herewith and should do their own research/analysis by also reading the actual underlying research.

Key Way Investments Ltd does not influence nor has any input in formulating the information contained herein. The content herewith is generic and does not take into consideration individual personal circumstances, investment experience or current financial situation.

Therefore, Key Way Investments Ltd shall not accept any responsibility for any losses of traders due to the use and the content of the information presented herein. Past performance and forecasts are not reliable indicators of future results.