Risk aversion skyrocketed in the financial markets.
In the end, the worst fears have been confirmed. The Russian army launched an attack from different points of the border, including Belarus, aiming to "demilitarize" Ukraine, according to the words used by Putin himself. The attack was launched at dawn, while the United Nations Security Council was in the middle of a meeting.
Western countries and NATO have reacted by condemning this attack and reassuring the neighboring member countries about their security. But what is certain is that the worst scenario has already begun, and the attacks on Ukraine will likely continue, culminating with a full invasion.
Both US and European stock indices fell more than 2%, gold has exceeded the pivot zone of $1915/ounce and was heading towards the technical target level of $1960/ounce.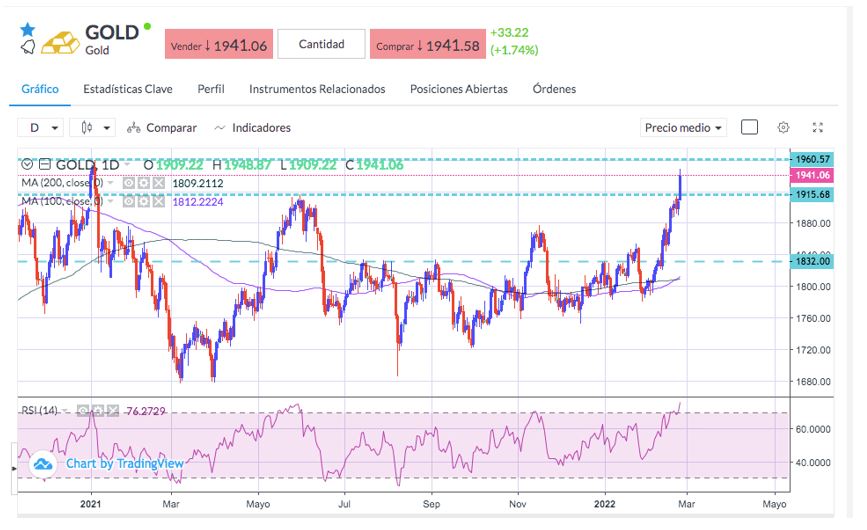 Oil rose more than $5 after the news came out, marking new year-on-year highs. Industry analysts do not rule out that it will exceed the $100 zone in the short term.
In the forex market, the US Dollar strengthened against all its peers, except the yen, which acts as a refuge currency. In the case of the EUR/USD, it broke down the 1.1285 zone and was heading towards a new objective at 1.1200. The next level would be at 1.1130.
Europe would be the most affected region if, as it seems, the war would spread. In such a scenario, the euro would have no reason to rise, especially if the ECB abandons any attempt to raise interest rates due to uncertainties caused by the conflict.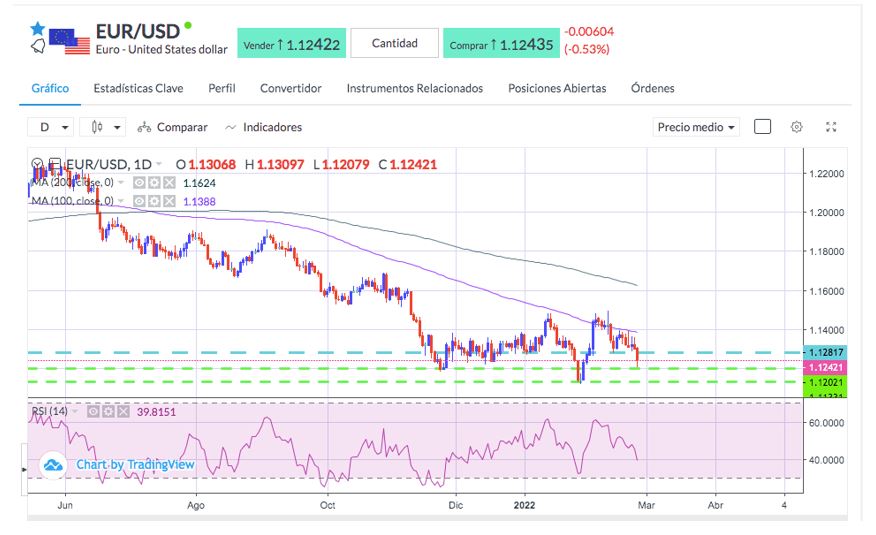 Sources: Bloomberg, Reuters.
The information presented herein is prepared by Miguel A. Rodriguez and does not intend to constitute Investment Advice. The information herein is provided as a general marketing communication for information purposes only and as such it has not been prepared in accordance with legal requirements designed to promote the independence of investment research, and it is not subject to any prohibition on dealing ahead of the dissemination of investment research. It does not regard to the specific investment objectives, financial situation or the particular needs of any recipient.

Users/readers should not rely solely on the information presented herewith and should do their own research/analysis by also reading the actual underlying research.

Key Way Investments Ltd does not influence nor has any input in formulating the information contained herein. The content herewith is generic and does not take into consideration individual personal circumstances, investment experience or current financial situation.

Therefore, Key Way Investments Ltd shall not accept any responsibility for any losses of traders due to the use and the content of the information presented herein. Past performance and forecasts are not reliable indicators of future results.