US stocks fell on Friday with the deepest daily losses since 2020
The falls were led by Amazon, which slumped after publishing worse-than-expected first-quarter results, and by the biggest monthly inflation increase since 2005, and the rises in interest rates that picked up in anticipation of this week's Fed meeting.
Amazon plunged 14.05% in its steepest one-day drop since 2006, sending shares near two-year lows.
Apple, the world's largest company by capitalization, fell 3.66% after presenting gloomy expectations that overshadowed record quarterly results.
American Indices
The S&P 500 posted its biggest one-day drop since June 2020. Nasdaq's decrease was the biggest since September 2020.
Corporate results released by Big Tech have not been negative. Still, guidance for the near future has been less promising due to supply problems and concerns about Fed's aggressive monetary policy tightening.
Adding to fears on Wall Street, data showed the personal consumption expenditures price index, the Fed's favorite measure of inflation, soared 0.9% in March. It rose 0.5% in February. The Fed will meet on Wednesday, and the market is pricing in a 50-basis point interest rate hike to combat rising inflation.
The Nasdaq lost about 13% in April, its worst monthly performance since the 2008 global financial crisis.
The month ended on a very deteriorated risk sentiment, and the gloomiest forecasts prevailed in the market with many analysts beginning to anticipate a period of recession. This would lead the stock markets to additional losses, entering a downward trend.
However, as indicated at the annual Berkshire Hathaway meeting this weekend, investors like Warren Buffet continue to see this situation as a buying opportunity in sectors with high growth potential.
Everything will depend on various factors:
- the Federal Reserve's response, which will probably be less aggressive in the face of a slowdown in the economy;
- the evolution of inflation, which will largely depend on the price of energy;
- on the development of the Ukraine war;
- and on a supply chain improvement, which is currently under question due to Chinese lockdowns.
The Nasdaq index closed just above the major support zone, around 12,860 points. A daily or weekly close below this zone would allow deeper losses to the 12,300 levels. If so, it would be considered the start of a bear market.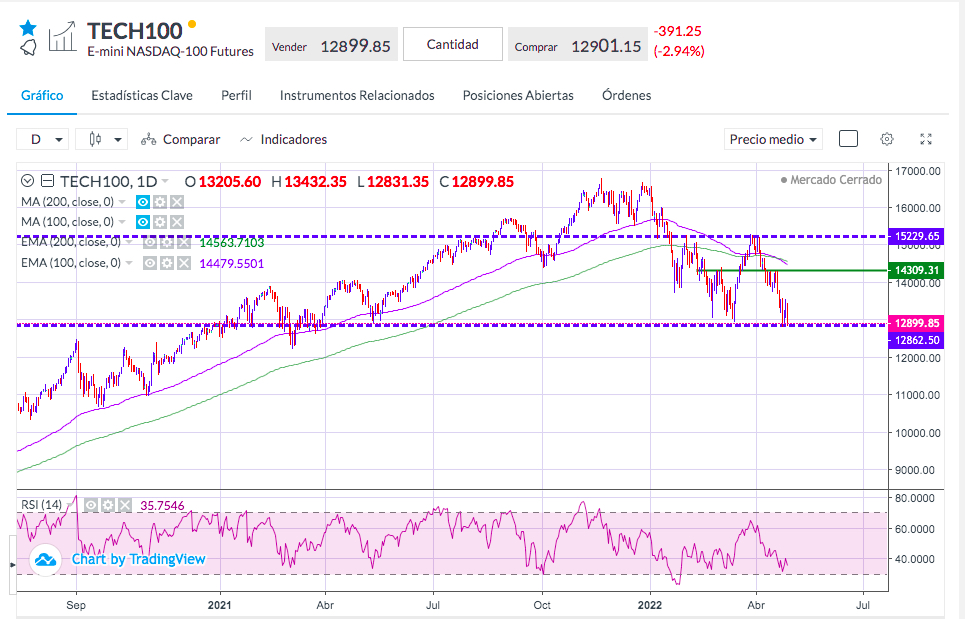 Sources: Bloomberg, Reuters
The information presented herein is prepared by Miguel A. Rodriguez and does not intend to constitute Investment Advice. The information herein is provided as a general marketing communication for information purposes only and as such it has not been prepared in accordance with legal requirements designed to promote the independence of investment research, and it is not subject to any prohibition on dealing ahead of the dissemination of investment research. It does not regard to the specific investment objectives, financial situation or the particular needs of any recipient.

Users/readers should not rely solely on the information presented herewith and should do their own research/analysis by also reading the actual underlying research.

Key Way Investments Ltd does not influence nor has any input in formulating the information contained herein. The content herewith is generic and does not take into consideration individual personal circumstances, investment experience or current financial situation.

Therefore, Key Way Investments Ltd shall not accept any responsibility for any losses of traders due to the use and the content of the information presented herein. Past performance and forecasts are not reliable indicators of future results.