Several Chinese cities saw a record increase in new COVID-19 cases over the weekend, and the country reported its first COVID-19-related death in nearly six months on Saturday.
The US dollar rose again in early European trading on Monday, as fears that China's escalating COVID situation would stymie global economic recovery prompted safe-haven flows.
Several Chinese cities saw a record increase in new COVID-19 cases over the weekend, with the country reporting its first COVID-19-related death in nearly six months on Saturday and two more on Sunday.
Rising infections prompted the implementation of new lockdowns in several financial centers, including the capital Beijing and the economic hub of Shanghai, raising concerns that economic activity in the world's second-largest economy and the main engine of regional growth would be severely hampered.
Despite these increases in the dollar, the market consensus is that the US currency has reached its peak in this cycle, as evidenced by net short positioning in the currency for the first time in more than a year.
This will become evident as the Fed's final interest rate decision becomes clearer. The first clue will be provided at the meeting in mid-December, but the minutes of the previous meeting will be published this week, on Wednesday, which can provide valuable information in this regard.
Stock markets were also affected by fears of a deeper global economic slowdown as a result of China's recent lockdowns. The North American indices lost ground yesterday, though this can also be attributed to technical factors, such as corrections after reaching levels close to overbought on daily charts and, in some cases, very close to major resistance zones such as the S&P500's 200-day moving average or the Nasdaq's 100-day moving average.
However, the most prominent movement in oil occurred yesterday. After several days of pressure from predictions of a drop in global demand, news of Chinese lockdowns, and a Wall Street Journal article predicting an increase in OPEC+ production of up to 500k bpd, the WTI oil contract fell below the major support zone of 76.96. The technical target is 64.80 below this level.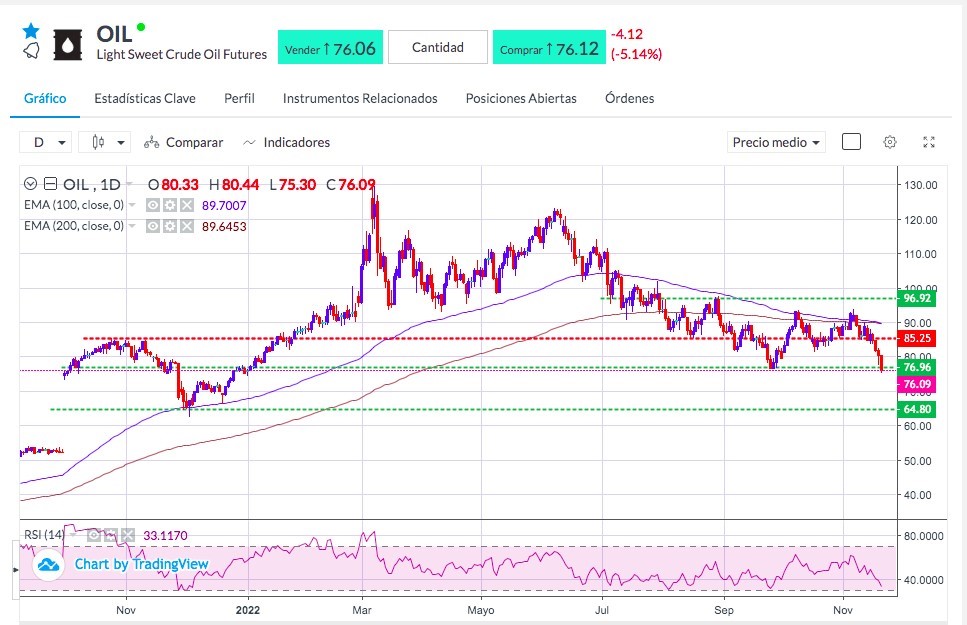 Sources: Bloomberg, Reuters
The information presented herein is prepared by Miguel A. Rodriguez and does not intend to constitute Investment Advice. The information herein is provided as a general marketing communication for information purposes only and as such it has not been prepared in accordance with legal requirements designed to promote the independence of investment research, and it is not subject to any prohibition on dealing ahead of the dissemination of investment research. It does not regard to the specific investment objectives, financial situation or the particular needs of any recipient.

Users/readers should not rely solely on the information presented herewith and should do their own research/analysis by also reading the actual underlying research.

Key Way Investments Ltd does not influence nor has any input in formulating the information contained herein. The content herewith is generic and does not take into consideration individual personal circumstances, investment experience or current financial situation.

Therefore, Key Way Investments Ltd shall not accept any responsibility for any losses of traders due to the use and the content of the information presented herein. Past performance and forecasts are not reliable indicators of future results.