Not-so-strong market recoveries to offset previous losses results in a negative balance for the indices
Last week closed with widespread rallies in major global stock markets. The markets witnessed recoveries that were not strong enough to offset previous losses, which resulted in a negative balance for the indices for the week.
Similar to previous occasions, this upward movement can be looked at for the time being as a technical correction that comes as a result of taking profit from short positions before the weekend.
The reasons for concern that dragged the stock markets down during the previous days are still present. Among them, the one gaining more relevance is the derivative of what is already beginning to be called the energy crisis.
To the problems that already existed before the disruptions in the supply chain causing shortages in elements as crucial for production as semiconductors is another factor added to the rise in the price of energy and raw materials assets, which threatens to cause greater inflationary tensions. And what can be considered as the worst scenario in this situation is the shortage of power supply. We can see the same scenario in China, where there have already been partial closures of manufacturing plants for this reason.
The market will be focusing on today's OPEC+ meeting, with hopes fastened on a possible agreement for oil production increase. Aiming for levels above those agreed on in their last meeting, which was 400k BPD.
The political pressures for this to occur are high, as the US government has already maintained contact with Saudi Arabia in this regard. China has also spoken out against the rise in energy prices and has declared that it will do everything possible to stop this upward escalation. In fact, it does not rule out using its strategic reserves to place more oil on the market.
Accordingly, this meeting is of paramount interest to the market, although there is no current information regarding a potential increase in production from the producing countries.
In any case, the situation worsens by the massive rise in the price of Natural Gas which has tripled its price, causing an increased demand for crude oil as an alternative solution for generating electricity. And that brings us to why an agreement to increase production of considerable magnitude would be necessary to avoid further rises in oil.
After breaking above the 74.00 resistance, oil has remained above this level in the last five days in a lateral movement. A turn below this zone would be necessary to feed hopes of a downward correction from the technical analysis view.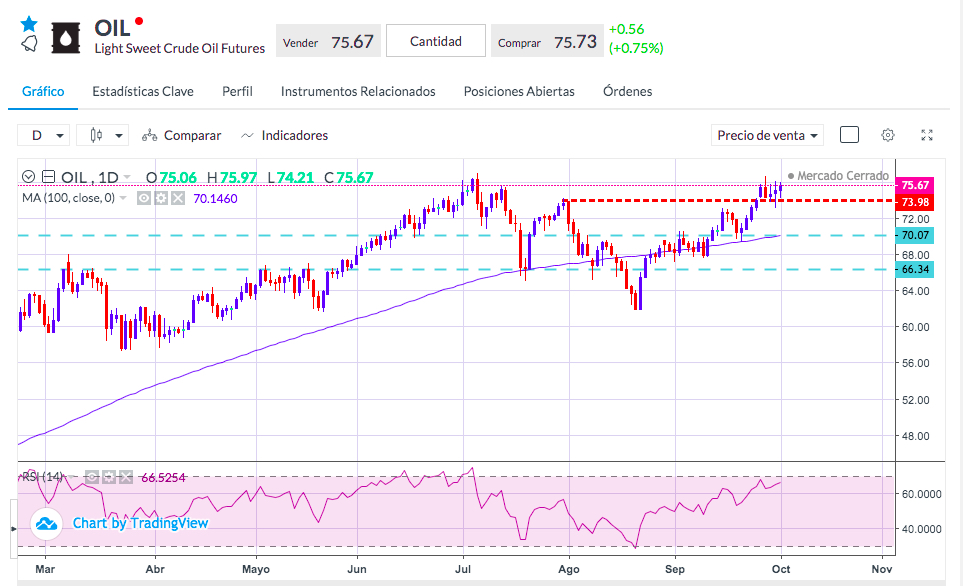 The stock market indices have reflected this tension with significant down corrections and not only the North Americans ones, which are also affected by the increase in long-term interest rates, but the European indices as well, although in this case, they are not subjected to any change in monetary policy from the ECB towards a more restrictive one, at least in the short term.
DAX traded below the 15000 support zone, although it has not yet had a daily close below what would technically be interpreted as a change in trend.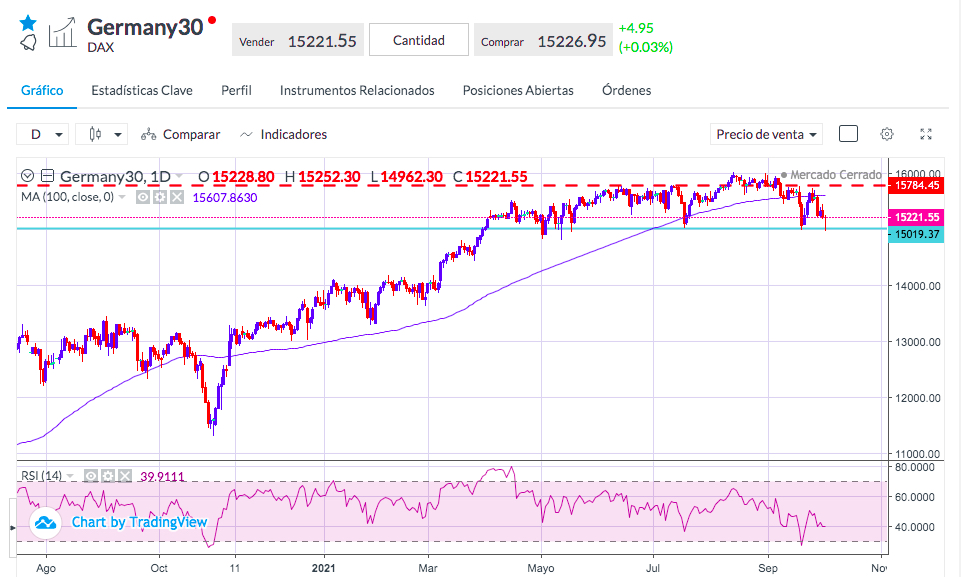 Sources: Bloomberg, Reuters
The information presented herein is prepared by Miguel A. Rodriguez and does not intend to constitute Investment Advice. The information herein is provided as a general marketing communication for information purposes only and as such it has not been prepared in accordance with legal requirements designed to promote the independence of investment research, and it is not subject to any prohibition on dealing ahead of the dissemination of investment research. It does not regard to the specific investment objectives, financial situation or the particular needs of any recipient.

Users/readers should not rely solely on the information presented herewith and should do their own research/analysis by also reading the actual underlying research.

Key Way Investments Ltd does not influence nor has any input in formulating the information contained herein. The content herewith is generic and does not take into consideration individual personal circumstances, investment experience or current financial situation.

Therefore, Key Way Investments Ltd shall not accept any responsibility for any losses of traders due to the use and the content of the information presented herein. Past performance and forecasts are not reliable indicators of future results.