Chainlink (LINK) surged over 339% in the first four months of 2021. CAPEX looks at LINK's price predictions for 2022 and beyond.
Since the last month of 2021, Chainlink (LINK) has started an upward trend as the decentralized finance (DeFi) space gained more momentum.
Chainlink offers developers of blockchain applications oracles that link smart contracts with off-chain data and services such as price feeds. The oracles are compatible with DeFi protocols, non-fungible tokens (NFTs) and gaming apps. They can be used to power new features as well as scalability.
Chainlink's native token, called LINK, is used by developers and companies that used the network to pay for off-chain data and resources.
After a dip in November's cryptocurrency rally, the price of its native token, called LINK (which developers use to pay for data and services) has trended higher. However, other coins are still under pressure.
But what can we expect from Chainlink in the future? What highs may LINKUSD price hit in 2022? Will the Chainlink price surge or plunge in 5 years?
This article aims to address all the queries related to Chainlink price prediction for 2022 and beyond, fundamentals and technical updates.
Chainlink

Outlook: Where we are now
One of the biggest problems with smart contract technology is the inability to interact and communicate with resources outside the blockchain network where the smart contracts are executed.
Connectivity is a limitation for smart contract developers. Uber, for example, uses multiple data sources (like GPS data), and key outputs (like payments gateways) to offer convenient services that can be used every day. Smart contracts can only be linked to on-chain data if they lack the right link to these and other off-chain resources. Access to the outside data would enable advanced smart contracts and other decentralized applications.
These external inputs and outputs are already available as APIs or data feeds. They are used by most web and mobile apps. Chainlink must figure out how to integrate smart contracts with them in a way that is most beneficial to end-users.
Chainlink is a distributed oracle service. Its infrastructure allows smart contracts to access reliable data feeds and APIs.
Chainlink acts as a mediator between off-chain and on-chain systems. Chainlink gives smart contracts access to resources off-chain, allowing them to react to real-world situations and execute agreements that would otherwise require external proof of performance.
The LINK network is the core of Chainlink's ecosystem. Chainlink solutions were initially built on the Ethereum blockchain. However, the company plans to support all major smart contracts chains.
Chainlink's price has surged 339% in the first four months of 2021.
Chainlink was launched by Sergey Nazarov and Steve Ellis in 2017. Chainlink offers oracle infrastructure to developers and tools for creating scalable decentralized applications (DApps) with smart contracts on multiple blockchains, and Layer 2 networks that are built on top of them.
Chainlink works across Ethereum virtual machine chains (EVM), as well as the Solana, Terra, and Solana blockchains. It is currently developing Cross-Chain Interoperability Protocols (CCIP) to support the development of a multi-chain ecosystem.
The Chainlink ecosystem had over 1,000 projects at the end of 2021. Half of these integrations had been added in the last year. The network secured $75bn in total value secured (TVS), which is a tenfold increase compared to 2020. Chainlink provides price feeds, weather data and more.
The Chainlink Community Grant Program was launched in July 2020. The most recent investments include a grant for DLC.Link to connect oracle data with discrete log contracts on Bitcoin's network, and a grant for development consultancy This Dot Labs, to create an interactive map on the blockchain ecosystem. On 7 January, a grant was awarded to TheLinkMarine to rebuild the chainlinkecosystem.com resource and create a database of Chainlink integrations.
Chainlink's most integrations announcements can be followed on their Twitter account. were announced in December.
With 2022 already looking like another roller-coaster period for digital currencies, CAPEX looks at Chainlink's price predictions from best-rated websites and experts.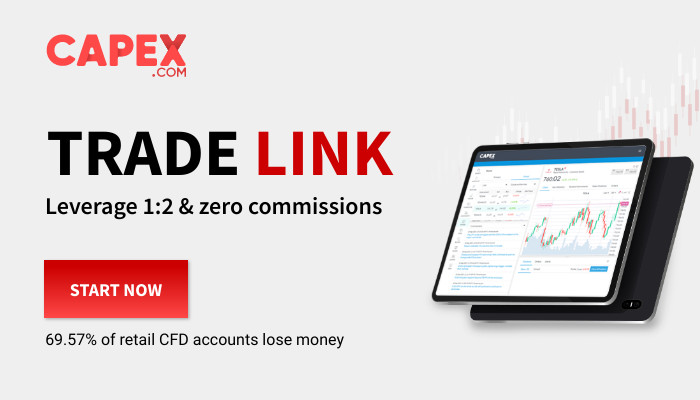 Chainlink

Price Prediction 2022 and beyond
Chainlink price prediction shows that LINK's price is just as volatile as the price of any other crypto asset. It all comes down to how well a crypto asset manages its highs, and lows. Chainlink has always been proactive in launching new products and developments, and it continues to grow. Let us look at the 2022 and five-year Chainlink (LINK) price prediction.
Many analysts believe that Chainlink's daily fundamentals look good. This automatically leads to increased demand for its native token, LINK. As of January 2021, Chainlink trades at around $23 today with a 24-hour trading volume of $965 million, according to CoinMarketCap. LINK's market capitalization is $10 billion. The current all-time high is $52.88 (May 10, 2021). All current factors suggest a bullish trend in LINK price prediction.
Market Chainlink price predictions are not intended to be used as investment advice. Investors should do their own research on the latest LINK trades prices. These opinions are based on predictions as to resistance, support, and future price action. Investors should carefully evaluate these opinions before making any financial decision.
LINK price prediction site Wallet investor suggests that Chainlink's price will rise above $30 in 2022. The Chainlink forecast for 2022 predicts that the price of Chainlink will rise throughout the year, reaching a maximum of $34.73 in December 2022.
DigitalCoin is not that bullish on its Chainlink forecast. It predicts that the price of Chainlink will average $30,91 by the end of 2022.
The long-term forecast for Chainlink from Price Prediction shows that the price will rise between $33.35 and $42.62 in 2022 and that the coin has a growing trend.
Trading Beasts has set a Chainlink price target between $18.70 and $28.66 in 2022. They predict that the maximum price of Chainlink will be $27.50 by the end of 2022.
According to Long Forecast, Chainlink can reach a maximum of $31.50 in 2022, and the average price of Chainlink by the end of 2022 could be $19.99.
It's important to remember that analysts' forecasts can be incorrect when predicting Chainlink prices. Analysts make projections based on a technical and fundamental analysis of the crypto's performance. However, past price performance does not guarantee future results.
You should do your research and remember that trading decisions are influenced by your attitude towards risk, market knowledge, and your tolerance for losing money. The consensus, when it comes to crypto, is to not invest more than you can afford to lose.
Our Chainlink

Prediction Today
Chainlink's price was below $1 for the first two years of trading, and it remained that way until May 2019. The price climbed steadily, and it reached the peak of $19 in 2020.
LINK reached its record high of $52.88 in May 2021. Since then, the market has fallen and failed to surpass $35.
The market is now following a rising channel. Its support of $18 was last tested in mid-December 2021. It remained there for quite some time. After the bulls took over, we have seen a significant increase in the market's performance and an upward rally in January 2021.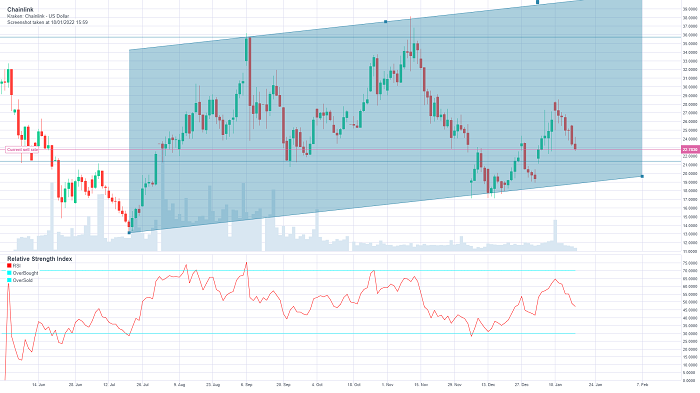 The $21-22 support should hold for a bullish 2022 Chainlink forecast. A higher low here would signal the price is more likely to continue within the channel and test the resistance once again.
This is a favorable market for swing traders trying to profit from market swings of a minimum of one day to several weeks. The obvious support and resistance levels provide at least 1 to 3 risk to reward ratios.
Chainlink investors expect and hope that Chainlink will exit this channel and rise as more people are joining Chainlink's revolutionary protocols. We might see it surpassing $100 if the market structure for LINK remains the same.
While we can speculate about the potential price of Chainlink over the next months and years, the truth is that Chainlink still is a highly speculative investment. There is not much historical data to support these predictions. It is important to invest only what you are willing to lose and include some traditional investment instruments to build a strong portfolio.
Your investments should be small, and you should not place crypto investments above other financial goals, such as saving for retirement or paying off high-interest debt.
Related: How to invest in cryptocurrencies
Chainlink

Price Prediction 2025
There are indications that the crypto market is entering a new era.
There is no doubt that LINK's long-term price prediction will rise as there is still optimism about the currency attracting more attention.
The LINK price forecasts surpass all expectations. It suggests that LINK could rise to $48 by 2025, and some dare to be even more optimistic, forecasting LINK's price over $100.
Many analysts believe Chainlink's progress is linked to Bitcoin and Ethereum, as Chainlink is an ERC-20 token. Variations could occur depending on appreciation or depreciation. All that matters is the team's activity, technological breakthroughs, and high-level partnerships. Chainlink must make major changes to its partnerships and collaborations, as agreed previously. This will increase visibility and infuse funds into the project. It will also make it more relevant for investors and users alike. When this happens, the Chainlink price predictions might come true.
Chainlink Price Prediction 2030
Are you expecting Chainlink to rise in value? The same applies to Chainlink price predictions as it does to weather forecasts. The further we go into the future, the harder it becomes to try to predict the price of Chainlink. The world of 2030 may be quite different from what we see now. What does 2030 hold for Chainlink?
Chainlink can be a solid, long-term investment and most crypto investors can keep it in their wallet for a very long time. The Chainlink protocol works with all blockchains and enables interoperability. The infrastructure can be used with all major public and private blockchain settings. LINK's appreciation will result in widespread acceptance (if it is not from individual users then from new products/services in the future).
By 2030, it is expected that Chainlink's price will be over $100. If the market becomes bullish, the minimum price could rise to $500.
Is It Possible to Forecast the Price of

Chainlink

?
Many price predictions for Chainlink are flawed because they lack the necessary analytical support. Investors will always be attracted to a high price point, especially one that is on an upward price trend. Someone holding a cryptocurrency priced at $0.01 could easily believe that it will rise to $10,000 just because it sounds good.
The problem is that predictions can be made without any evidence or analysis. However, three types of analysis have been used in the financial world for a long time to try and forecast prices and the evolution of markets.
Technical Analysis

Fundamental Analysis

Sentimental Analysis
Chainlink Forecast using fundamentals
Investors in financial markets use fundamental analysis to study and evaluate the variables that impact an asset's price.
You can assess the intrinsic value of a cryptocurrency to determine if it is undervalued or overvalued. This can be achieved by analyzing qualitative factors like the state of the economy and cryptocurrency market conditions, as well as the management and market capitalization of crypto companies.
Fundamental analysis can help traders determine the price of a cryptocurrency based upon a wide range of information. This could be a great way to make long-term investment decisions.
How to conduct a Chainlink price prediction today using fundamentals?
Fundamental analysis is when you examine the fundamentals of cryptocurrency projects, from their market capitalization to the utility and value of the native token.
Do not confuse the fundamental analysis and technical analysis. Fundamental analyses of cryptos are more qualitative and less tangible than statistical trends like price charts or historical market data.
The fundamental analysis of cryptocurrency is like that of traditional financial markets with more traditional assets such as stocks. It is not as important to focus on a company's historical financial performance, financial statements, or balance sheets.
The following parameters can be used to help investors predict trends in crypto markets:
Market capitalisation

Total and circulating supply

Token utility and use cases

Community size

The team of the crypto project

The crypto's trading volume
Crypto exchanges listings
Partnerships with trusted institutions
The latest news about the coin
Government rules and regulations
It is important to remember that fundamental analysis can only give you an overview of cryptocurrency investments. You can better understand the project and the future changes in cryptocurrency prices by looking at all the information. To get a better picture, you can also refer to the company's whitepaper.
You can also examine blockchain metrics which provide crucial information about a cryptocurrency's technology and processes.
Chainlink Forecast using

technical

analysis
Technical analysis uses historical price charts and market statistics to examine and anticipate price changes in the financial markets. It is founded on the concept that if a trader can recognize historical market trends, they may anticipate future price trajectories accurately.
Whereas fundamental analysis focuses on an asset's 'real value,' considering both external and intrinsic elements, technical analysis is only based on an asset's price charts. To anticipate future movements, all that is required is the recognition of patterns on a chart.
The ability to recognize price trend cues in a market is an important part of any trading strategy. All traders must devise a strategy for determining the optimal entry and exit points in a market and using technical analysis tools is a popular technique of doing so.
Technical analysis software is now so widely utilized that many people believe it has established self-fulfilling trading rules: As more traders use the same indicators to find support and resistance levels, more buyers and sellers will congregate around the same price points, repeating the patterns.
In general, technical analysts look at the following broad types of indicators, formations, and theories:
Price trends (

trendlines

,

channels

,

Elliott Waves

,

Dow Theory

)

Chart patterns (

double tops and bottoms

,

head and shoulders

,

triangles

,

wedges

)

Price action (

pin bar

,

inside and

outside bars

,

and different

candlesticks chart patterns

)

Trend following indicators (

moving averages

,

Ichimoku

,

ADX

)

Volatility indicators (

Bollinger bands

,

ATR

)

Oscillators (

RSI

,

MACD

,

CCI

,

stochastic

)

Support and resistance levels (

Fibonacci retracements

,

pivot points

)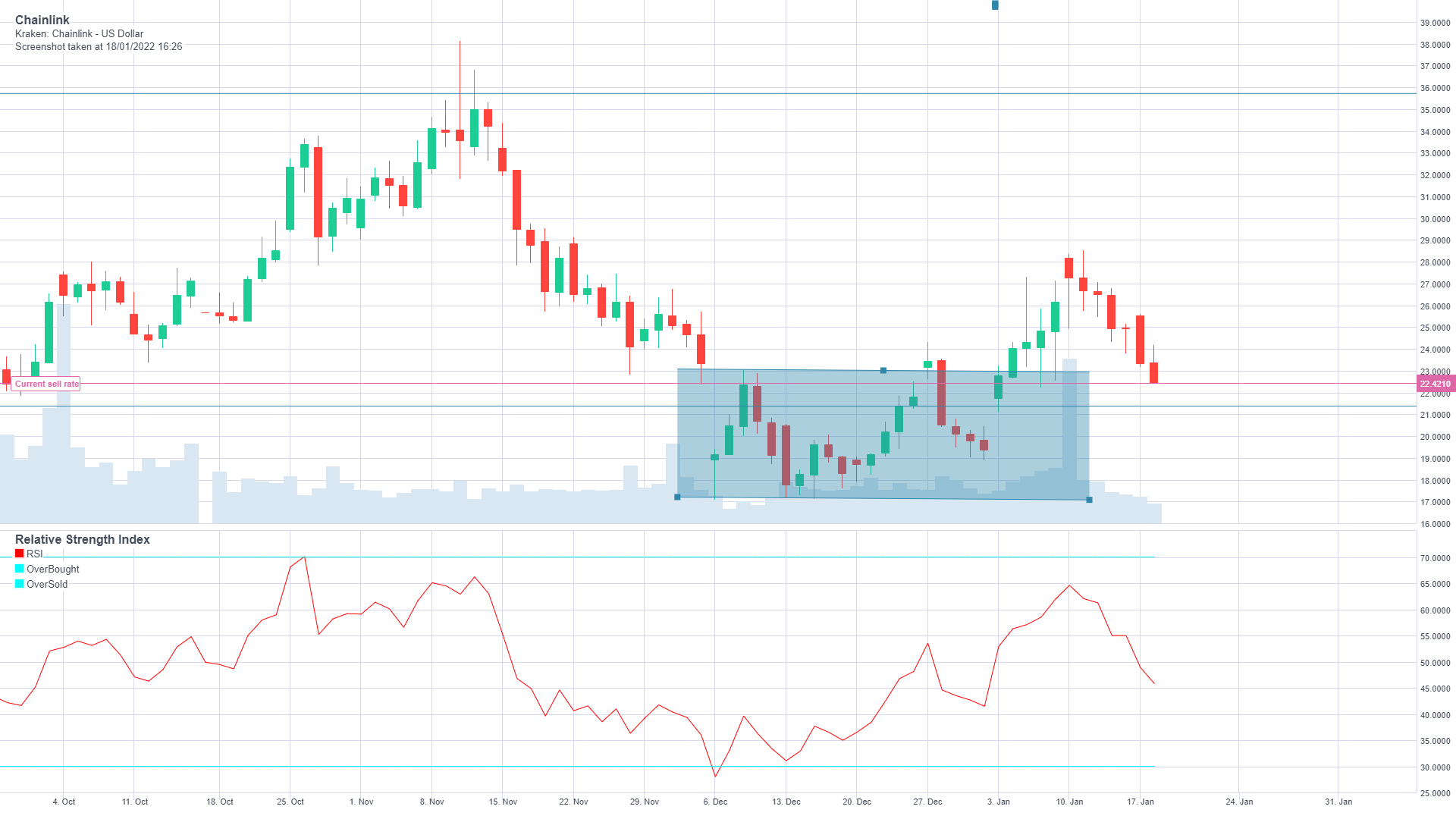 The head and shoulders is a chart pattern that signals the start of a trend reversal. It is a beneficial pattern for traders, whether they are trend trading and want to be alerted to potential risk or they are looking for a trend reversal around the turning point.
In a downtrend, an inverse head and shoulders pattern appears. The price is falling and then rallying briefly, producing a left shoulder. The price then lowers to a new low before rallying briefly again. The head is formed by this. Before rebounding again, the price dips but is unable to establish a new low. The swing highs (rally highs) following the left shoulder and head relate to a trendline to form the neckline. When the price breaks the neckline and moves above it, the price is likely to keep moving higher.
Here, we can see Chainlink's share price declining until it forms an inverse head and shoulders pattern. There is a trend reversal to the upside when the price moves above the neckline.
For an estimated profit target or price target, you could measure the distance of the pattern from low to high and add it to the neckline breakout point.
Chainlink

Price Prediction Using

Market Sentiments
In finance, the term "sentiment" refers to a viewpoint or opinion about a market's condition. The sentiment of crypto market investors towards the asset is a description of their general emotions and attitudes. It reflects the collective psychology of all those involved in trading and developing cryptocurrency.
How investors feel about cryptocurrency can have a tangible impact on market cycles and the price. It can have serious implications if enough traders act on the ideas, thoughts, and feelings they share, regardless of whether they are based upon real-world data. This is evident in how tweets by Elon Musk have impacted Bitcoin's price (a bullish sentiment).
For analyzing the sentiment of cryptocurrency markets, there are many statistics you can use. The following statistics provide vital information about the movement and trajectory of cryptocurrency assets: funding rates, sentiment indices, social media, community analysis, and whale monitoring.
The funding rates are the monthly payments that traders receive based on price differences between the spot price of currencies and tokens and the price difference between cryptocurrency perpetual contracts. Positive funding rates indicate a bullish market.
A sentiment index is used to predict whether investors will act fearfully or greedily. It can be affected by volatility, market momentum, and investor responses to surveys. A fearful market can be an opportunity to buy if it is managed correctly. Conversely, a greedy market means that it is a good moment to sell.
Another crucial aspect for assessing sentiment in crypto markets is the community's activity on social media, especially Twitter and Telegram. Investors would look for an active social network with meaningful interaction across platforms.
Whale monitoring is the process of keeping an eye out for big crypto players. A cryptocurrency whale is an investor who holds large-value transactions on multiple blockchains is called. Whale watchers spot major market participants' trades and trade accordingly.
Chainlink Historical Prices
2017 was a year of swings for many cryptocurrencies. There were all on the upward spirals. Chainlink's price fell significantly and far beyond what was expected. The LINK token saw a brief price drop, but it fought back. Chainlink price made its history by showing a rebound in 2020. It rebounded and 2020 was one of the best years in LINK's history.
Most tokens fell apart due to the worldwide pandemic. Its effect had a significant impact on the tokens' price. LINK/USD recorded a price of $19 in August 2020. The positive movement of Chainlink prices has risen 700%, which is a remarkable achievement for any cryptocurrency. Low relative strength indicators indicated an oversold condition.
Chainlink proved to be a worthwhile investment, and the Chainlink price has been steadily increasing. The historical price of LINK history is not very promising, however. The number of partnerships seems to be very low. Experts advise that the platform must work aggressively in this area if it wants to achieve outstanding exchange performance.
Is Chainlink worth buying in 2022?
Investors are looking for better alternatives due to the decline in the value of larger cryptos such as Bitcoin. LINK provides a full range of services, including crypto loans, savings and generating interest on Chainlink coins. All of these factors may point to an optimistic prediction for Chainlink's price, making Chainlink a worthwhile of investors interest in 2022.
How high can Chainlink go in 2022?
Most cryptocurrency forecasters have made optimistic predictions for Chainlink's price in 2022. Some of the most optimistic forecasts are $42, by PricePrediction.
Will Chainlink crash in 2022?
According to crypto experts, Chainlink should not crash in 2022.
Does Chainlink have a future?
Chainlink is now a major cryptocurrency because investors have placed their trust in it and given promising predictions about the Chainlink price. They see LINK as a worthwhile investment. Chainlink is also a strong competitor for its rivals.
What will Chainlink be worth in 5 years?
The Chainlink supply is limited to 1 billion, and 476 million LINK are already in circulation. It is expected that the price of Chainlink (LINK) will experience a significant rise within the next 5 years, as it could reach $100, according to forecasters.
What Chainlink will be worth in 2025?
Considering most expert predictions, the price of Chainlink could reach around $79 by 2025.
What Chainlink will be worth in 2030?
Predicting the price of any cryptocurrency so far off into the feature is often impossible, but according to the latest price trends, the price of Chainlink (LINK) could reach over $100 by 2030.
La información presentada aquí está preparada por Miguel A. Rodriguez y no pretende constituir un asesoramiento de inversión. La información aquí se proporciona como una comunicación general de marketing con propósitos solo de información, y como tal, no se han preparado de acuerdo con los requisitos legales diseñados para promover la independencia de un estudio de inversión, y no está sujeto a ninguna prohibición para hacer frente con antelación a la diseminación de los análisis de inversión.

Los usuarios / lectores no deben confiar únicamente en la información presentada aquí y deben hacer su propia investigación / análisis leyendo también la investigación subyacente real.

Key Way Investments Ltd no influye ni tiene ningún aporte para formular la información contenida en este documento. El contenido adjunto es genérico y no tiene en cuenta las circunstancias personales, la experiencia de inversión o la situación financiera actual.

Por lo tanto, Key Way Investments Ltd no aceptará ninguna responsabilidad por las pérdidas de los comerciantes debido al uso y el contenido de la información presentada en este documento. Rentabilidades y predicciones pasadas no garantizan resultados futuros.