Stellar rose more than 450% in 2021 and more partnerships are awaited. CAPEX looks at Stellar's price predictions for 2022 and beyond.
Stellar's native token, the Lumen or XLM, is having trouble rebounding it dropped 10% at the beginning of 2022.
Stellar (XLM) fluctuated in a tight price range between $0.24 to $0.3 but was unable to gain momentum. The previous attempt to get it to rise was in November, but it has since fallen from $0.44 to $0.26. The current price of $0.28, 61% lower than its 2021 peak, in November 2021.
It is often possible to trace the general doom for cryptocurrency prices back to leaders such as Bitcoin (BTC) or ether (ETH), which have also seen a drop in their value.
But what can we expect from Stellar in the future? What highs may XLMUSD price hit in 2022? Will the Stellar price surge or plunge in 5 years?
This article aims to address all the queries related to Stellar price prediction for 2022 and beyond, fundamentals, and technical updates.
Stellar Lumens

Outlook: Where we are now
Stellar was launched in July 2014 and it aims to close the gap between traditional finance and cryptocurrency. The blockchain allows fiat currencies and other assets to run simultaneously. This makes it easier to convert fiat currency to crypto. The Stellar blockchain was a hard fork from the Ripple blockchain.
The network's native currency is the Lumens (or XLM coin). The minimum balance required to use the network's native currency is one Lumen. Users also must pay a transaction fee of 0.00001 Lumens. The transaction fees are minimal and accessible for anyone, and they were implemented to avoid malicious activity on the network. Users can transfer money quickly and without paying extra fees by using low transaction fees.
Stellar Development Foundation (SDF) has partnered with many of the largest companies in finance and technology, such as Deloitte and IBM (International Business Machines), Stripe, and a dozen financial institutions as well as payment processors in Europe and Asia. The global network is decentralized and scalable, and financial institutions can issue assets and settle payments.
Bloomberg reported that Stellar approached US-based global payment remittance company Moneygram International to discuss a partnership. On 6 October, the companies revealed a partnership that would integrate MoneyGram's network and the Stellar blockchain to facilitate payments using Circle's USD stablecoin USDC. Customers will be able to use USDC to fund cash and pay in local currencies. MoneyGram will be able to process transactions in near real-time, increasing efficiency and reducing risk.
Stellar's rose more than 450% in 2021.
Stellar reached its 2021 peak in May when it hit the $0.73 peak, which translates to a 450% surge since the beginning of the year. It had then declined over the summer, following the general trend of the crypto market.
Since the end of September 2021, when it reached $0.25 (its lowest point since July 2021), the XLM price has been on an upward trend. Following the MoneyGram partnership announcement, the price rose above $0.36 and reached $0.4198 on October 16. This is its highest level since September 6, when it was hit by a surge in cryptocurrency markets.
XLM traded between $0.33 to $0.40, an increase of $0.2790 from the beginning of October. It remained below $0.7965 on 16 May. This was the highest trading level since XLM's price reached its all-time high of $0.9381 on January 4, 2018.
As of January 2022, Stellar (XLM) trades at around $0.2834.
With 2022 already looking like another roller-coaster period for digital currencies, CAPEX looks at Stellar's price predictions from best-rated websites and experts.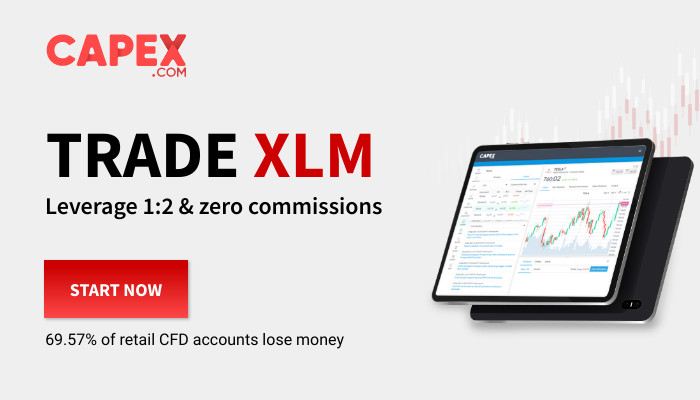 Stellar Lumens Prediction 2022 and beyond
The Stellar Development Foundation (SDF) is a non-profit organization dedicated to developing the Stellar network. But since Stellar's launch, the network received only $3 million, which forced the foundation to sell more XLM tokens to raise funds. The foundations sold 3 billion XLM tokens in 2021.
At the same time, institutional investors tend to avoid Stellar (XLM) due to its similarity to the Ripple (XRP) token, which still waits for a favorable result in its SEC lawsuit in the US.
If Stellar manages to further leverage its MoneyGram partnership, XLM could expect a bullish 2022.
Stellar Lumens (XML)

Forecast 2022
XLM price prediction site Wallet investor suggests that Stellar's price will almost double its value by the end of 2022, reaching $0.51 by December 2022.
DigitalCoin is also optimistic about its Stellar forecast. It predicts that the price of Stellar will average $0.38 by the end of 2022.
The long-term forecast for Stellar from Price Prediction shows that the price will rise between $0.40 and $0.48 in 2022 and that the coin has an upward trend.
Trading Beasts has set a Stellar price target between $0.30 and $0.44 in 2022. They predict that the average price of Stellar will be $0.35 by the end of 2022.
According to Long Forecast, Stellar's price could decline to $0.21 by the end of 2022, and the average price of Stellar by the end of 2022 could be $0.23.
It's important to remember that analysts' forecasts can be incorrect when predicting Stellar prices. Analysts make projections based on a technical and fundamental analysis of the crypto's performance. However, past price performance does not guarantee future results.
You should do your research and remember that trading decisions are influenced by your attitude towards risk, market knowledge, and your tolerance for losing money. The consensus, when it comes to crypto, is to not invest more than you can afford to lose.
Our Stellar Lumens

Prediction Today
Stellar Lumens (XLM) is the native cryptocurrency of Stellar. As of January 2022, the market capitalization for Stellar (XLM) is around $7 billion. It ranks among the top 30 cryptocurrencies.
This platform uses blockchain technology to allow the exchange of digital currency with fiat currency. It can be traded on trading platforms like CAPEX WebTrader under the symbol "XLM".
As of January 2021, the XLM price is $0.2834. Although the main purpose of Stellar is to be used as a payment method, the currency is not yet exploited at its fullest, and we are waiting to see more partnerships with other financial authorities to further push crypto payments to the masses.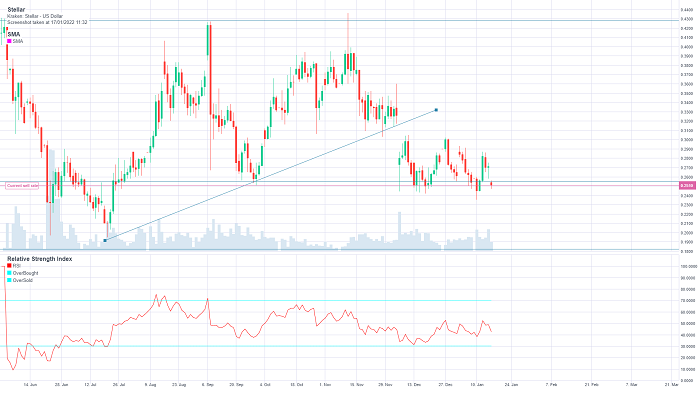 XMLUSD chart shows a tight trading range within a larger trading range or sideways market.
Stellar is testing the critical key support level $0.25 while the consolidation act in general like a continuation pattern that could send the XML price even lower, towards the $0.2 area.
Technical indicators are building up a bullish divergence but that is not advanced yet. A sell-off is more likely before an uptrend.
For a technical Stellar Lumens 2022 prediction, we must take into consideration a potential low around $0.2 and a potential high around $0.43.
While we can speculate about the potential price of Stellar over the next months and years, the truth is that Stellar still is a highly speculative investment. There is not much historical data to support these predictions. It is important to invest only what you are willing to lose and include some traditional investment instruments to build a strong portfolio.
Your investments should be small, and you should not place crypto investments above other financial goals, such as saving for retirement or paying off high-interest debt.
Related: How to invest in cryptocurrencies
Stellar Lumens (XML)

Price Prediction 2025
There are indications that the crypto market is entering a new era.
There is no doubt that XLM's long-term price prediction will rise as there is still optimism about the currency attracting more attention.
The industry experts and analysts predict that investors will be able to look at Stellar's (XLM) price as an altcoin that can provide passive investment returns. The Stellar price history and Stellar Lumens forecast may indicate that the Stellar price could be a dark horse in this race.
It is possible to speculate as well that the future Stellar Lumens prices will rise in the coming year. In 2022, it could be as high as $0.35- $0.45, and in 2025, the Stellar price could go up to $0.65- $0.85.
Stellar Lumens (XML) Price

Prediction 2030
Are you expecting Stellar to rise in value? The same applies to Stellar price predictions as it does to weather forecasts. The further we go into the future, the harder it becomes to try to predict the price of Stellar. The world of 2030 may be quite different from what we see now. What does 2030 hold for Stellar?
Many prediction platforms and fintech experts suggest that Stellar's price will increase steadily. According to PricePrediction Stellar's price can increase by 2030 up to a maximum price of $9.52.
Is It Possible to Forecast the Price of

Stellar Lumens

?
Many price predictions for Stellar coin are flawed because they lack the necessary analytical support. Investors will always be attracted to a high price point, especially one that is on an upward price trend. Someone holding a cryptocurrency priced at $0.01 could easily believe that it will rise to $10,000 just because it sounds good.
The problem is that predictions can be made without any evidence or analysis. However, three types of analysis have been used in the financial world for a long time to try and forecast prices and the evolution of markets.
Technical Analysis

Fundamental Analysis

Sentimental Analysis
XML Price Forecast using fundamentals
Investors in financial markets use fundamental analysis to study and evaluate the variables that impact an asset's price.
You can assess the intrinsic value of a cryptocurrency to determine if it is undervalued or overvalued. This can be achieved by analyzing qualitative factors like the state of the economy and cryptocurrency market conditions, as well as the management and market capitalization of crypto companies.
Fundamental analysis can help traders determine the price of a cryptocurrency based upon a wide range of information. This could be a great way to make long-term investment decisions.
How to conduct a Stellar price prediction today using fundamentals?
Fundamental analysis is when you examine the fundamentals of cryptocurrency projects, from their market capitalization to the utility and value of the native token.
Do not confuse the fundamental analysis and technical analysis. Fundamental analyses of cryptos are more qualitative and less tangible than statistical trends like price charts or historical market data.
The fundamental analysis of cryptocurrency is like that of traditional financial markets with more traditional assets such as stocks. It is not as important to focus on a company's historical financial performance, financial statements, or balance sheets.
The following parameters can be used to help investors predict trends in crypto markets:
Market capitalisation

Total and circulating supply

Token utility and use cases

Community size

The team of the crypto project

The crypto's trading volume
Crypto exchanges listings
Partnerships with trusted institutions
The latest news about the coin
Government rules and regulations
It is important to remember that fundamental analysis can only give you an overview of cryptocurrency investments. You can better understand the project and the future changes in cryptocurrency prices by looking at all the information. To get a better picture, you can also refer to the company's whitepaper.
You can also examine blockchain metrics which provide crucial information about a cryptocurrency's technology and processes.
Stellar Forecast using

technical

analysis
Technical analysis uses historical price charts and market statistics to examine and anticipate price changes in the financial markets. It is founded on the concept that if a trader can recognize historical market trends, they may anticipate future price trajectories accurately.
Whereas fundamental analysis focuses on an asset's 'real value,' considering both external and intrinsic elements, technical analysis is only based on an asset's price charts. To anticipate future movements, all that is required is the recognition of patterns on a chart.
The ability to recognize price trend cues in a market is an important part of any trading strategy. All traders must devise a strategy for determining the optimal entry and exit points in a market and using technical analysis tools is a popular technique of doing so.
Technical analysis software is now so widely utilized that many people believe it has established self-fulfilling trading rules: As more traders use the same indicators to find support and resistance levels, more buyers and sellers will congregate around the same price points, repeating the patterns.
In general, technical analysts look at the following broad types of indicators, formations, and theories:
Price trends (

trendlines

,

channels

,

Elliott Waves

,

Dow Theory

)

Chart patterns (

double tops and bottoms

,

head and shoulders

,

triangles

,

wedges

)

Price action (

pin bar

,

inside and

outside bars

,

and different

candlesticks chart patterns

)

Trend following indicators (

moving averages

,

Ichimoku

,

ADX

)

Volatility indicators (

Bollinger bands

,

ATR

)

Oscillators (

RSI

,

MACD

,

CCI

,

stochastic

)

Support and resistance levels (

Fibonacci retracements

,

pivot points

)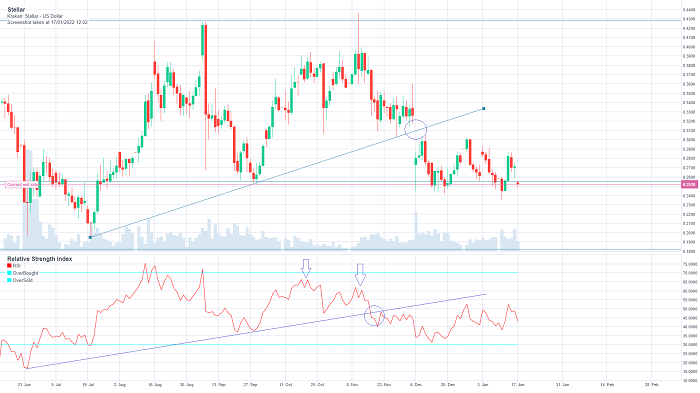 One of the most prominent and extensively used momentum oscillators is the Relative Strength Index (RSI). The RSI measures both the speed and the rate of change in market price movements.
The RSI oscillator's values, which are usually monitored over a 14-day period, oscillate between zero and 100. When the Relative Strength Index falls below 30, it suggests oversold market conditions, and when it rises above 70, it shows overbought market conditions.
The XLMUSD chart above shows an example of divergence between price and the Relative Strength Index. Near the center of the chart, as marked by 2 arrows, the price of the cryptocurrency continues to test the high resistance, making a new high just before a market reversal to the downside begins. However, the RSI (plotted in the lower chart window) does not follow suit and makes a corresponding new low. Instead, it has already begun to turn to the downside during November 2021. The RSI is exhibiting a bearish divergence from price. As the chart's subsequent price action reveals, this bearish divergence correctly forecasted an upcoming trend change.
Even more, the RSI signals a change in trend in advance. The same chart shows the XMLUSD trendline violation which happened in advance on RSI indicating the price is more likely to act the same way.
Stellar Lumens

Price Prediction Using

Market Sentiments
In finance, the term "sentiment" refers to a viewpoint or opinion about a market's condition. The sentiment of crypto market investors towards the asset is a description of their general emotions and attitudes. It reflects the collective psychology of all those involved in trading and developing cryptocurrency.
How investors feel about cryptocurrency can have a tangible impact on market cycles and the price. It can have serious implications if enough traders act on the ideas, thoughts, and feelings they share, regardless of whether they are based upon real-world data. This is evident in how tweets by Elon Musk have impacted Bitcoin's price (a bullish sentiment).
For analyzing the sentiment of cryptocurrency markets, there are many statistics you can use. The following statistics provide vital information about the movement and trajectory of cryptocurrency assets: funding rates, sentiment indices, social media, community analysis, and whale monitoring.
The funding rates are the monthly payments that traders receive based on price differences between the spot price of currencies and tokens and the price difference between cryptocurrency perpetual contracts. Positive funding rates indicate a bullish market.
A sentiment index is used to predict whether investors will act fearfully or greedily. It can be affected by volatility, market momentum, and investor responses to surveys. A fearful market can be an opportunity to buy if it is managed correctly. Conversely, a greedy market means that it is a good moment to sell.
Another crucial aspect for assessing sentiment in crypto markets is the community's activity on social media, especially Twitter and Telegram. Investors would look for an active social network with meaningful interaction across platforms.
Whale monitoring is the process of keeping an eye out for big crypto players. A cryptocurrency whale is an investor who holds large-value transactions on multiple blockchains is called. Whale watchers spot major market participants' trades and trade accordingly.
Stellar Lumens Historical Prices
Shortly after the initial coin offering (ICO), on September 15, 2014, the Stellar (XLM) price was $0.003. It performed poorly and reached its lowest point at $0.001. In early 2018, XLM saw an all-time high, a short spike up to $0.94.
After an all-time high in early 2018, Stellar Lumens's price fell again into a bearish position. By the end of 2018, it had fallen more than 90%, reaching $0.09, and it remained in that range until the end of the year. In 2019, Stellar's highest price was $0.16. 2019 was a terrible year for Stellar Lumens prices, performance, market cap, and overall market performance. Most Stellar Lumens price analysts believed that this crypto was dead after such a dramatic price drop.
Stellar Lumenss' price performance was slightly better in 2020. However, it dropped to $0.03 again during the global pandemic. It was still much more valuable than it was in the first two years of its existence. Later, XLM saw a sharp rise and reached resistance at the $0.2 level. The currency has experienced steady growth over the past year with occasional corrections. In 2021, the Stellar (XLM) coin reached a worth noting level in September 2021 ($0.73). However, it fell sharply and was corrected below $0.2914.
Is Stellar coin worth buying in 2022?
Stellar support international fiat payments using cryptocurrency, and Stellar Foundation is likely to sign more partnerships in 2022. This will create an increasing demand for Stellar which will likely go up in value in 2022.
How high can Stellar go in 2022?
Most cryptocurrency forecasters made bullish predictions for Stellar's price in 2022. One of the most optimistic forecasts is $0.51, predicted by WalletInvestor.
Will Stellar crash in 2022?
According to cryptocurrency forecasters, Stellar will not crash in 2022.
Does Stellar have a future?
According to blockchain experts, Stellar has a great future, as more financial services are using its infrastructure to facilitate international fiat transfers.
What will Stellar be worth in 5 years?
According to cryptocurrency forecasters, Stellar could reach $3 in the next 5 years.
What Stellar will be worth in 2025?
Considering most expert predictions, the price of Stellar could reach around $1.50 by 2025.
What Stellar will be worth in 2030?
While it is impossible to forecast the price of any cryptocurrency for 2030, Stellar could reach more than $9 by 2030 according to the top crypto prediction websites.
La información presentada aquí está preparada por Miguel A. Rodriguez y no pretende constituir un asesoramiento de inversión. La información aquí se proporciona como una comunicación general de marketing con propósitos solo de información, y como tal, no se han preparado de acuerdo con los requisitos legales diseñados para promover la independencia de un estudio de inversión, y no está sujeto a ninguna prohibición para hacer frente con antelación a la diseminación de los análisis de inversión.

Los usuarios / lectores no deben confiar únicamente en la información presentada aquí y deben hacer su propia investigación / análisis leyendo también la investigación subyacente real.

Key Way Investments Ltd no influye ni tiene ningún aporte para formular la información contenida en este documento. El contenido adjunto es genérico y no tiene en cuenta las circunstancias personales, la experiencia de inversión o la situación financiera actual.

Por lo tanto, Key Way Investments Ltd no aceptará ninguna responsabilidad por las pérdidas de los comerciantes debido al uso y el contenido de la información presentada en este documento. Rentabilidades y predicciones pasadas no garantizan resultados futuros.