Markets volatile over trade war risk-on developments
China has denied this morning that it halted buying agricultural products, mainly soybeans, from the United States, in breach of the trade agreement with the North American Administration in its first phase.
The news of a breakdown of this agreement was widely spread yesterday and acted as a brake on the markets, but with today's denial the stock markets and, in general, all assets have returned to risk-on mode.
The market is ignoring the serious incidents that are taking place in the United States with violent demonstrations and looting, even with the possibility, pointed out by President Trump, that the army will be deployed to address this situation.
A large number of cities, the most important in the United States, are under curfew. Still, investors are not paying attention to these events so far, only if at any time Trump's candidacy is considered to be in danger, a return to risk aversion could occur, but at the moment that is not contemplated.
European equities
Stock markets continue to recover steadily, led by European indices underpinned by robust measures that the European Commission plans to approve in the coming weeks. The spreads between peripheral bonds (mainly Italy and Spain) and the German Bund have narrowed significantly, which is a good sign that, as long as it continues, will support European equities.
Next Thursday, the ECB meets, and there is a distinct possibility that it will expand or improve its asset purchase policy, a fact that would reinforce this trend, say most market voices familiar with the matter. On the other hand, if the ECB's technical and economic committee forecasts are not very hopeful in the medium term, the Euro could suffer some setbacks.
Spain35 has surpassed resistance level at 7152 and is technically heading towards the area between 7879 and 7935, where it passes 100-day SMA and 50% Fibonacci retracement.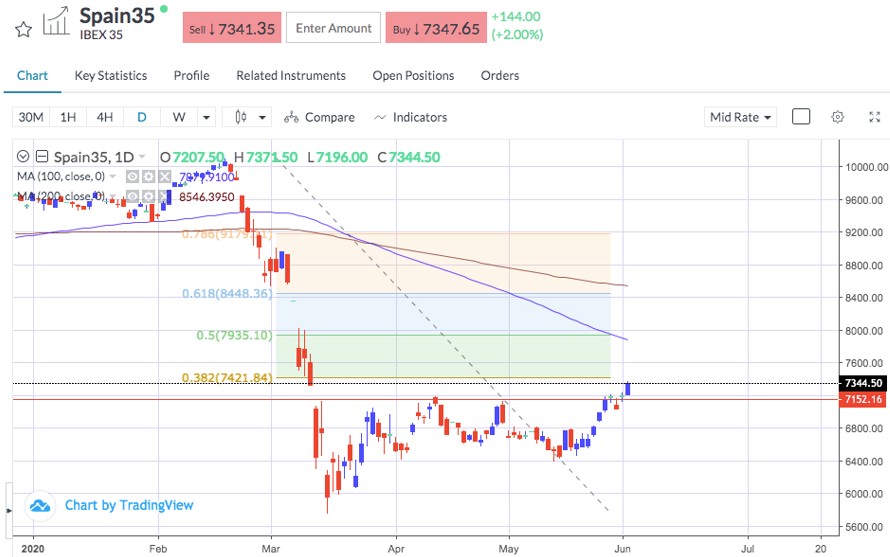 Crude Oil
OIL continues to have more robust demand in the market, mainly boosted by the possibility that OPEC+ countries extend their recently agreed output cut for one more month.
Russia has not spoken out against this measure, but the market is waiting for a confirmation that would serve to sustain the price of crude oil and add further increases in its price.
At the moment, the price evolution is slowed by the resistance line of the 100-day SMA and the 50% Fibonacci retracement level of the entire downward leg. A daily close above these levels could push the prices towards the 41.50 and 42.90 resistance levels.
The inventory figures that are published weekly are also vital when evaluating evolution. The latest data still showed a high level of inventories that must be lowered to boost crude prices.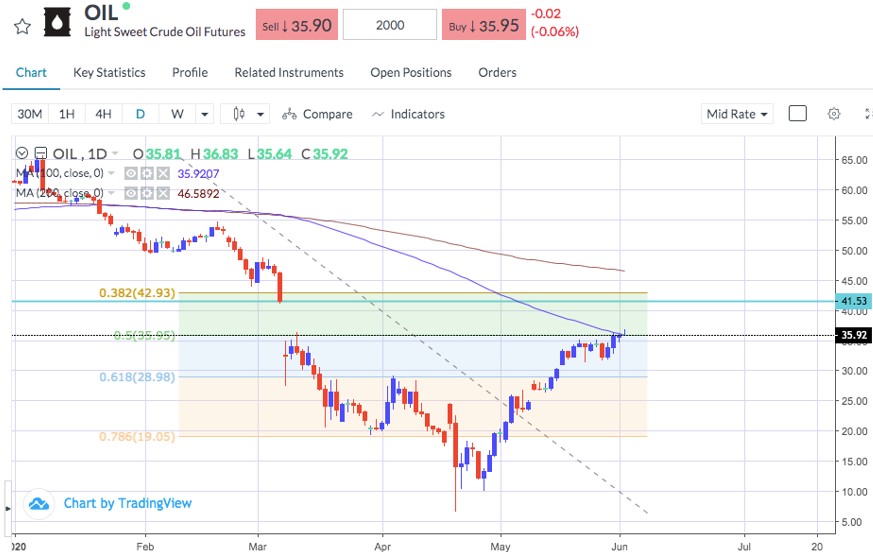 The FX market
In the foreign exchange market, the Dollar has weakened consistently, along with the Yen in a scenario of higher risk appetite.
USD/CAD could continue its bearish path towards 1.3450 resistance price level, and AUD/USD shows strong bullish momentum after RBA has kept interest rates unchanged in today's meeting.
In a risk-on market with commodity rises such as COPPER, and with an intrinsically weak Dollar given its current interest rate situation (historical low levels in long-term treasuries), the pair could continue its bullish path towards the area located between 0.7025-0.7050.
EUR/USD has managed to overcome the resistance of 1.1140, mainly due to the Dollar weakness, but before the ECB meeting, it could have some correction from these levels to the 1.1100 zone due to the closing of long positions while waiting for the central bank decision.
Bearish divergences in the RSI that would support this movement can be observed, according to technical analysts. Subsequently, if this correction occurs, the pair could resume its uptrend with targets in the 1.1234 area.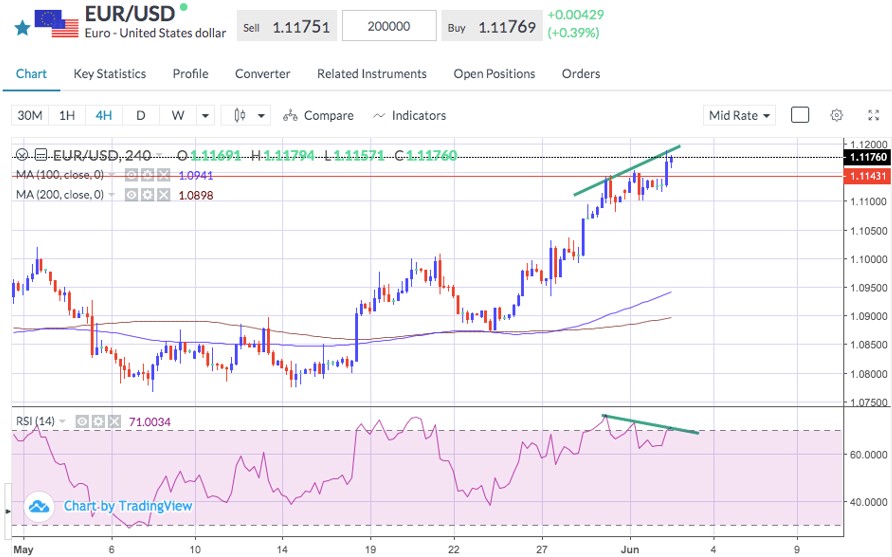 Le informazioni contenute nel presente documento sono redatte da Miguel A. Rodriguez e non costituiscono né devono essere interpretate come suggerimenti di investimento. Le informazioni di cui al presente documento costituiscono comunicazioni di marketing generali a scopo informativo e, in quanto tali, non sono state preparate nel rispetto dei requisiti di legge che promuovono le ricerche di investimento indipendenti. Inoltre, non sono soggette ad alcuna limitazione sulle transazioni condotte in anticipo rispetto alla divulgazione delle ricerche di investimento in questione.

Gli utenti / lettori non dovrebbero fare affidamento esclusivamente sulle informazioni qui presentate e dovrebbero fare le proprie ricerche / analisi anche leggendo la ricerca reale sottostante.

Key Way Investments Ltd non influenza né ha alcun input nella formulazione delle informazioni qui contenute. Il contenuto è generico e non tiene conto di circostanze personali individuali, esperienza di investimento o situazione finanziaria attuale.

Pertanto, Key Way Investments Ltd non accetta alcuna responsabilità per eventuali perdite di trader a causa dell'uso e del contenuto delle informazioni presentate nel presente documento. Le performance passate non sono un indicatore affidabile dei risultati futuri.