It is not as easy to spot Triangle patterns one would think because there needs to be a confirmation with a break below support or above resistance.
A security's price reaches a point in its trend when it loses strength and reverses.

This price trend continues until it encounters pressure from the opposing direction and reverses again. During this price consolidation volume may increase in the direction of the original trend and eventual breakout. This is the first clue that a triangle pattern may be forming.
Within a triangle pattern, each successive reversal takes less time and distance to exhaust itself before reversing. In addition, following a reversal within the triangle, the price may not move all the way back to the prior

support line

for bullish patterns or the prior

resistance

line

for bearish patterns.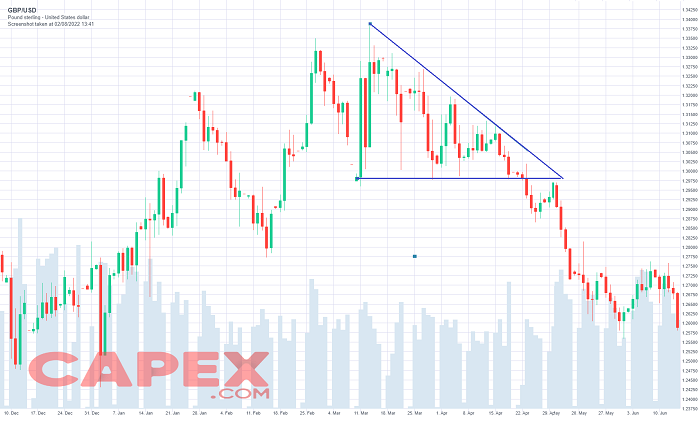 This formation of shorter and smaller moves continues like a coil until price finally springs out of the pattern, breaking either support or resistance in the process. Along the way, the volume will typically decline as the price moves towards the apex prior to the ultimate price breakout.

Once a break of resistance or support occurs, a surge in volume is expected. If there isn't a strong increase in volume the move may be unsustainable with the price ultimately failing to follow through in any meaningful way in the direction of the breakout.
Le informazioni contenute nel presente documento sono redatte da CAPEX.com e non costituiscono né devono essere interpretate come suggerimenti di investimento. Le informazioni di cui al presente documento costituiscono comunicazioni di marketing generali a scopo informativo e, in quanto tali, non sono state preparate nel rispetto dei requisiti di legge che promuovono le ricerche di investimento indipendenti. Inoltre, non sono soggette ad alcuna limitazione sulle transazioni condotte in anticipo rispetto alla divulgazione delle ricerche di investimento in questione.

Gli utenti / lettori non dovrebbero fare affidamento esclusivamente sulle informazioni qui presentate e dovrebbero fare le proprie ricerche / analisi anche leggendo la ricerca reale sottostante. Il contenuto è generico e non tiene conto di circostanze personali individuali, esperienza di investimento o situazione finanziaria attuale.

Pertanto, Key Way Investments Ltd non accetta alcuna responsabilità per eventuali perdite di trader a causa dell'uso e del contenuto delle informazioni presentate nel presente documento. Le prestazioni passate e le previsioni non sono un indicatore affidabile dei risultati futuri.