Cardano's price surges over 670% in 2021 and reached a new all-time high. CAPEX looks at Cardano's price predictions for 2022 and beyond.
The crypto market experienced a bullish 2021, with a crypto market cap of $775 billion and closing the year at $2.3 trillion. This is after reaching an all-time high of $3 trillion in November.
Cardano (ADA), the seventh-largest cryptocurrency by market capitalization, had a strong 2021 with excellent bullish performance (+670%) outperforming both Bitcoin and Ethereum.
Cardano (ADA), which started the year at a $5.5 billion market cap, had a $0.18 value in each coin and ended the year at $49 billion. This is after it reached an all-time high of $3.10 and a more than $95 billion market cap in September 2021.
But what can we expect from Cardano in the future? What highs may ADAUSD price hit in 2022? Will the Cardano price surge or plunge in 5 years?
This article aims to address all the queries related to Cardano price prediction for 2022 and beyond, fundamentals, and technical updates.
Cardano (ADA)

Outlook: Where we are now
Cardano is a Proof-of-Stake (PoS) blockchain platform, that aims to empower innovators and visionaries to create positive global change.
Cardano was established in 2017 and was named after Gerolamo Cardano, a 16th-century Italian polymath. The network's native token, ADA, was inspired by Ada Lovelace (1815-1852), widely regarded as the first computer programmer in the world. The ADA token was created to allow owners to participate in the operation and maintenance of the network. The cryptocurrency holders can vote on proposed software changes.
Cardano is still underdeveloped, and the developers' team launched the Alonzo phase in September 2021, which enables the features of the smart contract on the Cardano blockchain. This caused Cardano (ADA) to surge in price over 116%, which brought a new all-time high ADA price of $3.10 on September 2, 2021.
Cardano's price surged over 1700% in 2021, reaching a new all-time high.
The September Alonzo upgrade was the catalyst that drove ADA's high price to the point where it reached its highest level until mid-September when it began to drop. This upgrade brought smart contracts to their blockchain, so developers can create decentralized applications (Dapps), and enter the world of DeFi and NFTs.
It reached an all-time high of $3.03 in September, but it began to fall and go sideways in October at 2$. Then, from November 10th, it began a descending trend. Until recently, when it had a breakthrough and may have begun an ascending channel that is moving upwards.
Cardano, the renowned Ethereum-killer blockchain has been building its credibility as a reliable working platform and has recorded more than 140,000 GitHub projects, putting it ahead of Polkadot, and leaving Ethereum behind with just over 100,000. These numbers are significant because they show that Cardano is winning the battle for developers.
Cardano (ADA) is still one of the largest cryptos on the market, ranking in the seventh position by market cap, and it is expected to see new surges in ADA's price as more DApps are deployed on the Cardano network.
With 2022 already looking like another roller-coaster period for digital currencies, CAPEX looks at Cardano's price predictions from best-rated websites and experts.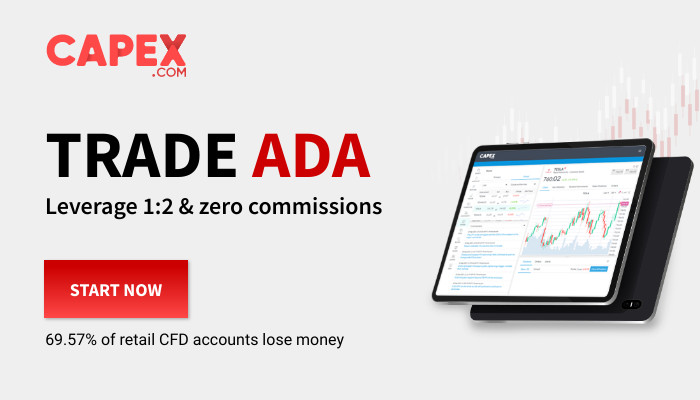 Cardano

Price Prediction 2022 and beyond
In October 2021, Charles Hoskinson, Cardano's founder, announced that his priority will be to expand the adoption of blockchain technology in Africa. According to him, 5 million Ethiopian students will be able to use Cardano's blockchain-based digital IDs to link their academic records. Cardano's price will be positively affected by this.
The bullish trend in ADA's prices that began in 2021 will continue through 2022. Between 2022 and 2023, ADA's price could rise to a new all-time high.
The prediction algorithm of WalletInvestor predicts that ADA's price will have an upwards trend in 2022 and will get close to its price record of $3.10, ending the year around $2.97.
DigitalCoin is less optimistic about its Cardano forecast. It predicts that the price of Cardano (ADA) will average $1.52 by the end of 2022.
The long-term forecast for Cardano from Price Prediction shows that the price will rise between $1.66 and $1.94 by the end of 2022 and that the coin has a growing trend.
Trading Beasts has set a Cardano price target between $1.01 and $1.51 in 2022. They predict that the maximum price of Cardano will be $1.46 by the end of 2022.
According to Long Forecast, Cardano can reach $0.56 by the end of 2022, and the average price of Cardano (ADA) by the end of 2022 could be $0.52.
It's important to remember that analysts' forecasts can be incorrect when predicting Cardano prices. Analysts make projections based on a technical and fundamental analysis of the crypto's performance. However, past price performance does not guarantee future results.
You should do your research and remember that trading decisions are influenced by your attitude towards risk, market knowledge, and your tolerance for losing money. The consensus, when it comes to crypto, is to not invest more than you can afford to lose.
Our Cardano ADA

Prediction Today
It is expected that the crypto market bull run will continue in 2022 with a new ATH for Ethereum and Bitcoin, but no one can be certain, as anything can happen in the crypto market. One thing is certain, however, 2021 was a significant year for Cardano's ecosystem (ADA) and has also been the best year yet for DeFi and NFTs. Let's all hope that 2022 will be as successful or better than 2021, as crypto adoption grows worldwide.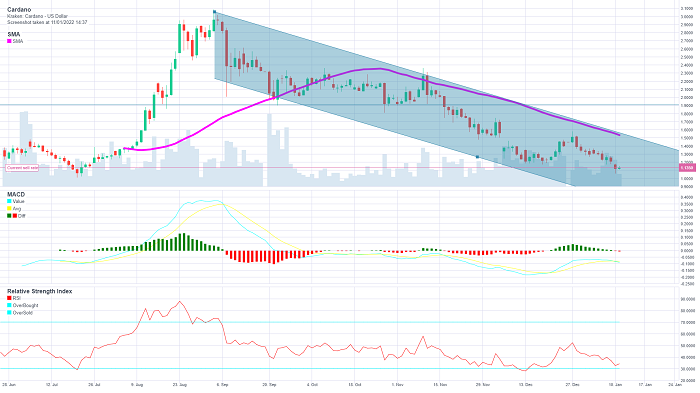 The short-term technical analysis is bearish, with nine indicators giving bullish signals and 21 bearish signals. The relative strength index (RSI) and the moving average convergence divergence (MACD) were both signaling neutral, while the Hull Moving Average signaled a buy. The Volume-Weighted Moving Average (VWMA) and weekly moving averages were indicating ADA as a sell.
Cardano ADA is testing the $1.00 low from mid of 2021, while divergences start building up.
WalletInvestor predicted that the coin could trade at $1.36 by the end of March. For a bullish outlook, Cardano's price should trade above $1.60 after setting a higher low.
While we can speculate about the potential price of Cardano over the next months and years, the truth is that Cardano still is a highly speculative investment. There are not much historical data to support these predictions. It is important to invest only what you are willing to lose and include some traditional investment instruments to build a strong portfolio.
Your investments should be small, and you should not place crypto investments above other financial goals, such as saving for retirement or paying off high-interest debt.
Related: How to invest in cryptocurrencies
Cardano

Price Prediction 2025
There are indications that the crypto market is entering a new era.
There is no doubt that ADA's long-term price prediction will rise as there is still optimism about the currency attracting more attention.
A price variation between $2.3 to $3 is expected in 2023, and we can see a downward price trend for Cardano (ADA). It is not certain that the next three years will be the golden age for this crypto coin. It is expected that ADA's price will react to the future significant changes in the market, industry, and policy landscapes. The next updates regarding the smart contract on the Cardano network may bring the ADA price back to $5.2, which is expected by 2025.
Cardano Price Prediction 2030
Are you expecting Cardano to rise in value? The same applies to Cardano price predictions as it does to weather forecasts. The further we go into the future, the harder it becomes to try to predict the price of Cardano. The world of 2030 may be quite different from what we see now. What does 2030 hold for Cardano?
Although 2030 seems too far into the future, it is possible to imagine how the price of crypto will surge in the next decade. This safe haven is due to technologically rapid transaction processes that are supported by technological innovations. Cardano Price Prediction 2030 is extremely optimistic and forecasts a minimum ADA price of $30 by 2030.
Is It Possible to Forecast the Price of

Cardano

?
Many price predictions for Cardano are flawed because they lack the necessary analytical support. Investors will always be attracted to a high price point, especially one that is on an upward price trend. Someone holding a cryptocurrency priced at $0.01 could easily believe that it will rise to $10,000 just because it sounds good.
The problem is that predictions can be made without any evidence or analysis. However, three types of analysis have been used in the financial world for a long time to try and forecast prices and the evolution of markets.
Technical Analysis

Fundamental Analysis

Sentimental Analysis
Cardano Forecast using fundamentals
Investors in financial markets use fundamental analysis to study and evaluate the variables that impact an asset's price.
You can assess the intrinsic value of a cryptocurrency to determine if it is undervalued or overvalued. This can be achieved by analyzing qualitative factors like the state of the economy and cryptocurrency market conditions, as well as the management and market capitalization of crypto companies.
Fundamental analysis can help traders determine the price of a cryptocurrency based upon a wide range of information. This could be a great way to make long-term investment decisions.
How to conduct a Cardano price prediction today using fundamentals?
Fundamental analysis is when you examine the fundamentals of cryptocurrency projects, from their market capitalization to the utility and value of the native token.
Do not confuse the fundamental analysis and technical analysis. Fundamental analyses of cryptos are more qualitative and less tangible than statistical trends like price charts or historical market data.
The fundamental analysis of cryptocurrency is like that of traditional financial markets with more traditional assets such as stocks. It is not as important to focus on a company's historical financial performance, financial statements, or balance sheets.
The following parameters can be used to help investors predict trends in crypto markets:
Market capitalisation

Total and circulating supply

Token utility and use cases

Community size

The team of the crypto project

The crypto's trading volume
Crypto exchanges listings
Partnerships with trusted institutions
The latest news about the coin
Government rules and regulations
It is important to remember that fundamental analysis can only give you an overview of cryptocurrency investments. You can better understand the project and the future changes in cryptocurrency prices by looking at all the information. To get a better picture, you can also refer to the company's whitepaper.
You can also examine blockchain metrics which provide crucial information about a cryptocurrency's technology and processes.
Cardano Forecast using

technical

analysis
Technical analysis uses historical price charts and market statistics to examine and anticipate price changes in the financial markets. It is founded on the concept that if a trader can recognize historical market trends, they may anticipate future price trajectories accurately.
Whereas fundamental analysis focuses on an asset's 'real value,' considering both external and intrinsic elements, technical analysis is only based on an asset's price charts. To anticipate future movements, all that is required is the recognition of patterns on a chart.
The ability to recognize price trend cues in a market is an important part of any trading strategy. All traders must devise a strategy for determining the optimal entry and exit points in a market and using technical analysis tools is a popular technique of doing so.
Technical analysis software is now so widely utilized that many people believe it has established self-fulfilling trading rules: As more traders use the same indicators to find support and resistance levels, more buyers and sellers will congregate around the same price points, repeating the patterns.
In general, technical analysts look at the following broad types of indicators, formations, and theories:
Price trends (

trendlines

,

channels

,

Elliott Waves

,

Dow Theory

)

Chart patterns (

double tops and bottoms

,

head and shoulders

,

triangles

,

wedges

)

Price action (

pin bar

,

inside and

outside bars

,

and different

candlesticks chart patterns

)

Trend following indicators (

moving averages

,

Ichimoku

,

ADX

)

Volatility indicators (

Bollinger bands

,

ATR

)

Oscillators (

RSI

,

MACD

,

CCI

,

stochastic

)

Support and resistance levels (

Fibonacci retracements

,

pivot points

)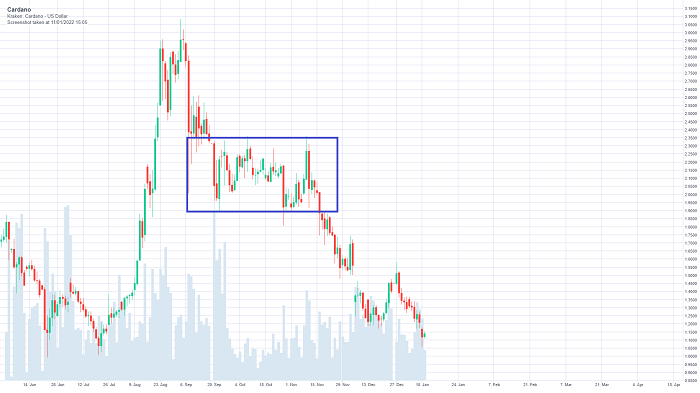 During the last quarter of 2021 ADAUSD formed a rectangle. A Rectangle is a continuation pattern that forms as a trading range during a pause in the trend. The pattern is easily identifiable by two comparable highs and two comparable lows. The highs and lows can be connected to form two parallel lines that make up the top and bottom of a rectangle. Rectangles are sometimes referred to as trading ranges, consolidation zones, or congestion areas.
The Cardano daily chart above shows the area where the price breaks the lower support line and the confirmation (3 days consolidation) where you should place the sell order.
Finally, the profit target is measured by taking the height of the rectangle and by extending that distance down from the support line breakout.
Cardano ADA

Price Prediction Using

Market Sentiments
In finance, the term "sentiment" refers to a viewpoint or opinion about a market's condition. The sentiment of crypto market investors towards the asset is a description of their general emotions and attitudes. It reflects the collective psychology of all those involved in trading and developing cryptocurrency.
How investors feel about cryptocurrency can have a tangible impact on market cycles and the price. It can have serious implications if enough traders act on the ideas, thoughts, and feelings they share, regardless of whether they are based upon real-world data. This is evident in how tweets by Elon Musk have impacted Bitcoin's price (a bullish sentiment).
For analyzing the sentiment of cryptocurrency markets, there are many statistics you can use. The following statistics provide vital information about the movement and trajectory of cryptocurrency assets: funding rates, sentiment indices, social media, and community analysis, and whale monitoring.
The funding rates are the monthly payments that traders receive based on price differences between the spot price of currencies and tokens and the price difference between cryptocurrency perpetual contracts. Positive funding rates indicate a bullish market.
A sentiment index is used to predict whether investors will act fearfully or greedily. It can be affected by volatility, market momentum, and investor responses to surveys. A fearful market can be an opportunity to buy if it is managed correctly. Conversely, a greedy market means that it is a good moment to sell.
Another crucial aspect for assessing sentiment in crypto markets is the community's activity on social media, especially Twitter and Telegram. Investors would look for an active social network with meaningful interaction across platforms.
Whale monitoring is the process of keeping an eye out for big crypto players. A cryptocurrency whale is an investor who holds large-value transactions on multiple blockchains is called. Whale watchers spot major market participants' trades and trade accordingly.
Cardano ADA Historical Prices
In January 2021, the average price of Cardano (ADA) was around $0.35. It then saw a huge rise and reached $1.15 by February 2021. Cardano (ADA)'s price continues to surge until March. After reaching $1.3, the currency saw consolidation between March and April.
The ADA price fell sharply at the end of April but recovered momentum and recorded a new Cardano all-time high of $2.5, was rejected and it reverted to its previous support level of $1.16 at the end of July.
It continued trading in that range until the end of July, and then the ADA price began an upward rally. This momentum drove the coin to a new all-time high of $3.10 in September, well above its resistance level. Cardano's price decline in the following months, after the new record price. The current market situation and ADA Cardano prices suggest that the coin could see a price rebound in the short term despite the mixed market trend.
Is Cardano (ADA) worth buying in 2022?
The outcome of the Cardano blockchain upgrades will have an impact on ADA's price in 2022. The forecasting sites Wallet Investor and DigitalCoin predict that the price will rebound and hit new highs in the future. However, each investor should do his own research before investing.
How high can Cardano (ADA) go in 2022?
Most cryptocurrency experts and big investments have made optimistic predictions for Cardano's price in 2022. Some of the most optimistic forecasts are $2.97 by the end of 2022, predicted by WalletInvestor.
Will Cardano (ADA) crash in 2022?
Cardano's price will not crash in 2022, but the future announcements of network developments will have a significant impact on ADA's price in 2022.
Does Cardano (ADA) have a future?
Cardano is one of the main programmable blockchains on the market and has exciting potential to become the main ecosystem of the next DeFi and NFT apps. The future developments and announcements from the core team will determine the success of the network.
What will Cardano (ADA) be worth in 5 years?
The Cardano supply is limited to 45 billion, which can cause scarcity as more developers join the Cardano ecosystem. It is expected that the price of Cardano will experience a significant rise within the next 5 years, reaching over $6.
What Cardano (ADA) will be worth in 2025?
Considering the price predictions of online forecasters, the price of Cardano (ADA) could reach $8.79 by the end of 2025.
What Cardano (ADA) will be worth in 2030?
Considering the price predictions of online forecasters, the price of Cardano (ADA), Cardano's price could reach $30 by 2030.
The information presented herein is prepared by Miguel A. Rodriguez and does not intend to constitute Investment Advice. The information herein is provided as a general marketing communication for information purposes only and as such it has not been prepared in accordance with legal requirements designed to promote the independence of investment research, and it is not subject to any prohibition on dealing ahead of the dissemination of investment research. It does not regard to the specific investment objectives, financial situation or the particular needs of any recipient.

Users/readers should not rely solely on the information presented herewith and should do their own research/analysis by also reading the actual underlying research.

Key Way Investments Ltd does not influence nor has any input in formulating the information contained herein. The content herewith is generic and does not take into consideration individual personal circumstances, investment experience or current financial situation.

Therefore, Key Way Investments Ltd shall not accept any responsibility for any losses of traders due to the use and the content of the information presented herein. Past performance and forecasts are not reliable indicators of future results.