The term "Nasdaq" refers to both a stock market exchange and an index (Nasdaq Composite), comprising more than 3000 stocks. NASDAQ 100 includes the top 100 non-financial stocks on the NASDAQ
NASDAQ Stock Exchange and NASDAQ Composite – short overview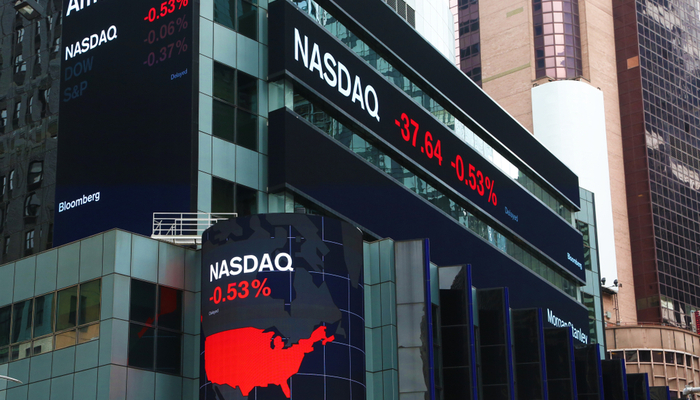 The first major U.S stock market index was the New York Stock Exchange. After dominating the world economy for almost 300 years, the NYSE faced its first big opponent in 1971, when two organizations – the National Association of Securities Dealers and Financial Industry Regulatory Authority – teamed up to create the NASDAQ stock exchange.
Initially, the stock market exchange was called NASD, before becoming Nasdaq in 2006. It was the first to use a digitized system instead of a traditional trading floor, allowing companies, brokers, and traders to exchange securities and assets more rapidly.
NASDAQ has always differentiated itself from traditional stock exchanges. Instead of boasting a physical location, NASDAQ is held entirely on a computer network, and all trades are performed electronically.
Electronic trading gave NASDAQ a couple of advantages over the competition. First, it reduced the bid-ask spread. This digitized system proved to be tempting to major tech giants such as Oracle, Intel, Microsoft or Amazon, and many other similarly powerful organizations, which are global powerhouses today.
In the 90s, NASDAQ became the exchange for many major Over the Counter (OTC) trades. In 1998, it was named the first exchange for offering online trading. NASDAQ Inc. continues to expand its business lines beyond a stock exchange, focusing on applying technology to finance in the ever-growing industry that is fintech.
With the tech sector booming in the 1980s and 1990s, many companies joined the Nasdaq composite, sending its stock skyrocketing: from mid-1995 to early 2000, the value grew from 1.000 points to 4.500 points. In the late 1990s, the 'dot-com bubble" took the markets by surprise, causing the index to lose 80% of its value over two years.
However, the last two decades were largely positive for the Nasdaq, with the major exceptions being the 2008-2009 economic crisis and the pandemic outburst in 2020. As of May 6, 2021, Nasdaq Composite was trading at around 13.500 points.
The competition with New York Stock Exchange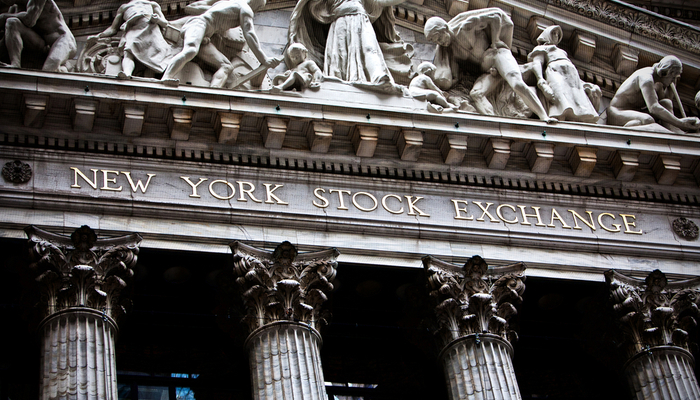 The fierce competition between NASDAQ and the NYSE has led to many innovations and expansions in the stock markets. For instance, the NYSE merged with Euronext to create NYSE Euronext in 2006 – the first transatlantic stock exchange in the world.
In 2007, Nasdaq merged with OMX (a Scandinavian exchange group) to create the Nasdaq OMX Group. This is the largest exchange company globally, powering 1 in 10 of the world's securities transactions.
Nasdaq OMX operates 25 markets – mainly equities, including options, fixed income, derivatives, and commodities – one clearinghouse and five central securities depositories in the U.S. and Europe. Seventy exchanges use its cutting-edge trading technology in dozens of countries. This exchange is listed on the Nasdaq under the symbol NDAQ and has been an S&P 500 member since 2008.
Nasdaq 100 (USA 100) - how does it work?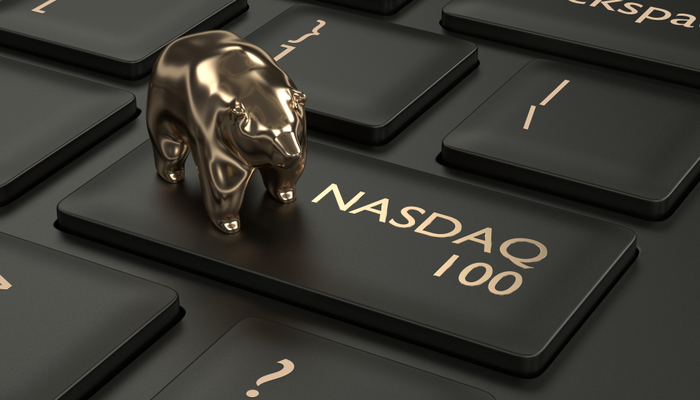 In 1985, the Nasdaq 100 (#Tech100) was launched as an index including the largest 100 companies exchanged on the Nasdaq. Over the years, the Tech100 has proven to be a reliable index for the largest non-financial businesses traded on the NASDAQ Stock Market. Nowadays, it includes famous names such as Microsoft, Tesla, Apple, Amazon, Google, Nvidia, Adobe, or Netflix.
How can companies join Nasdaq 100?
Nasdaq has extra requirements for companies before they can join the index. This is somehow different from other indices, which may include individual companies on their market capitalization size alone.
Enterprises aiming to be included in the USA 100 must also be listed exclusively on the exchange, must be eligible to be traded in the U.S, average a daily volume of 200k shares being listed in the market, and keep these 200k shares available for at least three months.
Nasdaq 100 and its three market tiers
The Nasdaq Stock Market has three different tiers: The Nasdaq Global Select Market, The Nasdaq Global Market and The Nasdaq Capital Market.
Capital Market is dedicated to stocks with smaller market capitalization levels and the least stringent listing requirements. Global Market and Global Select Market feature mid-cap and large-cap stocks, respectively, and face strict regulations regarding corporate governance and liquidity standards.
For further reading - S&P 500 in a (bigger) nutshell.
Stay tuned to CAPEX.com Featured Articles section to find out more about the most relevant market concepts, trading strategies and other indispensable market intel!
Sources: investopedia.com, wikipedia.com, nasdaq.com.
Le informazioni contenute nel presente documento sono redatte da CAPEX.com e non costituiscono né devono essere interpretate come suggerimenti di investimento. Le informazioni di cui al presente documento costituiscono comunicazioni di marketing generali a scopo informativo e, in quanto tali, non sono state preparate nel rispetto dei requisiti di legge che promuovono le ricerche di investimento indipendenti. Inoltre, non sono soggette ad alcuna limitazione sulle transazioni condotte in anticipo rispetto alla divulgazione delle ricerche di investimento in questione.

Gli utenti / lettori non dovrebbero fare affidamento esclusivamente sulle informazioni qui presentate e dovrebbero fare le proprie ricerche / analisi anche leggendo la ricerca reale sottostante. Il contenuto è generico e non tiene conto di circostanze personali individuali, esperienza di investimento o situazione finanziaria attuale.

Pertanto, Key Way Investments Ltd non accetta alcuna responsabilità per eventuali perdite di trader a causa dell'uso e del contenuto delle informazioni presentate nel presente documento. Le prestazioni passate e le previsioni non sono un indicatore affidabile dei risultati futuri.