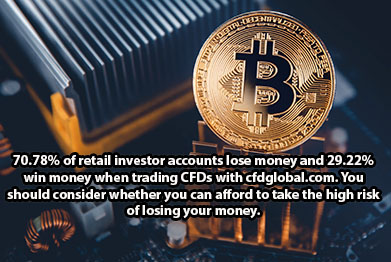 Bitcoin came under heavy pressure at the close of last week, falling 10% on Thursday and an additional 5% on Friday. Still Bitcoin went above the $6,100 level and bounced modestly over the weekend to reach a higher level than $6,100.

The initial drop in the leading cryptocurrency came after the U.S. Securities and Exchange Commission announced late Thursday that they were delaying the decision on whether to allow a Bitcoin ETF until September 30. Bitcoin was already in bear-mode and the disappointing news from the SEC was enough to put Bitcoin under heavy pressure.
On a technical basis the momentum for Bitcoin, and the cryptocurrency markets in general, is very much to the downside. Even worse, there's no indication of a rebound or reversal in the market anytime soon. Since nearly reaching $20,000 in December the largest cryptocurrency in terms of market capitalization has continued to move steadily lower.
The $6,100 to $6,200 level has been key near term support for Bitcoin, and it is now coming under pressure from market bears, who are looking to break the support level and send the price to the next support level of $5,800 which was last reached in June.
Saturday saw Bitcoin trading just above the $6,100 level all day, but Sunday gave Bitcoin a small reprieve as it bounced higher by $200 and held the gains throughout the day. The coming week is likely to see more pressure for Bitcoin as there is no good news on the horizon.
Sources: FXStreet.com, Newsbtc.com
The information presented herein is prepared by CAPEX.com and does not intend to constitute Investment Advice. The information herein is provided as a general marketing communication for information purposes only and as such it has not been prepared in accordance with legal requirements designed to promote the independence of investment research, and it is not subject to any prohibition on dealing ahead of the dissemination of investment research.

Users/readers should not rely solely on the information presented herewith and should do their own research/analysis by also reading the actual underlying research. The content herewith is generic and does not take into consideration individual personal circumstances, investment experience or current financial situation.

Therefore, Key Way Investments Ltd shall not accept any responsibility for any losses of traders due to the use and the content of the information presented herein. Past performance and forecasts are not reliable indicators of future results.