Sterling rises from five-month lows vs dollar, euro
On Friday, the British pound recovered from the five-month lows that it reached earlier in the day against the USD and the EUR. Worries about a no-deal Brexit still held the currency's gains on the spot.
After recovering from a January low of 89.92 against the euro, sterling has now lost 4% of its value since the start of April. Some of its decay during the past week came from powerful euro movements earlier on.
However, the Conservative party leadership contest that should end with a new prime minister by the end of July is making investors reluctant to partake in big positions.
The pound is widely expected to endure pressure until there is more transparency around the Brexit situation.
U.S. Dollar Inches Down After Inflation Data

As the world was awaiting news from the G20 summit, the U.S. dollar was slightly lower on Friday, inflation data supporting the FED's patient march to interest rates.
With trade talks being in focus, the dollar was mostly neutral against the safe-haven Japanese yen, USD/JPY falling to 107.73.
Despite expectations among investors and pressure from Donald Trump, the Central Bank is supported in taking a cautious approach to cutting rates.


Energy Minister Khalid al-Falih says OPEC unanimity is for rollover of oil cut
OPEC members agreed on the need for extending oil production cuts. They are, however, undecided on a period of 6 or 9 months.
The Minister of Energy affirmed that "Certainly it is a rollover, consensus is emerging. Everybody I am talking to is assuring that conformity in the second half is going to be a lot more uniform than what we have seen in the first half [...]".


All eyes on the weather outlook: Natural Gas under scrutiny

In the simplest terms, the balance for natural gas is above last year's level and above the historically normal level. The market seems to be looking forward, with the data this week being neutral for traders.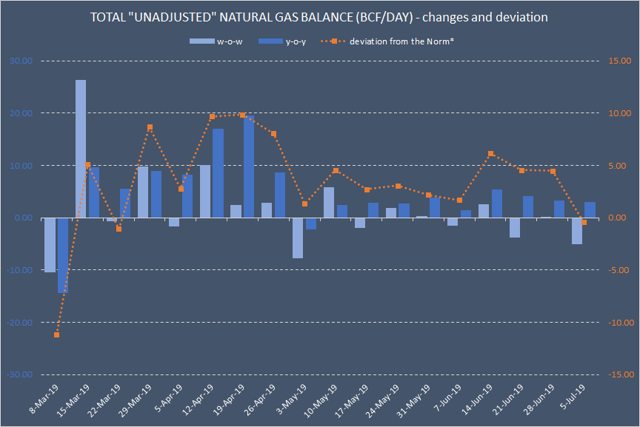 Source: Bluegold Research estimates and calculations
The estimate for the dry gas production has been expanding in annual terms but its growth rate seems to be weakening due to base effects.
Overall, total exports were up 25.0% year-over-year, primarily due to pipeline exports into Mexico and robust LNG sales.
The total flows to liquefaction averaged 5.9 bcf/d, a number that set a new all-time record.
Gold had its biggest intraday influx

It's no wonder that Gold is at a 5-year high and recently broke a 5-year resistance line.
The GLD (Exchange Traded Fund) saw over $1.5 billion flood into it, on Friday, June 21st, an inflow over 10% higher than the one in 2008.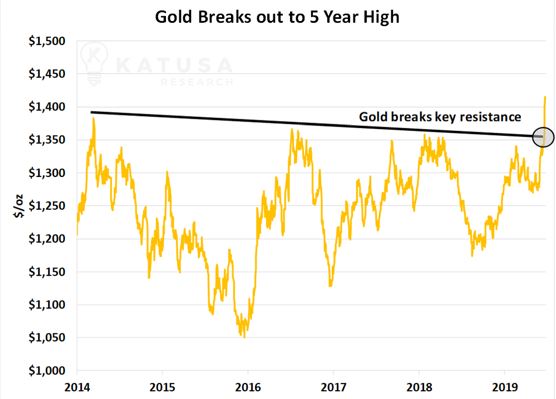 Last week has made us a witness to the single largest inflow day in the history of the ETF, a fund that dates back just before the 2008 financial episode.
The first half of 2019 underlines stock market's positive roles
Nicknamed the "year of the mood swings" for the U.S. stock market, investors went from certainty to surprise in less than a quarter. Last week, the Fed's softened language helped the indices to reach record levels.
Index Total return - 2019 through June 28 Total return - 2018
Dow Jones 15.40% -5.60%
S&P 500 18.50% -6.20%
Nasdaq 21.30% -2.80%
Here are the top performers from Dow Jones Industrial Average (DJIA):
Company Total return - 2019 through June 28 Total Return - 2018
Microsoft Corp. 33% 21%
Visa Inc. Class A 32% 16%
American Express Co. 31% -3%
Cisco Systems Inc. 28% 17%
Walt Disney Co. 27% 4%
Best first-half gains in two decades for European shares

The Friday surge in German shares helped European equities celebrate their best first-half performance in over two decades. Investors are now awaiting the U.S - China trade talk conclusions in hopes that the rally might continue.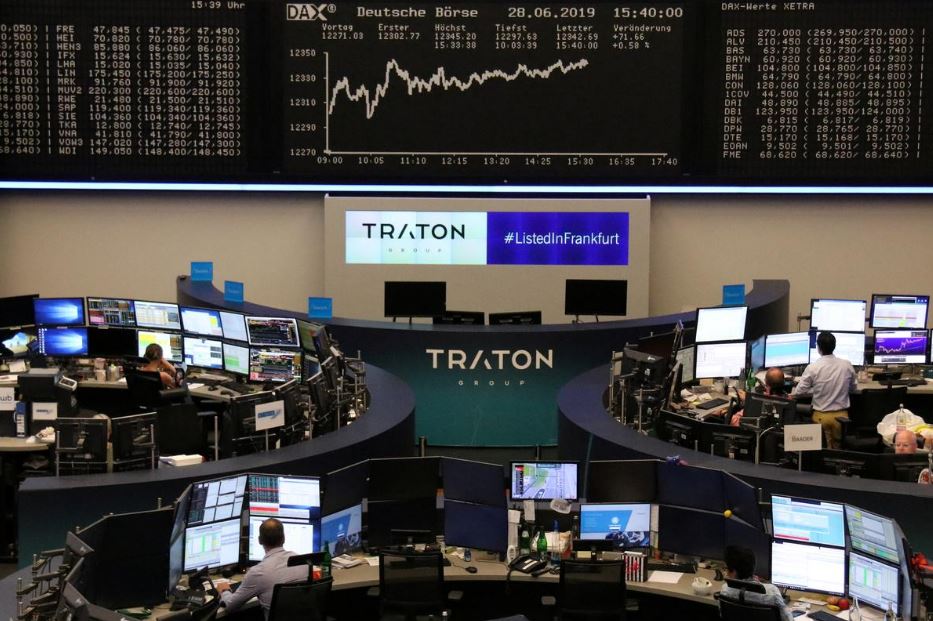 Source: reuters.com
The long-drawn trade dispute happening between the U.S. and China brings G20 into the picture, with Trump confirming hopes for productive talks with China.
Facebook focuses on additional revenue

The social media giant now focuses on additional advertising revenue streams, building its shares up by 1% in the mid-morning of Thursday.
Morgan Stanley analyst Brian Nowak sees a revenue opportunity of $1 billion for Instagram Explore by 2021. However, he maintains a target of $210 on Facebook, roughly 10% higher than its actual $189.61.


Shares tick lower as legendary Apple designer almost leaves

The extended session saw lower shares for Apple Inc. as the software giant announced the leave of designer Jony Ive. Following a less than 0.1% decline, the company finished the session at $199.74. Apple confirmed that the designer will leave later this year to "form an independent design company which will count Apple among its primary clients."
Amazon Prime Perks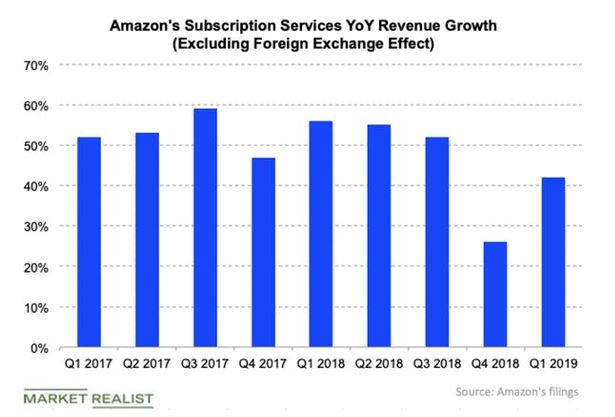 Commerce giant Amazon (AMZN) has been increasing the benefits of its Prime membership. Costing $119 annually in the U.S., the company had a 36-hour record Prime Day last July and is now preparing for a 48-hour Prime Day this July.
The true discounts Amazon offers makes the Prime crowd interested, spending more on Amazon than regular customers. While the e-commerce sector is slowing down, the subscription services and the Prime membership are what hold the growth on the graph above. Year-to-date, Amazon's stock is up nearly 28%.
Ads by the corner for streaming giant Netflix
"An ad-supported tier could provide a lift to free-cash-flow, reducing the need for Netflix NFLX, +1.66% to raise debt frequently, especially beyond 2021 into a potentially rising rate environment," Instinet's Mark Kelley affirmed on Friday.

Netflix continues with its ad-free experience as the main competitive benefit. Although many Netflix users stated that they would leave the service if the company was no longer ad-free, there is a potential revenue opportunity of more than $1 billion per year, with almost $700 million flowing through to net income.
High-tech commitments from Alphabet

Smart City project proposed along Toronto's waterfront by Alphabet Inc. unit 'Sidewalk labs' has sworn not to sell personal data collected from residents and visitors to advertisers.This is part of a 1,500-page master plan released on Monday.
Privacy activists insisted that Sidewalk Labs has to guarantee that personal data used to run the project will remain anonymous.
In a statement, Sidewalk Labs mentioned that the project will add C$14.2 billion annually to Canada's GDP, C$4.3 billion in tax revenue, and create 44,000 permanent jobs by 2040.
Sources: nasdaq.com, marketwatch.com, reuters.com, investing.com, seekingalpha.com
The information presented herein does not constitute and does not intend to constitute Investment Advice. The information contained herewith is a compilation of public stock recommendations issued by various financial analysts and organized by Live News Recommendation in an easily presentable format, for information purposes only.
Key Way Investments Ltd does not influence nor has any input in formulating the information contained herein. The content herewith is generic and does not take into consideration individual personal circumstances, investment experience or current financial situation. Users/readers should not rely solely on the information presented herewith and should do their own research/analysis by also reading the actual underlying research. Users/readers should also consider the risk of encountering significant losses when trading CFDs. Therefore, Key Way Investments Ltd shall not accept any responsibility for any losses of traders due to the use and the content of the information presented herein. Past performance is not a reliable indicator of future results.
HIGH-RISK INVESTMENT WARNING: CFDs are complex instruments and come with a high risk of losing money rapidly due to leverage. 78.20% of retail investor accounts lose money when trading CFDs with this provider. You should consider whether you understand how CFDs work and whether you can afford to take the high risk of losing your money.