Investors using technical analysis for their day-to-day trading are familiar with indicators and their role in predicting market directions and trends.
Typically, trading indicators belong to one of these two categories: leading and lagging.
If you want to learn more about them, we invite you to continue reading this article. You can also visit our featured articles section for more in-depth information about the financial markets world!
Leading indicators – definition and examples
Leading indicators anticipate future market directions, empowering traders to predict price movements even before they happen. By using past price data, leading indicators give signals before the new trend occurs.
Theoretically, if a leading indicator provides an accurate enough signal, you can read the following market movements and trade more informed. However, leading indicators are not entirely reliable, so analysts advise to use them with caution in combination with other technical indicators for a higher degree of precision.
and the Relative Strength Index (RSI) are two examples of leading indicators.
The Relative Strength Index assists traders to figure out whether a market is overbought or oversold. Whenever the Relative Strength Index offers a signal, that particular targeted market might switch its direction. That could represent the right moment for a trader to enter a new position or exit its current one.
The Relative Strength Index level is marked on a scale from 0 to 100. Values above 70 indicate the market is overbought, while values below 30 show the markets which are oversold.
Lagging indicators – definition and examples
Lagging indicators inform traders that specific trends are underway. Investors tend to use these indicators when prices move in long trends, before starting prolonged bearish or bullish periods.
By utilizing an average of previous price action data, you can analyze the market data and confirm the price trend before entering a trade.
In other words, lagging indicators give traders confidence that they are correct, or completely mistaken in their assumptions, rather than providing a specific trigger for entering the market.
Moving Averages and Bollinger Bands are a couple examples of lagging indicators.
In technical analysis, Moving Averages are indicators representing the median closing price of a market in a specific timeframe. Traders see moving averages as important barometers for current market momentum.
The Simple Moving Average and the Exponential Moving Average both fall into the Moving Averages category. The main separation point between these moving averages is that the exponential moving average can respond to the price action a lot faster than the simple moving average can. Additionally, the EMA focuses more on recent price data.
Bollinger Bands help traders find out if prices are too high or too low by determining overbought and oversold areas. These particular indicators are based on a 20-day simple moving average and two outer lines representing the positive and negative standard deviations from the SMA. They are also a unit of measurement for volatility – the more volatile the markets are, the wider the two bands will get and vice versa.
Advantages and disadvantages of using leading and lagging indicators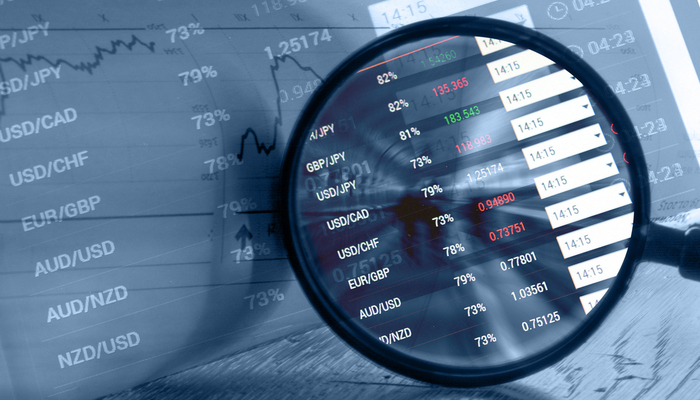 Leading Indicators advantages
Investors who fancy fast market signals see leading indicators as a technical choice. These indicators could also provide useful entry points for placing trades as they can help identify key levels.
Leading Indicators disadvantages
The expected price action is not always accurate, so traders must determine the best moments for using leading indicators. Also, stop-loss orders could be required for extra protection. That's in case the markets move in the other direction, switching trends.
Lagging indicators advantages
Lagging indicators confirm the recent price action; thus, they are great incentives for traders looking for more certainties. Additionally, these indicators reduce the risks of false breakouts. Plus, they are exciting choices for long-term trading, according to babypips.com.
Lagging indicators disadvantages
By using lagging indicators, traders throw away potential pips while waiting for confirmation from their lagging indicators of their choice.
Conclusion
No matter your preferences, both leading and lagging indicators can prove critical technical tools for your day-to-day trading.
Lagging indicators are a good fit for those investors who prefer more conservative risk management strategies. In contrast, leading indicators are more fast-paced resources.
Find out more about leading and lagging indicators from CAPEX Academy! Moving Average, Bollinger Bands, Relative Strength Index – all of these are featured in our extended list of educational videos hand-tailored for you!
Sources: babypips.com, Investopedia.com
The information presented herein is prepared by CAPEX.com and does not intend to constitute Investment Advice. The information herein is provided as a general marketing communication for information purposes only and as such it has not been prepared in accordance with legal requirements designed to promote the independence of investment research, and it is not subject to any prohibition on dealing ahead of the dissemination of investment research.

Users/readers should not rely solely on the information presented herewith and should do their own research/analysis by also reading the actual underlying research. The content herewith is generic and does not take into consideration individual personal circumstances, investment experience or current financial situation.

Therefore, Key Way Investments Ltd shall not accept any responsibility for any losses of traders due to the use and the content of the information presented herein. Past performance and forecasts are not reliable indicators of future results.