In this article, we will talk about blue-chip stocks, from the origin of the concept to the advantages and disadvantages of trading such instruments.
In the world of the financial markets, blue-chip companies are high-valued, prevalent, and financially powerful entities. Investors often see their stocks as reliable and profitable in both good times and bad times. They are amongst the most likely businesses to survive a financial crisis or other deep economic cataclysms, according to investopedia.com.
Let's look at everything you need to know about blue chips and their relevance to the financial markets.
Blue chips – concept origin
Oliver Gingold first used the term "blue-chip stocks" in either 1923 or 1924. Gingold, an editor at the Wall Street Journal, was standing at a brokerage company when he saw several companies trading above $200 apiece. Impressed, he claimed that he would come back to his office and write about these "blue-chip stocks" – a reference to poker, where blue chips are of the highest value.
His term is nowadays widely recognized in the financial markets. It describes the highest quality companies and stocks, usually included in the world's top indexes.
Here are some examples:
U.S. blue chips – Microsoft, Walt Disney, Exxon Mobil, JP Morgan, Pfizer
European blue chips - Linde, LVMH, Unilever, Banco Santander, Sanofi
U.K blue chips - B.P., GSK, British American Tobacco, Vodafone, HSBC
Features of blue-chip stocks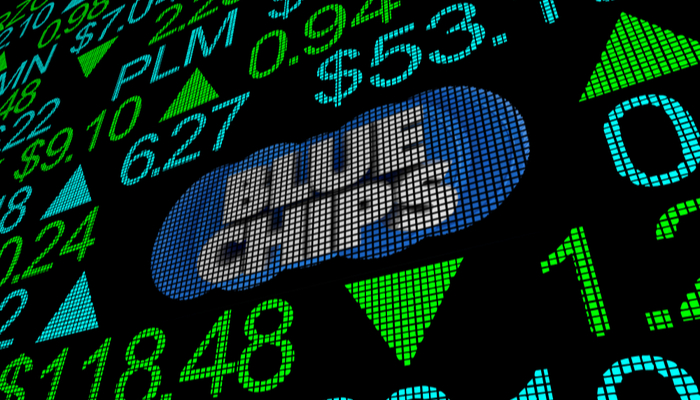 Investopedia.com writes that blue-chip stocks are less volatile than other categories of financial instruments. That's due to their market stability, large market capitalization, and overall solid balance sheet.
Additionally, they are highly liquid since investors prefer to trade them frequently. Furthermore, blue-chip stocks usually pay dividends to their shareholders.
Most publicly traded blue-chip stocks are part of the USA 30, UK 100, DAX, or any other primary Index. If you plan on trading these instruments, you would better keep an eye on the major indexes.
However, blue-chip companies and their stocks aren't always the safest investment options. Even though some of them might survive market crashes or financial crises, they aren't bulletproof. One solution to better protect your funds should you choose to trade them could be by diversifying your portfolio.
Advantages of trading or investing in blue-chip stocks
Short round-up of why people trade or invest in blue-chip stocks:
More stability
Blue-chip companies benefit from the trust of investors worldwide, so, naturally, they offer more stability for traders.
Dividends
A company gest the blue-chip status only if it can offer dividends to its investors. Thus, if you invest in a blue-chip company, you can be sure they will give you extra income as dividends.
High liquidity
Blue-chip stocks are highly liquid as people trade them frequently on the stock market.
Disadvantages of trading or investing in blue-chip stocks
Shortcomings of trading or investing in blue-chip stocks:
Smaller ROI
Since blue-chip stocks are usually more stable than other instruments, you can't expect to have a high return of investment when trading them.
You'd probably need to diversify your trading portfolio.
Because of the smaller ROI, expanding your trading portfolio to include other assets would be the logical move for investors.
Conclusion
Blue-chip companies rely on solid business models, long records of high returns, and brand value. These characteristics have shaped them into famous investment vessels traded on both long-term and short-term periods. Still, they are not in a bubble of their own and can experience sudden selloffs.
Sources: fool.com, marketbussinessnews.com, wikipedia.com, investopedia.com
The information presented herein is prepared by CAPEX.com and does not intend to constitute Investment Advice. The information herein is provided as a general marketing communication for information purposes only and as such it has not been prepared in accordance with legal requirements designed to promote the independence of investment research, and it is not subject to any prohibition on dealing ahead of the dissemination of investment research.

Users/readers should not rely solely on the information presented herewith and should do their own research/analysis by also reading the actual underlying research. The content herewith is generic and does not take into consideration individual personal circumstances, investment experience or current financial situation.

Therefore, Key Way Investments Ltd shall not accept any responsibility for any losses of traders due to the use and the content of the information presented herein. Past performance and forecasts are not reliable indicators of future results.